---
Reviews:
Reporter World provides a variety of safety equipment, identification products, specialized high-visibility clothing, pertinent news, product reviews, book reviews and useful links specifically for reporters, writers, assignment editors, news correspondents, journalists, ENG crews, photographers, production staff, directors, segment producers, media security personnel, and freelancers: in short, anyone who is part of the news gathering, information reporting, or documentary film industries.

In this section we review various products and services of relevance to reporters, writers, correspondents, ENG teams and production staff. These products include cameras and accessories; computer hardware and software; scanners; printers; books and other products. Smaller, mini-reviews, are also available in other sections of this site including Products, Books and Movies.

We are constantly adding additional reviews to this section. If you have any suggestions for other products you would like us to review, simply e-mail us using the feedback address on our Terms of Service page. Please supply us with as much information as you can about the product (including name, manufacturer, model number) or book (including title, author, ISBN and publisher).
---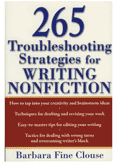 Title: 265 Troubleshooting Strategies for Writing Nonfiction
Author: Barbara Fine Clouse
Copyright: © 2005
Publisher: McGraw-Hill
ISBN: 0-07-144539-0

Relevance: 265 Troubleshooting Strategies for Writing Nonfiction is an excellent book to train writers to be both effective and efficient communicators. The author shows us how to break down any piece of non-fiction writing into four specific tasks and demonstrates how to solve problems associated with each task and how to save time doing it.

Review: The bookshelves are filled with hundreds of volumes purporting to show budding writers the true path to writing success and happiness. According to author Clouse who is a self-admitted long-time college composition instructor (or what we would call, an English teacher), good writers are made, not just born.

Fortunately, Clouse shows us that any piece of non-fiction writing can be broken down into four specific tasks: pre-writing, drafting, revision and editing. Although we don't quite learn why there are exactly 265 troubleshooting strategies (versus 99 or 323 for that matter), the author does illustrate her four-task thesis quite well.

Pre-writing refers to the ways writers discover ideas to write about. Simply said, but many beginning writers fall into the trap of not knowing what to write about in their work. Sure, most of us are told exactly what to write by rude, cigar chomping, assignment editors who want the story done "yesterday", but most of us are young enough to remember the early terrors of not knowing what to write and the joys of suddenly solving these mysteries.

For experienced writers, however, many of Clouse's suggestions in her first chapter are a bit basic and will cause many to skip ahead to the next section. This is fine, however, as the book is written in a very modular style, with each point mostly standing on its own. Clouse seems to hold that idea generation is a major problem for many writers and continues in this vein by suggesting many helpful tips about how writers should determine a proper topic and framework for their work.

Next up is how to get the ideas that you've hit upon and build them into a cohesive and cogent framework. This leads us nicely to drafting.

Now while most pros eagerly rush through the drafting process, Clouse insists the draft is likely to have many problems because it is your first effort. This is surprising because after so much preparation, one would think that the hard work is done. Alas, no. Clouse thinks that one's first draft (and, in fact, many subsequent drafts) is far from being polished and reader-ready. This would, of course, surprise many of us who believe that we can do our stand-ups ad-libbed or by reading a few bullet points from our memo book. With Clouse, however, there are many troubleshooting strategies she suggests and these are both excellent and presented in a style that is friendly and informative.

For most experienced writers, the points Clouse gives are very basic yet we found that if we kept an open mind, even the most experienced of us found a point or two worth considering in our day-to-day writing. Thus, while it is true that this book is aimed at beginning and basic to intermediate writers, even experienced writers can benefit from it.

Chapters such as "My Draft is Too Short" and "My Draft is Too Long" somehow hit us better than the chapter titled "My Writing Seems Boring". Of course, this is pure ego on our part because all writers think the words they use are magical harbingers of the truth.

Key to the Revising section is Clouse's idea that good writing can be parsed and studied. While we do not disagree with the premise that non-fiction writing can be immeasurably improved this way, the style is, of course, subject to dispute when writing fictional accounts. Happily, however, because Clouse's book does clearly state her tips are aimed at writing non-fiction, we really have no problem with this spin.

Ironically, we found Part 4 – A Troubleshooting Guide to Editing perhaps the most useful for beginning writers although most of the grammar, spelling and other rules presented in this section are old hat. Although even experienced writers can find some pointers, we appreciated the fact that Clouse believes that editing should be done by writers and not by their editing counterparts.

Many a time, we have seen writing that really shouldn't have been turned in as "finished" and could have easily done with even the most basic editing. Here, Clouse excels in her native English teaching mode and we can learn all about verb tenses, the difference between "I" and "me", comma splices, misplaced modifiers, and so on. Again, experienced writers take all of this kind of stuff for granted, but to us it's amazing that we see an increasing amount of text that lacks these basic spelling and grammar rules. Using Clouse's tips, we are hopeful the world will be a better written and "edited" place for all of us.

Overall: 265 Troubleshooting Strategies for Writing Nonfiction is highly recommended for beginning writers or those not quite sure of their non-fiction skills. If you've just been to J-school, you can skip this book but budding writers, the obvious target for this tome, will both appreciate and benefit from this book. Recommended.

End of Review
---
Have your say.
You can give us your feedback by visiting our Terms of Service page.
Buy this book.
If you wish to buy this book right now, please click here.
These books may also be of interest:

Read other reviews.
If you wish to return to the main Reviews page, please click here.
---