---
Reviews:
Reporter World provides a variety of safety equipment, identification products, specialized high-visibility clothing, pertinent news, product reviews, book reviews and useful links specifically for reporters, writers, assignment editors, news correspondents, journalists, ENG crews, photographers, production staff, directors, segment producers, media security personnel, and freelancers: in short, anyone who is part of the news gathering, information reporting, or documentary film industries.

In this section we review various products and services of relevance to reporters, writers, correspondents, ENG teams and production staff. These products include cameras and accessories; computer hardware and software; scanners; printers; books and other products. Smaller, mini-reviews, are also available in other sections of this site including Products, Books and Movies.

We are constantly adding additional reviews to this section. If you have any suggestions for other products you would like us to review, simply e-mail us using the feedback address on our Terms of Service page. Please supply us with as much information as you can about the product (including name, manufacturer, model number) or book (including title, author, ISBN and publisher).
---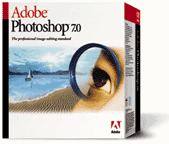 Product: Abobe Photoshop 7.0
Developer: Adobe Systems Inc.
Platforms: Apple Macintosh and Windows PC

Relevance: Any professional photographer, graphic artist or designer will appreciate Photoshop's new and powerful pixel-based graphic creation and editing tools. Although certainly not inexpensive, the software raises the bar for professional-level graphics software for both Mac and PC.

Review: Almost 18 months have passed since the last major revision to Photoshop, Adobe's venerable graphic design and editing program. Consequently, you might expect dozens of exciting features in the new version that started shipping last week across North America. Happily for both Adobe -- a company whose reputation was made on Photoshop -- and hundreds of thousands of pixel jockeys around the world, this new version delivers the goods.

Photoshop 7.0 is packed full of new features. Some, like the new File Browser and the Healing Brush, are more prominent and will likely be used by just about every Photoshop owner. Others, such as the new Rollovers Palette and Auto Color Command, are more specialized and will appeal to a smaller number of digital artists. And, despite all the new features in Photoshop 7.0, Adobe has wisely retained the same look and feel that owners of previous versions have come to expect.

Now, where did I put that file?
If you've ever spent more than a couple of minutes looking for a particular graphic, you'll appreciate Photoshop's new Browse... menu selection. This function lets you browse through your graphics using Mac-generated thumbnail pictures of each image in a given folder. The File Browser also lets you sort your graphics by physical width or height (useful for "for position only" situations), file size, file type, resolution, date created, date modified, color profile and even copyright.

The Healing Brush tool lets you remove stuff you don't want from existing photographs or graphics. Dust, scratches, blemishes and wrinkles can be touched up quickly with this tool. In contrast to the traditional Clone Stamp tool, the Healing Brush automatically preserves shading, lighting, texture when cloning one image to another.

With the new dithered transparency option in Photoshop and ImageReady (whose version number now leaps to "7.0" this time), you can achieve partial (or full) transparency effects in a project by choosing a color you want to knock out. When optimizing images for the Web, you can also customize overall file size by giving the areas you want more emphasis, and removing detail from otherwise superfluous or background information.

The ability to customize your Photoshop environment has been further enhanced in this version. You can now create a personalized desktop with a preferred layout of palettes. You can also customize tools and save these settings for future use. Previously, designers faced the difficult choice between leaving their Macs and PCs on to preserve tool customization, or spending time customizing their copy of Photoshop every time they launched the package.

New Paint Tools
Photoshop's new painting engine better approximates traditional painting tools such as brushes and pastels. Using the Brushes palette, you can play with dozens of options for shape, tilt, spacing, scatter, diameter, texture, shading, and other attributes -- and save these settings as custom brush presets. You can also generate tiled patterns by selecting an image area from your existing graphic and having the new Pattern Maker create new patterns for you to use elsewhere.

Photoshop is also exhibiting signs of "growing up" – and now offers several security and control settings suitable for professional users such as pro photographers and freelance artists. For example, Photoshop now provides complete support for Acrobat's own security settings, so you can add passwords and other protections and save out your images as locked Photoshop PDF files.

Another sign that Photoshop is moving into a more serious phase is its powerful text proofing tools. You can now search and replace text within Photoshop, either by a single layer or for the entire document. This is very useful to accommodate clients who want to change all instances of one word (or phrase) with another just before a deadline. The new spell checker will warm the heart of any art director tired of getting misspelled copy.

Digital artists can also use Photoshop's built-in dictionaries to check other languages besides American English. The software will check text copy using dictionaries based on UK English and Canadian French, as well as French, German, Swiss German, Old German, Spanish, Dutch, Italian, Swedish, Norwegian, Nynorsk Norwegian, Finnish, Danish, Portuguese, and Brazilian Portuguese. You won't find every language in the world, but this is still fantastically helpful for digital artists doing bilingual or trilingual work for multinational clients.

A new security option within Photoshop lets you enter text or place the file name, caption or copyright information on the image as a watermark. This is useful for content creators such as digital photographers who send their art on spec. but can never be sure if their "rejected" pictures aren't used anyway (without pay, of course).

Perhaps surprisingly given its new features, you won't need a superfast Mac or PC to run Photoshop (although, as usual, the faster your processor and the more RAM you have, the happier you'll be). You need at least a PowerPC-based Mac, and have OS 9.1, 9.2 or X (specifically, version 10.1.3 or higher), at least 128 MB of RAM (although Adobe recommends at least 192 MB), and 320 MB of available hard drive space. Windows users will need at least 256 MB of RAM, with more memory required for complex, multi-layered design work. Highly recommended.


End of Review
---
Have your say.
You can give us your feedback by visiting our Terms of Service page.
Buy this Mac-based product.
If you wish to buy this software for the Macintosh environment right now, please click here.
Adobe Photoshop CS2, an updated version for the Mac, is now available.
If you wish to buy this software for the Macintosh environment right now, please click here.
Adobe Photoshop CS2, an updated version for Windows, is now available
If you wish to buy this software for the Windows environment right now, please click here.
Read other reviews.
If you wish to return to the main Reviews page, please click here.
---