---
Reviews:

Reporter World provides a variety of safety equipment, identification products, specialized high-visibility clothing, pertinent news, product reviews, book reviews and useful links specifically for reporters, writers, assignment editors, news correspondents, journalists, ENG crews, photographers, production staff, directors, segment producers, media security personnel, and freelancers: in short, anyone who is part of the news gathering, information reporting, or documentary film industries.
In this section we review various products and services of relevance to reporters, writers, correspondents, ENG teams and production staff. These products include cameras and accessories; computer hardware and software; scanners; printers; books and other products. Smaller, mini-reviews, are also available in other sections of this site including Products, Books and Movies.
We are constantly adding additional reviews to this section. If you have any suggestions for other products you would like us to review, simply e-mail us using the feedback address on our Terms of Service page. Please supply us with as much information as you can about the product (including name, manufacturer, model number) or book (including title, author, ISBN and publisher).
---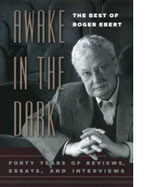 Title:
Awake in the Dark – The Best of Roger Ebert
Author: Roger Ebert
ISBN-10: 0-226-18200-2
ISBN-13: 978-0226182001
Publisher: The University of Chicago Press
Copyright: 2006
Relevance: Roger Ebert has been writing film reviews for the Chicago Sun-Times for nearly 40 years and this book is a culmination of his extensive knowledge of film, good judgment, and above all, excellent writing. Recommended for anyone involved with the film industry or anyone aspiring to be.
Review: If you read one book this year about the movie industry and about how movies have both shaped society and been shaped by them, you must read Awake in the Dark.
Roger Ebert's semi-autobiographical tome about how he became a movie critic takes us back to his early days growing up in the hardscrabble streets of Chicago. In a lengthy introduction to the book, we understand how the cinema shaped Ebert himself and how the cinema has shaped him.
The book is divided into seven disparate parts with the first of these being a series of interviews and profiles. Selecting only 17 people in this section must have been very difficult given Ebert's prodigious writing and broadcast career. It is only by reading all of these, however, that one begins to understand the breadth of Ebert's experience, his insight into the industry and his immense background into the movies. With over 100 pages, readers come to understand many of the industry's greatest talents through personal anecdotes and insider interviews.
The second part of the book subtitled "The Best" chronicles 39 years of movies and Ebert's picks for "best" movie of each year. This admittedly complex task might, of course, be subject to much second-guessing and retrospective hand wringing by the author. Nicely, Ebert explains his choices and, perhaps more importantly for film buffs, why these choices were often influenced by cultural and other factors of the day.
Looking back, he says, he knew that some of his yearly picks would not stand the test of time. In fact, he says, the best movies were eerily often his second choices, but at the time, the picks reflected where he, and the industry, was at that time.
The Movies
For example, Bonnie and Clyde was Ebert's pick for 1967's best movie, The Godfather for 1972, and, of course, Apocalypse Now for 1979, The Color Purple in 1985, Platoon in 1986, Mississippi Burning in 1988 and Goodfellas in 1990. Every year brings with it what Ebert considers the best movie – and an explanation as to why this is so.
Dissenters, of course, can be buoyed by the fact he also lists the top ten best movies for each year from 1967 to 2005 in the book's appendix. In Part 2, however, he offers up a few pages on each year's movie choice, making this part of the book less of a movie catalogue and more of a chronicle of American politics and pop culture.
In Part 3, Ebert examines 15 foreign films, most of which have escaped critical acclaim within the Hollywood studio system. Last Tango in Paris and Fellini's Roma are two such examples. More mini reviews follow in subsequent sections of the book including 12 documentaries (such as the likes of Woodstock, Gates of Heaven and the "Up" movies), as well as ten overlooked and underrated movies (including Bring Me the Head of Alfredo Garcia and To Live and Die in L.A.).
Part 6 brings what Ebert calls several "essays and think pieces". Short essays about the industry itself with titles such as "Legacy of Star Wars", "Why I Love Black and White", "John Cassavetes: An Appreciation" and "Celluloid vs. Digital: The War for the Soul of the Cinema" serve to give the reader a real time and place for his other writings. Much of the previous chapters were culled from previous columns, and this section is no exception.
But through it all, readers, we think, understand, that Ebert's book is more a retrospective of one man's life rather than an independent survey of several individual movies. Sure, the man in question is someone who unabashedly loves movies and the culture around them, but it is still a journey of one man in the balcony.
Overall: We thoroughly enjoyed Awake in the Dark. Although mostly a compendium of already written and published pieces, Ebert's choices of which pieces to reprint and the commentary around them, illustrates well his own journey through the movies and life itself. A must for any movie buff, aspiring film industry worker or cultural historian. Recommended.
End of Review
---
Have your say.
You can give us your feedback by visiting our Terms of Service page.
Buy this book.
If you wish to buy this book right now, please click here.
Read other reviews.
If you wish to return to the main Reviews page, please click here.
---