---
Reviews:

Reporter World provides a variety of safety equipment, identification products, specialized high-visibility clothing, pertinent news, product reviews, book reviews and useful links specifically for reporters, writers, assignment editors, news correspondents, journalists, ENG crews, photographers, production staff, directors, segment producers, media security personnel, and freelancers: in short, anyone who is part of the news gathering, information reporting, or documentary film industries.
In this section we review various products and services of relevance to reporters, writers, correspondents, ENG teams and production staff. These products include cameras and accessories; computer hardware and software; scanners; printers; books and other products. Smaller, mini-reviews, are also available in other sections of this site including Products, Books and Movies.
We are constantly adding additional reviews to this section. If you have any suggestions for other products you would like us to review, simply e-mail us using the feedback address on our Terms of Service page. Please supply us with as much information as you can about the product (including name, manufacturer, model number) or book (including title, author, ISBN and publisher).
---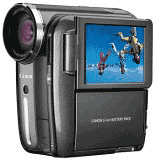 Product:
Canon Optura 600
Manufacturer: Canon
Relevance: The Optura 600 is a high quality, consumer level Mini-DV camcorder that can also double as a 4.3 megapixel still camera. Although not suitable for pro use, the Optura 600 is certainly worthy as a back-up camcorder for off-duty reporters as well as an on-duty unit for stringers and other semi-pros.
Review: We were excited when we received the Optura 600 camcorder because it promises a lot – and for the vast number of consumer level videographers in the market – it delivers.
The camera is able to work in both 4:3 and true 16:9 widescreen formats. Canon rates the camera's magnification power at 10x optical and 200x digital, although in practice we thought the optical rating was a bit optimistic and the digital zoom on the camera very pixelated. That said, for the vast majority of consumers (a market at which this camera is firmly aimed – yes, the pun is intended), the camera's optical magnification is more than enough in most cases.
We liked the fact that the Optura 600 camcorder also features Canon's exclusive DIGIC DV image processor. As well, the camera's built-in Program Auto Exposure Mode dial lets you choose between a variety of shooting modes. The Optura 600 also handles dimly lit or dark scenes with a built-in video light that illuminates subjects in low-light conditions.
Naturally, the range of the light is suitable only for short distances but could be used to further illuminate busy scenes for additional depth of field. We found that the Optura 600 was above average in being able to acquire (and lock onto) selected objects in an otherwise cluttered or dark scene.
The camera is also packed with a number of key prosumer features including an external microphone jack (an impressive addition for any camera in this class), an LCD back light and a number of in-camera digital effects. We would have liked to see some built-in lighting illuminating the back and sides of the camera to help us change settings or manually focus in dim or night shoot situations. Alas, the Optura 600 made us reach for our Maglites instead.
Also noticed and admired were the camera's USB port (for still picture transfer) and Firewire/IEEE 1394 port (for DV transfer). As well, the camera sports a special AV in/out plug and cable combination enabling digitization of existing analog VHS tape (more about this later).
Good Hand Feel
All three reviewers thought the Optura 600 fit well in their hands and tended to use the attached hand strap. Unlike the standard "tubular" camera design, the Optura 600 is more modeled around an upright form factor. In most cases, we thought this was a good design although we note that some may find the camera's center of gravity a bit high.
We also note that the camera's hand strap is attached to the bottom (and not the side as it is in many other cameras). Although this makes for a comfortable and well-placed hand-hold while shooting, the camera was difficult to balance when sitting on its base if the strap hadn't been brushed aside to level things out.
Another non-standard design feature also caused us a minor bit of confusion when we first started playing around with the camera: the unit's nicely-lit LCD unlatches from the top while the battery unlatches from the bottom in more or less the same place.
This meant we frequently reached for the battery pack when in fact we were trying to swing out the LCD screen. After a few minutes, however, we got used to the camera and this didn't cause any further problems.
All other controls and functions were well placed and all three reviewers thought things were "where they should be" on the camera, especially given the small real estate of the camera.
We liked the built-in accessory shoe on the bottom letting us attach the camera to a tripod. Unfortunately, we also noted that the camera's DV tape cannot be changed when mounted on a tripod as the shoe fitting blocks the tape access mechanism.
Again, we judged this wouldn't bother most consumers who don't have (or don't use) a tripod for shooting. For pros, however, unlatching the camera from the tripod, unfastening the shoe attachment, changing the tape and then reattaching the camera to the tripod again might get a bit tiresome over the long haul.
Great pictures
These interface issues aside, the Optura is able to capture some great pictures for this level of camera. Video quality, especially indoor shots or outdoor ones with lots of light, were exemplary and free of much of the noise that plagues many other consumer grade cameras.
We found the zoom controls well-placed near the front of the camera although in practice they were far twitchier than many professionals would want. This is not a criticism of the camera per se; we find this problem with most consumer level camcorders and note that the Optura 600 seems to be less twitchy than most.
We also very much liked the fact that the Optura 600 can be focused manually using a few simple steps – and found we often used the manual focus in lieu of the auto-focus during certain environmental conditions such as dark shooting or rainy conditions.
The camera also does an above average job of digitizing existing analog content and nicely, Canon provides the necessary cable for this magic to happen. We applaud the company for including the cable as many times this is not included by manufacturers and ends up being a costly accessory with which consumers are unnecessarily saddled at retail. Good for Canon!
In a perfect world, we would've liked to see stronger optical magnification on the Optura 600. Even Canon's own Elura series has a model with 20X magnification – but the Optura 600 has a far better CCD and optical pick-up – so it's six of one, half a dozen of another. In the end, Canon's Optura series is far superior to the Elura.
In general, although the Optura 600 is unsuitable for clandestine or UC work, it is suitable for low profile filming considering the nice LCD screen that swings out and is able to tilt down 90 degrees and up 270 degrees (at this point, the electronics is smart enough to produce a correctly oriented image).
Of course, the LCD screen could not be used in low profile filming conditions such as walk-by shoots, but the screen is useful for initial positioning of your objective and any adjustments you require from time to time. Naturally, looking through a viewfinder in these situations would tend to show your hand (as it were).
We also applaud the external mic jack letting us attach a variety of amped and un-amped microphones using a standard mini jack. One slight criticism we found with the Optura 600 was the auto focus tended to produce wavering images during certain shooting environments such as very low light or outdoor conditions. These are mitigated by manually rezooming the camera and waiting a few seconds for the auto focus electronics to lock in on the shooting objective.
We would rate battery life good to very good and Canon's BP-308 lithium-ion battery pack is quickly recharged making it ideal for videographers. The battery charger itself is combined with the AC battery eliminator. We thought this design was both suitable and advantageous for its consumer market as well as for professionals working in the field,
One of the key reasons why we recommend this camera as a standby pro-use model is its very low weight to performance ratio, meaning you get a lot of video bang for the weight you're carrying. The Optura 600 can be easily carried and concealed in a large jacket pocket or certainly any purse. As any experienced videographer will confirm, it's far better to have a less-able unit with you at all times rather than missing "once-in-a-lifetime" footage because you've left your much beloved Betacam in the truck or back at the office because it was too heavy to take with you.
Overall: We highly recommend the Optura 600 for any consumer or prosumer use. It's Mini-DV technology makes it ideal for those who are further editing their photography using a computer and digital edit software.
The Optura 600 can also be used by pros on assignment provided they understand the output is certainly not broadcast quality. With the proper lighting, editing and a bit of luck, however, its output could be tweaked to be serviceable video for broadcast news or other relatively low performance video requirements. Recommended.
End of Review
---
Have your say.
If you wish to comment on this review, you can do so from our Terms of Service page..
---