---
Reviews:

Reporter World provides a variety of safety equipment, identification products, specialized high-visibility clothing, pertinent news, product reviews, book reviews and useful links specifically for reporters, writers, assignment editors, news correspondents, journalists, ENG crews, photographers, production staff, directors, segment producers, media security personnel, and freelancers: in short, anyone who is part of the news gathering, information reporting, or documentary film industries.
In this section we review various products and services of relevance to reporters, writers, correspondents, ENG teams and production staff. These products include cameras and accessories; computer hardware and software; scanners; printers; books and other products. Smaller, mini-reviews, are also available in other sections of this site including Products, Books and Movies.
We are constantly adding additional reviews to this section. If you have any suggestions for other products you would like us to review, simply e-mail us using the feedback address on our Terms of Service page. Please supply us with as much information as you can about the product (including name, manufacturer, model number) or book (including title, author, ISBN and publisher).
---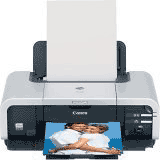 Product:
Canon Pixma iP5200R Photo Printer
Manufacturer: Canon
Relevance: Canon's Pixma iP5200R is an impressive photo printer able to output a maximum of 9600 dpi x 2400 dpi images quickly for using wireless (802.11b/g), wired (Ethernet) and traditional USB.
Review: We were pleasantly impressed with the Pixma iP5200R. Many of our "lab rats" (i.e., product testers) had already fallen in love with previous versions of the Pixma lineup mainly due to one of its key features: that being able to automatically duplex print jobs. For our money, this one feature should encourage all photographers and others looking for a fast and easy-to-use printer to look Pixma's way.
Installation is fast and painless with the supplied drivers supporting both Windows and Mac environments. Laggard MacHeads, however, will be disappointed to learn that the Pixma iP5200R is compatible with OS X only; it does not talk with Macs running OS 9 or earlier versions of the operating system.
The good news, however, is that the iP5200R is just as happy in the traditional USB world as it is in the wireless and network world. The Pixma iP5200R can work wirelessly if your computer can communicate on either the 802.11b or 802.11g protocols. If your photo studio or newsroom is Ethernet equipped, the Pixma iP5200R can also accommodate Ethernet technology.
One of the key differences between this model and previous models of the Pixma line is that the printers now come equipped with individual smart LED ink tanks. These new tanks are available on the iP5200, iP5200R (tested) – and the higher end iP6600. The tanks are smart because each lets you know about low ink levels and can even tell you if the tank is installed incorrectly (or in an incorrect slot). In other words, the printer is smart enough to tell you if you mistakenly placed the cyan cartridge in the slot reserved for the yellow one.
Cynics would say this smart ink tank system is the latest salvo fired in the war between printer manufacturers (who obviously make a lot of their revenue from selling OEM ink and paper) and the folks who want to sell you refill ink for your old tanks. As a digression, we once tested these ink refills but were not exactly happy with the results. Not only were the colors less vibrant than the originals, we found the filling process both messy and laborious.
Another major innovation (and reason to buy Canon's OEM ink tanks) is Canon's new ChromaLife 100 system. The company says that shots printed with the ChromaLife 100 last up to 100 years when stored in an archival quality photo album and printed on Canon's own papers. Since none of us will be around to directly test this claim, we have to take the company's word for it. That said, we've had several Canon-generated prints hanging around the office and they seem to be doing well – especially those in the lab where there is no direct sunlight.
Traditionally, ink jet manufacturers have structured their longevity tests based solely on how well their pics resist ozone degradation – a major factor in how photos decompose over time. Canon's engineers now test its ChromaLife 100 system for ambient nitrogen oxide and sulfur oxide as well as ozone. According to the company, this leads to more accurate test results that more closely mimic real life situations.
How does all this science translate into real-life results? The company says that its ChromaLife prints – when printed on Canon PhotoPaper Pro or PhotoPaper Plus Glossy – last up to 30 years when displayed under glass. And that's actually pretty darn good from a desktop inkjet printer.
Excellent Resolution
The Pixma iP5200R prints quietly, predictably and without jams. In testing, we found that printing one 4" by 6" photo in acceptable quality takes just over a minute. We thought this was satisfactory because the results were excellent. The iP5200R uses a five-color ink tank configuration as does its slightly less capable brother, the iP5200. Our reviewers thought photographs were a bit dark but could easily be adjusted by tweaking them a bit in Photoshop.
One of the really neat features of this series of printers is you can actually print consumer photo lab quality photo prints using both sides of the media. This means you can actually construct photo albums that have pictures on both sides of the page (with the help of special Canon album kits).This, we thought, was very cool, both for professional applications (proofing) or consumer applications (home print production or scrapbooking).
We found the iP5200R to be useful in both photographic and non-photographic applications. Book compers, for example, will absolutely love the idea of being able to select a few printing options and have the printer duplex a complete chapter automatically. We hate to harp on this, but being able to automatically duplex a print job with a fair degree of complexity can pay for itself very quickly in terms of time saved and aggravation avoided.
Minor banding
In printing large areas of full color blocks, we found some very minor banding but we judged this not a serious problem based on our needs. It is possible, however, that your application will require one-hundred percent, no-excuses color coverage. Consequently, you may be disappointed with the Pixma iP5200R's output. These nit-picks aside, however, we have tested multi-thousand dollar laser printers that have created far more visible banding, ghosting and other coverage problems than we saw with the iP5200R...so we're probably being overly picky.
Overall: we were very impressed with the Pixma iP5200R. It is a fast, solid printer for home photographers as well as for many pros who want to comp their work before final output. Although its drivers do not support CMYK output, a major problem for professionals working in the high end print world, we found for most uses, its RGB model worked well and mapped closely to our expectations. The printer would also be at home in small newsrooms or creative departments and, dare we say it again, anywhere that would benefit from automatic two-sided output. Highly recommended for its intended market.
End of Review
---
Have your say.
If you wish to comment on this review, you can do so from our Terms of Service page..
Buy this printer.

If you wish to buy this printer right now,
please click here
.
Accessories:
Note: the printer comes with one of each of the following five ink tanks. These are replacement tanks.
Read other reviews.
If you wish to return to the main Reviews page, please click here.
---