---
Reviews:

Reporter World provides a variety of safety equipment, identification products, specialized high-visibility clothing, pertinent news, product reviews, book reviews and useful links specifically for reporters, writers, assignment editors, news correspondents, journalists, ENG crews, photographers, production staff, directors, segment producers, media security personnel, and freelancers: in short, anyone who is part of the news gathering, information reporting, or documentary film industries.
In this section we review various products and services of relevance to reporters, writers, correspondents, ENG teams and production staff. These products include cameras and accessories; computer hardware and software; scanners; printers; books and other products. Smaller, mini-reviews, are also available in other sections of this site including Products, Books and Movies.
We are constantly adding additional reviews to this section. If you have any suggestions for other products you would like us to review, simply e-mail us using the feedback address on our Terms of Service page. Please supply us with as much information as you can about the product (including name, manufacturer, model number) or book (including title, author, ISBN and publisher).
---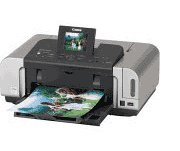 Product:
Canon Pixma iP6600D Photo Printer
Manufacturer: Canon
Relevance: Canon's Pixma iP6600D is an impressive photo printer able to output images quickly at a maximum of 9600 dpi by 2400 dpi by using wireless (802.11b/g), wired (Ethernet) or traditional USB connections.
Review: Just when we'd finished reviewing the very competent Pixma iP5200R, Canon surprised us with the still more impressive Pixma iP6600D. The iP6600D shares many of the solid features of its sibling but adds the addition of a 3.5" LCD screen to proof jobs and control several printer functions when connected to a computer.
Like all current Canon Pixma printers, the iP6600D is able to automatically duplex print jobs. Some may dismiss the ability to print on both sides of the page as merely a gimmick, but when one uses the printer in this way, one sees its true value. Simply put, duplex printing from an inkjet is both a huge time saver and removes much of the aggravation involved with running two-sided comps.
Installation of the driver software is fast and painless. The iP6600D supports both Windows (XP, Me, 2000, 98) and Mac environments (Mac OS X v10.2.1 to 10.4.x). The printer does not operate on OS 9 or earlier versions of the OS.
The iP6600D is happy in the traditional USB world (i.e., wired world) but it is also capable of working in the wireless and network world. The Pixma iP6600D can work wirelessly if your computer can communicate on either the 802.11b or 802.11g protocols. If your photo studio or newsroom is Ethernet equipped, the Pixma iP6600D can also accommodate Ethernet technology.
The printer uses a six-ink system and comes with individual "smart" LED ink tanks. The tanks are smart because each can let you know if it's been installed incorrectly of if it's ink is running low. It's also smart enough to tell you if you've put the wrong color tank in a specific slot?. In addition to the standard four color inks, Canon has added high intensity Photo Cyan and Photo Magenta to this model.
Another major innovation (and reason to buy Canon's OEM ink tanks) is Canon's new ChromaLife 100 system. The company says that pictures printed with ChromaLife 100 ink can last up to 100 years when stored in an archival quality photo album and printed on Canon's own papers. Obviously, none of us will be around to test this claim, but it is significant if only for comparison purposes.
Excellent Resolution
Like the iP5200R, the Pixma iP6600D prints quietly, predictably and without jamming at resolutions up to 9600 by 2400 dpi. In testing, we found that printing one 4" by 6" photo in acceptable quality takes just over a minute. We thought this was satisfactory because the results were excellent. As we mentioned previously, the iP6600D uses a six-color ink tank configuration. Two reviewers thought the results closely matched consumer photo finishing from far more expensive machines.
One of the really neat features of this series of printers is you can actually print consumer photo lab quality photo prints using both sides of the media. This means you can actually construct photo albums that have pictures on both sides of the page (with the help of special Canon album kits).This, we thought, was very cool, both for professional applications (book, magazine or event photography proofing, for example) or consumer applications (home print production or scrap-booking).
We found the iP6600D to be useful in both photographic and non-photographic applications. Book compers, for example, will absolutely love the idea of being able to select a few printing options and have the printer duplex a complete chapter automatically. We hate to harp on this, but being able to automatically duplex a print job with a fair degree of complexity can pay for itself very quickly in terms of time saved and aggravation avoided.
We were disappointed that the iP6600D drivers do not yet support the CMYK model, thus limiting the printer for high end proofing work. This omission is unfortunate as the printer could do very well in this market. This said, unless you need absolute, precise color matching, the iP6600D can certainly produce well saturated comps suitable for most people's needs.
The impressively large 3.5" LCD color screen lets owners preview and even slightly enhance images stored on a variety of compatible memory cards before they are printed. Most of the technology involved in all of this magic stays nicely behind the scenes. You simply insert a card into one of the card slots and select the images to print from the ones that pop up on the screen.
As a tip to its consumer market, the iP6600D can automatically correct for red eye, improve sharpness and enhance the white balance of your shots. Besides being able to print from a memory card, you can also print directly from a PictBridge compatible digital camera or DV camcorder (assuming you've got some still shots stored).
Overall: we were very impressed with the Pixma iP6600D. It is a fast, solid printer for home photographers as well as for many pros who want to comp their work before final output. Although its drivers do not support the CMYK model (a major problem for professionals working in the high end print world), we found for most uses, its RGB model worked well and mapped closely to our expectations. The printer would also be at home in small newsrooms or creative departments and, dare we say it again, anywhere that would benefit from automatic two-sided output. Highly recommended for its intended market.
End of Review
---
Have your say.
If you wish to comment on this review, you can do so from our Terms of Service page..
Buy this printer.

If you wish to buy this printer right now,
please click here
.
Accessories:
Note: the printer comes with ink tanks. These are replacement tanks.
Read other reviews.
If you wish to return to the main Reviews page, please click here.
---