---
Reviews:
Reporter World provides a variety of safety equipment, identification products, specialized high-visibility clothing, pertinent news, product reviews, book reviews and useful links specifically for reporters, writers, assignment editors, news correspondents, journalists, ENG crews, photographers, production staff, directors, segment producers, media security personnel, and freelancers: in short, anyone who is part of the news gathering, information reporting, or documentary film industries.

In this section we review various products and services of relevance to reporters, writers, correspondents, ENG teams and production staff. These products include cameras and accessories; computer hardware and software; scanners; printers; books and other products. Smaller, mini-reviews, are also available in other sections of this site including Products, Books and Movies.

We are constantly adding additional reviews to this section. If you have any suggestions for other products you would like us to review, simply e-mail us using the feedback address on our Terms of Service page. Please supply us with as much information as you can about the product (including name, manufacturer, model number) or book (including title, author, ISBN and publisher).
---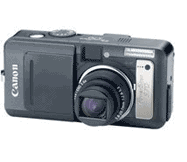 Product: PowerShot S70

Manufacturer: Canon

Relevance: Canon's PowerShot S70 is a surprisingly powerful point-and-shoot style camera capable of capturing images at seven megapixels. It is ideal as a semi-pro camera, although it also could function as a back-up unit for professional photographers under certain circumstances.

Review: We were delightfully impressed with Canon's new PowerShot S70, a sleek black point-and-shoot style camera suitable for semi-pro and, as a back-up, pro work. At a maximum resolution of 7.1 megapixels, the PowerShot S70 is able to take very well resolved photos at optical zoom ranges of up to 3.6X.

We were also impressed with the simplicity of the controls, especially when zooming or panning images on playback. The PowerShot S70 doesn't have the largest playback screen we've seen on a camera in this class, but we were satisfied with the quality and brightness of the images produced on the screen.

We found the PowerShot S70 has a fast cycle-on time for a camera of this type. This means the chances of missing a shot when fumbling to turn on the camera are low. To take a picture with the S70, you simply slide the front cover aside (to the right), causing the lens assembly to be extended about 1.25". Focusing is automatic -- assuming one has selected the camera's Auto setting -- and flash is also automatic (flash can also be disabled when required). The entire procedure takes less than five seconds, which we judged to be very adequate for the intended market of the S70.

Since the camera has a fixed 5.8-20.7mm lens, it cannot be recommended for intensive pro work, or for other shots that requires an interchangeable lens system. The PowerShot S70 does support a tele-conversion lens (Canon part number TC-DC10) but filters cannot be affixed to this lens. To use the tele-converter, you must also purchase Canon's Conversion Lens Adapter (part number LA-DC10). Also, you cannot use the built-in viewfinder when the conversion lens adapter is attached as it is physically blocked by the mounting bracket.

All this said, we were very impressed with the PowerShot S70. The camera has good "hand-feel" and its controls are well laid out on the top and back of the camera unit. As usual with our reviews, one of our colleagues had the task of figuring out how to use the camera without the help of the manual. He found it easy to operate and connect to a computer, and within a few minutes was happily snapping pics and transferring them into Photoshop. (More about connections later.)

Weighing in at about a pound, the PowerShot S70 is heavier than it looks. This is not to say it's particularly heavy, but looks a bit lighter than it is. This also means it is slightly uncomfortable to carry in a trenchcoat, but certainly doable. One of our reviewers commented it was surprisingly slender for the resolution and other features provided, especially compared with other cameras on the market. We were disappointed the S70 does not come with a belt case, but this is hardly unusual. Fortunately, standard cases are freely available in the online aftermarket and in camera stores. Given the PowerShot S70's standard shape, we had no difficulty finding a variety of suitable cases.

Shutter Speeds:
The PowerShot S70's shutter speed can be manually set or automatically controlled by the camera. Shutter speeds range from an impressive 1/2000 of a second to a super slow time of 15 seconds. Quite a few photographers -- even many pros -- don't bother with the PowerShot S70's white balance functions, and this is a shame as Canon's engineers have obviously labored to provide a wide variety of options. These include the standard TTL Auto as well as several presets such as Daylight, Cloudy, Tungsten, Fluorescent, Fluorescent H, Flash and Underwater (as an option, photographers can purchase an underwater kit for their camera).

Canon says the flash range of the PowerShot S70 is 55 cm to 4.2 m (1.8 feet to 14 feet). We found this a bit optimistic. In tests, we found flash range limited to about 10 to 12 feet. This is certainly adequate for close up work, but pro work during night or dim conditions is limited.

The PowerShot S70 can continuously shoot at about 1.2 shots per second, slightly slower than the 1.5 shots per second rating of the PowerShot S60, the S70's less capable counterpart. Since composing the images onto the LCD screen does take a few seconds, these faster speeds are achieved by turning off the LCD monitor.

Electrical power for the PowerShot S70 comes in the form of a specially designed Lithium-ion battery pack (Canon part# NB-2LH). This is both good news and bad news. The good news is that the rechargeable NB-2LH battery pack provides a reliable source of power and saves money and the environment. You simply remove the NB-2LH and place it in the dual voltage (110 to 240 VAC) charger. Another nice touch is that the prongs that fit into the outlet fold back into the charger, making it less likely to snag on other equipment or clothes in your bag.

We found that charging the battery pack takes between 30 to 60 minutes, depending on the previous battery drain and electrical voltage supplied. When an uncharged battery pack is plugged into the recharger, its red LEDs glow. As charging is complete, the red LEDs turn off and green LEDs glow instead. Pro photographers should consider the PowerShot 70's extended battery system (Canon part# NB-2L) for more power, as well as an AC adapter kit (Canon part# ACK-700). For those with frequent car access, Canon also produces a car-based battery charger (Canon part# CBC-NB2) that plugs into your vehicle's cigarette outlet.

The bad news is that photographers in the field have to use one of Canon's rechargers to get more juice for their PowerShot S70. You can't nip round to the nearest shop and load up on AAs if you start losing power to your camera. We were unable to source an adapter kit to use standard AA batteries in case of emergency, although there may be one available in the aftermarket.

CompactFlash:
The recording media used in the PowerShot S70 are CompactFlash (CF) cards Type I and Type II. The PowerShot S70 can produce still images at five resolutions: Large: (3072 by 2304 pixels); Medium 1 (2592 by 1944 pixels); Medium 2 (2048 by 1536 pixels); Medium 3 (1600 by 1200 pixels); and Small (640 by 480 pixels).

The main complaint we had with the camera is that the capacity of its supplied memory card is far too small for any professional work. Of the memory card supplied (Canon part# FC-32MH) you get just 9 shots in Large format, 11 shots at Medium 1; 18 shots at Medium 2; 30 shots at Medium 3; and 119 shots at Small (suitable only for Web work or comping). The camera is also capable of producing images in RAW (i.e., a less compressed format at 3072 by 2304 pixels), although you get only three (count 'em!) shots onto a 32 MB CompactFlash card in the RAW format.

Clearly, pro and semi-pro photographers will likely ignore the supplied FC-32MH card and substitute at least the FC-128M or the FC-256MH card. At Large (compressed resolution), the cards will store up to 40 or 81 images, respectively. Stored in RAW format, the 256 MB capacity FC-256MH card will yield 33 images. If you're out all day and don't want to change cards, go for the FC-512SH card which will let you store 163 Large compressed images and up to 68 in RAW form.

Just a note about Canon's RAW format: In normal mode, the PowerShot S70 compresses images using a non-reversible JPEG compression, resulting in more images being stored on a given memory card. The problem for professional photographers, however, is that this type of compression is non-reversible and may eliminate finer details that pro and semi-pro photogs need for later printing. While Canon's RAW images are also compressed, they undergo a reversible compression process. This means they can be reconstituted into a much higher quality image than with traditional compression technology such as JPEG. The tradeoff, however, is that image size is about three times larger, and thus storage yields are approximately one-third of compressed images.

Software:
We were somewhat disappointed to find that the PowerShot S70 does not support Macs running OS 9 and below. Put another way, you need to be running Mac OS X to use this camera. For photographers who have made the move to Mac OS X (at least version 10.2), this is obviously not a problem. Those who have not made the switch, however, will be surprised to find their pictures locked on the memory card, with no place to go unless you plan on using PictBridge to print directly or an external CF card reader.

While PictBridge is a very cool technology -- especially for consumers who merely want to print out shots -- it has minimal usefulness for the professional. Almost every pro photographer needs to crop or tweak images with Photoshop before submitting them to their editor so Mac OS X is essential for this camera.

Ironically, Canon's Mac OS X-based driver software is rather redundant since as soon as you plug the PowerShot S70 into a Mac running OS X, the computer automatically recognizes the camera and launches iPhoto software. Based on this reality, we didn't even bother installing the software. Things worked perfectly with iPhoto so why bother, we thought, installing yet another piece of driver software?

To connect your PowerShot S70 camera to a Windows XP pre-installed computer via USB cable, you need to install the appropriate USB WIA driver. According to Canon, the USB TWAIN driver is not compatible with Windows XP. If this driver was pre-installed on your computer, it must be uninstalled before installing the USB WIA Driver, which is the Windows XP compatible driver.

The PowerShot S70 also supports Exif 2.2 (also called "Exif Print"). The format is a standard for coordinating settings between the camera and Exif Print compatible printers. The upshot is that image data captured at the time the photo was taken is used to optimize the quality of the printed image.

The camera communicates using USB technology with a mini-B plug (which is rather non-standard, but certainly common among other Canon cameras we've seen). Given the high end market for the camera (and the fact that pros and semi-pro photographers will use this camera), we were surprised there was no FireWire 400 or FireWire 800 interfaces, but adding these higher speed interfaces would only be noticeably useful with higher capacity memory cards.

Overall:
We were very impressed with the Canon PowerShot S70. The 7.1 megapixel camera produces very well defined images and a variety of resolutions and compressions. Although supplying a lightweight 32 MB memory card as its only storage medium is a bit optimistic, pro photographers can easily upgrade to a more suitable card. Highly recommended.

End of Review
---
Have your say.
You can give us your feedback by visiting our Terms of Service page.
Buy this camera.
If you wish to buy this camera right now, please click here.
Read other reviews.
If you wish to return to the main Reviews page, please click here.
---