---
Reviews:
Reporter World provides a variety of safety equipment, identification products, specialized high-visibility clothing, pertinent news, product reviews, book reviews and useful links specifically for reporters, writers, assignment editors, news correspondents, journalists, ENG crews, photographers, production staff, directors, segment producers, media security personnel, and freelancers: in short, anyone who is part of the news gathering, information reporting, or documentary film industries.

In this section we review various products and services of relevance to reporters, writers, correspondents, ENG teams and production staff. These products include cameras and accessories; computer hardware and software; scanners; printers; books and other products. Smaller, mini-reviews, are also available in other sections of this site including Products, Books and Movies.

We are constantly adding additional reviews to this section. If you have any suggestions for other products you would like us to review, simply e-mail us using the feedback address on our Terms of Service page. Please supply us with as much information as you can about the product (including name, manufacturer, model number) or book (including title, author, ISBN and publisher).
---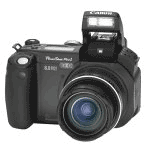 Product: PowerShot Pro1

Manufacturer: Canon

Relevance: Canon's PowerShot Pro1 is a very impressive camera capable of capturing images at eight megapixels. It is ideal as a semi-pro digital camera that is both inexpensive and powerful enough for all but the most extreme photojournalist applications.

Review: If you've been following the digital camera revolution over the past few years, you know that Canon has been at the front of the technology parade with some rather great products for photographers and digital artists. We found Canon's new eight megapixel PowerShot Pro 1 digital camera a great example of this leadership when we recently took one out for a spin.

First off, the PowerShot Pro1 is a very high-end prosumer camera that successfully melds the high end point-and-shoot market and the optical excellence found usually with interchangeable SLR-based cameras. The Pro1's sleek black body feels like a small SLR in the hand and is relatively well balanced. The camera is "right-handed" (as is just about every SLR on the market) and most controls -- and there are quite a few controls -- are operated by the right hand.

The Pro1 is Canon's first compact digital camera sporting an L-Series lens and, consequently, some rather impressive optics. The company has positioned the Pro1 for discerning "digital shooters, advanced amateurs and other photo enthusiasts". While it's true this camera does not offer the option of interchangeable SLR-type lenses (and hence cannot be fully recommended as a pro level camera), the Pro1's lens is clearly up to the high standards of other EF-type lenses in Canon's line-up.

The Pro1 features an L-series lens with a 28 - 200mm (35mm format equivalent) f/2.4-3.5, 7x optical zoom that we found produces well saturated and well balanced images. The lens that performs this magic features two aspherical elements, two UD-glass elements and one particularly interesting new addition to the PowerShot brand: a Fluorite crystal element within the lens.

Canon's use of a Fluorite crystal as well as its inclusion of UD glass to the lens construction reduces the level of anomalous dispersion -- photographers know this better as chromatic aberration. The upshot of all this science is that Fluorite and UD elements improve sharpness and color fidelity while the aspherical elements improve image quality and thus, allow the lens construction to be more compact than comparable conventional zoom lenses. We found the Pro1 to be lightweight, compact and capable of producing some surprisingly brilliant shots.

The macro capabilities of the Pro1's L-series lens let you focus closely, up to 3.9 inches at full (i.e., eight megapixel) resolution while Canon's "super macro mode" lets you focus up to 1.2 inches (at a reduced, five megapixel resolution). In addition to its 7x optical zoom, the Pro1 also features a 3.2x digital zoom. If you want additional zooming, the camera accepts optional accessory converter lenses (attached with yet another optional conversion lens adapter) but these are specific to this camera model.

Swing Out Screen
One of the coolest features of the Pro1 is its swing-out LCD screen. In traditional digital cameras, the screen is built into the back of the camera and is therefore limited in terms of viewing angles. As digital photographers well know, LCD screens quickly lose their display ability as the photographer's viewing angle increases. Put simply, unless one is looking directly into the display, one's ability to see the image is limited. This effect is especially important when shooting outdoors when the human eye is competing with screen angles and the sunlight.

The PowerShot Pro1 has solved this problem. Not only does the LCD screen swivel out much like opening a book cover, but the screen also swivels up and down. This means photographers can hold the Pro1 above their heads, tilt the LCD screen downwards and see what the camera is seeing. This is quite the breakthrough and is especially useful for reporters working in tight confines of a media scrum or when taking shots from above as in traffic collisions or from below as in street riots or demonstrations.

The Pro1 is also a fast camera, capable of taking (and recording) shots much faster than many other digital cameras we've tested. Although not quite up to the speed of Canon's EOS digital line up, the Pro1 is impressively fast -- whether in outside sunlight or indoors using the built-in, pop-up flash unit.

The Pro1 also sports a continuous shooting mode in which the camera can shoot up to 2.5 shots per second. In "standard" shooting mode, the Pro1 can shoot approximately one shot per second.

Faster, faster
The Pro1 is able to release its shutter at speeds ranging from 15 seconds to 1/4000 of a second. Photographers can use their images in either RAW or JPEG formats as well as standard sRGB or Adobe RGB color space. Additional adjustments for contrast, sharpness and saturation are all possible. For those wishing a more comprehensive flash unit with more power, the PowerShot Pro1 can use existing EX-series Canon Speedlites and Macro Lites.

Photographers can also use the PowerShot Pro1 in a movie mode that captures 640 by 480 movies with sound at 15 frames per second for up to 30 seconds per clip (depending on the size of your memory card). Other speeds and resolution levels are possible as well. You can, for example, create 160 by 120 pixel movie clips up to three minutes in length. Still photos can also be annotated with sound clips up to 60 seconds in duration.

Storage-wise, the PowerShot Pro1 has a single slot for removable CompactFlash memory cards, Type I or II including Microdrives, and features USB connectivity, as well as, an A/V port for playback through a connected VCR or TV monitor. A 64 MB CompactFlash card is included, although third party CF cards are currently available at 32, 128, 256 and 512 MB capacities. Using the supplied 64 MB CF card, photographers can store up to 676 images (at consumer-oriented resolutions of 640 by 480 pixels) and up to 17 images, when using the best camera resolution of 3264 by 2448 pixels.

Importantly for serious photographers, the PowerShot Pro1 supports Exif Print, an emerging standard that transfers key camera settings and data from the camera to the printer. Exif Print ensures printed photos look more realistic and closer to what you shoot. Also, the camera's adoption of DPOF 1.1 (Digital Print Order Format) means you can specify the images to be printed or execute batch printing of just the shots you want.

Like other Canon cameras recently released, the Pro1 is also PictBridge compatible. This means that all you need to print from the Pro1 is a USB cable and a PictBridge compatible printer -- no computer is necessary. Although most Pro1 photographers will likely use Photoshop to clean up, edit and re-size their images, it's nice to have this direct-to-printer option.

Other things we liked about the Pro1 included: its incredibly tiny wireless remote control for the camera; the great white balance capabilities including TTL auto; pre-set (available settings: Daylight, Cloudy, Tungsten, Fluorescent, Fluorescent H or Flash); and the ability to set the camera's color space to either standard or Adobe RGB. We also appreciated the camera's many playback modes including Single (with the ability to display a color histogram of each shot); Index (showing nine images on screen at a time); and Magnified (zooming the particular shot at about 10x magnification).

Overall:
We really liked Canon's PowerShot Pro1 camera and can highly recommend the camera to all freelance photographers and many professionals. Although the camera does not reach into the high-end professional market (the camera's inability to use interchangeable lenses is a crucial difference between fully pro models and the Pro1 camera), there are enough professional level features in this camera to recommend it to all but the most demanding photographers. With a weight of about 1.2 pounds (including the lithium-ion battery and strap), the camera actually fits inside a (bulky) coat pocket until needed. Highly recommended.

End of Review
---
Have your say.
You can give us your feedback by visiting our Terms of Service page.
Buy this camera.
If you wish to buy this camera right now, please click here.
Read other reviews.
If you wish to return to the main Reviews page, please click here.
---