---
Reviews:
Reporter World provides a variety of safety equipment, identification products, specialized high-visibility clothing, pertinent news, product reviews, book reviews and useful links specifically for reporters, writers, assignment editors, news correspondents, journalists, ENG crews, photographers, production staff, directors, segment producers, media security personnel, and freelancers: in short, anyone who is part of the news gathering, information reporting, or documentary film industries.

In this section we review various products and services of relevance to reporters, writers, correspondents, ENG teams and production staff. These products include cameras and accessories; computer hardware and software; scanners; printers; books and other products. Smaller, mini-reviews, are also available in other sections of this site including Products, Books and Movies.

We are constantly adding additional reviews to this section. If you have any suggestions for other products you would like us to review, simply e-mail us using the feedback address on our Terms of Service page. Please supply us with as much information as you can about the product (including name, manufacturer, model number) or book (including title, author, ISBN and publisher).
---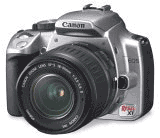 Product:
EOS Digital Rebel XT camera
Relevance: The Canon EOS Digital Rebel XT is an 8.0 megapixel SLR camera that ships with or without a compatible EFS 18-55 mm lens. The lightweight camera also features compatibility with a wide variety of Canon's EF and EF-S lenses, extending your existing lens investment.
Review: Canon's Digital Rebel XT is a light, small, easy to use, SLR-type camera suitable for lower-end professional as well as high-end "prosumer" applications. At its maximum resolution, it is able to capture an impressive 8.0 megapixels. Perhaps best of all, it is compatible with all of Canon's existing EF lenses as well as the company's EF-S lenses. The excitement is that all of this comes at an especially low price point, ideal for the budding professional or an on-the-budget photographic freelancer.
Canon watchers have long expected an enhanced resolution Digital Rebel XT, an EOS-class digital camera very similar to the original 6.3 megapixel EOS Digital Rebel camera that premiered some time ago. The Digital Rebel XT model we reviewed came in a kit complete with an EF-S 18-55 mm f/3.5-5.6 zoom lens. The camera is also available as a body-only option for those photogs who already have a similar lens.
With a smart bow to its high end consumer market, the Digital Rebel XT camera can be ordered in a brushed silver finish or the traditional matte-black SLR finish. It's your choice.
Under the hood
Much of the power of the Digital Rebel XT comes directly from another recently introduced Canon EOS camera, namely the 20D SLR. The two cameras share a new, large high sensitivity CMOS chip design. Technical types will focus – pardon the pun – on the fact that the CMOS sensor on the EOS Digital Rebel XT SLR is a bit smaller than the equivalent chip on the higher end EOS 20D camera (22.2 by 14.8 mm versus 22.5 by 15.0 mm respectively), yet they both provide the same effective angle of view, equivalent to 1.6x Canon's normal EF lens focal length.
The slightly different sizes of their CMOS sensors also partially explains the small resolution differences between the two cameras: 8.0 megapixels in the case of the Rebel XT and 8.2 megapixels for the 20D.
Setting up the Rebel XT and installing its driver software is quick and painless. You'll need Microsoft Windows 98Se, Me, 2000 or XP to install the necessary drivers on the PC side. If you're using a Mac, your system will have to be running at least Mac OS X v10.1.5 (or later). There is no Mac OS 9 driver available for the Digital Rebel XT, a point that caused much grumbling among some of our office's technical laggards.
Installing the actual software was fast and easy although we thought the massive amount of hard drive space necessary for the Easy Install was a bit over the top. For example, the Macintosh version of the Easy Install option deposits only four groups of files on your machine, yet these files take almost 400 MB of space! According to Canon, the Image Browser v5.1 driver (responsible for organizing and printing out images) requires a whopping 200 MB; the EOS Capture (used to automatically download photos to your Mac or PC) is half as chubby: it's only requires 100 MB.
It's all about the pictures
The Rebel XT is able to snap and store photos in seven resolutions:
In Large/Fine mode, the camera lets you take a 3456 by 2304 pixel image and stores it in a file approximately 3.3 MB. In Large/Normal mode, it takes the same image of 3456 by 2304 pixels, compresses it with lossy compression and stores it in a file approximately 1.7 MB in size.
Similarly, using the Rebel XT's Medium/Fine mode will let you capture and store a picture at 2496 by 1664 pixels, making a file size of approximately 2.0 MB. If storage is an issue – or your work is destined for lower resolution anyway – you can use Medium/Normal mode. Here, the camera stores the same 2496 by 1664 pixel image, compresses it (again, with lossy compression) and yields up a 1.0 MB image.
If your work is destined for the Web or perhaps, for family photos, you can use the camera's Small/Fine mode of 1728 by 1152 pixels. The Rebel XT stores the original file, without compression and creates a file approximately sized 1.2 MB. With compression (i.e., under the camera's Small/Normal mode, the 1728 by 1152 pixel image will store out at approximately 0.6 MB.
The real magic, at least for professional photographers, is the Rebel's XT's RAW mode. Here, you can store a 3456 by 2304 pixel image, yielding a file size of approximately 8.3 MB. You need special software to decode the camera's RAW format (one of the files you installed under the Easy Install mode is called Digital Photo Professional – and it's this file you need to unlock the 8 MB file).
Color space
The Rebel XT is able to use sRGB and Adobe RGB color space. This is useful but most professional photographers will already have Adobe Photoshop, a software program that is both quick and adept in its ability to change the color space of a given image. And nicely, the camera is able to output video in both NTSC and PAL formats, meaning that movies can be created for North American and Japanese as well as certain European, Asian and African country playback.
The Rebel XT has the standard SLR type grip, enjoyed by all of our reviewers – although one thought the camera's center of balance was a bit off to the side. The camera otherwise has a good "hand feel" but uses only a minimum of rubberized material to cushion weary hands. We thought the camera quite compact for the level of professional ability: 5.0" wide by 3.7" high by 2.5" thick (in metric, that's about 126 mm wide by 94 mm high by 64 mm thick). The weight of the camera is just over a pound (17 ounces or almost half a kilo), but this is for the body only.
We were very impressed with the visual feedback we received when preparing to shoot and during playback. Both the interior LEDs (located at the sides of the viewfinder) and the external screen for pre-shoot were well-lit and informative. We found that playing back images on the Digital Rebel XT was crisp and clean on the 1.8" (diagonal) external LCD screen.
The operation of the Rebel XT's pop-up flash unit wasn't quite what we expected. When the camera decides it needs more light, the flash unit pops up, noisily, and with little warning. If you happen to have your hand on the top of the camera – as one of our reviewers had when she attempted an indoor shot with a manual focus – you just may be surprised at the force exerted by the flash unit. We know she was.
All this said, the real story of any flash unit is how it illuminates the shot and the purity and temperature of the light produced. We found the Rebel XT's flash produced good quality light with a minimum of significant glare in most cases. Unlike the external flashes that most professional photographers use to bounce light, the Rebel XT's flash unit cannot be aimed or offset. This, we found, created a few situations where close-ups were very overexposed.
The Digital Rebel XT can shoot in a variety of ISO ranges including 100, 200, 400, 800 and 1600. It also offers 12 auto exposure modes that you can select based on your subject, weather conditions and lighting. These include: Full Auto, Portrait, Landscape, Close-up, Sports, Night Portrait, Flash Off, Program AE, Shutter speed-priority AE, Aperture-priority AE, Manual and Auto Depth-of-Field AE.
White balance
Like just about every pro level camera, the Rebel XT lets you manually adjust and correct for white balance and chromatic aberrations. The Rebel XT, however, lets you adjust both the blue/amber bias as well as the magenta/green bias up to +/- 9 levels.
This is a significant improvement over the previous Rebel model: while the blue/amber bias adjustment was standard on the original Digital Rebel model, the new Rebel XT camera's additional magenta/green bias adjustment provides increased color compensation.
Our reviewers really liked the Rebel XT's new white balance bracketing mode. This feature lets you set the camera to automatically capture three images for every shot you take. The advantage of this mode is that each picture is automatically assigned a different color bias. On playback, you then select the best shot (i.e., the one you feel best reflects your image's chromatic range) and discard the other two.
Sure, you can do this in Photoshop, but we found it was nice that Canon's engineers have added this feature. It's always better editing in the box than on the screen. Of course, the practical ramifications of using the white balance bracketing mode all the time is that you will (temporarily) be creating three times the number of files. Unless you have a large number of CF cards and don't mind changing them out every few minutes, your photo assignment will come to a screeching halt.
Speedy
To a field photographer, image transfer speeds can be just as important as the other more "gee-whiz" features upon which manufacturers tend to concentrate. Because of this, we were also impressed with the speed at which the Rebel XT transfers images, even without FireWire. Using only its USB 2.0 connection, we found the Rebel XT made short work of sending images to PCs or Macs.
Another nice feature was the Rebel XT's power charger, the CB-2LT. Yes, it charges the camera's NB-2LH lithium-ion battery quickly, but the lightweight charger (85 grams/3 ounces) endeared itself to us by having a set of fold-out plugs, rather than the traditional long black cordset. The fold-out plug design makes it ideal for photographers who travel on assignment: it's both lightweight and low-profile, with nothing to snag on in a cluttered camera bag.
The Rebel XT is PictBridge compatible, meaning you can simply plug the camera directly into a PictBridge compatible printer and output your shots (in full size or in contact sheet format) – all without the need for a PC or Mac. Although primarily designed for consumers, PictBridge can also be used by pros on assignment who are trying to keep track of which image is on which CF card they're carrying.
Battery life is always on the mind of every professional photographer. While it's inconvenient if an amateur photographer's camera runs out of juice, the same event can spell disaster for a pro. It is for this reason we applaud Canon for offering two new options for the Digital Rebel XT: a vertical grip (Canon part number BG-E3) that accepts up to two NB-2LH battery packs or six AA-sized batteries, and an AC Adapter Kit (Canon part number ACK700) for powering from an AC outlet. Very nice.
Overall
We were impressed by Canon's EOS Digital Rebel XT. The sexy, lightweight and expandable camera is ideal for high-end consumers and entry level professionals. A clear advantage of the Rebel XT is that it is an EOS camera: it takes the same lenses and many of the accessories as other EOS cameras, meaning it can grow with you as your skill set broadens. Recommended.

---
Have your say.
You can give us your feedback by visiting our Terms of Service page.
Buy this camera kit (includes EF-S 18-55mm lens) in silver finish.
If you wish to buy this kit right now, please click here.
Buy this camera (body only) in silver finish.
If you wish to buy this camera right now, please click here.
Buy this camera kit (includes EF-S 18-55mm lens) in black finish.
If you wish to buy this kit right now, please click here.
Buy this camera (body only) in black finish.
If you wish to buy this camera right now, please click here.
Accessories:
SanDisk SDCFH-1024 1 GB Ultra II Compact Flash memory card.
Canon Speedlite 420EX Flash.
Read other reviews.
If you wish to return to the main Reviews page, please click here.
---