---
Reviews:

Reporter World provides a variety of safety equipment, identification products, specialized high-visibility clothing, pertinent news, product reviews, book reviews and useful links specifically for reporters, writers, assignment editors, news correspondents, journalists, ENG crews, photographers, production staff, directors, segment producers, media security personnel, and freelancers: in short, anyone who is part of the news gathering, information reporting, or documentary film industries.
In this section we review various products and services of relevance to reporters, writers, correspondents, ENG teams and production staff. These products include cameras and accessories; computer hardware and software; scanners; printers; books and other products. Smaller, mini-reviews, are also available in other sections of this site including Products, Books and Movies.
We are constantly adding additional reviews to this section. If you have any suggestions for other products you would like us to review, simply e-mail us using the feedback address on our Terms of Service page. Please supply us with as much information as you can about the product (including name, manufacturer, model number) or book (including title, author, ISBN and publisher).
---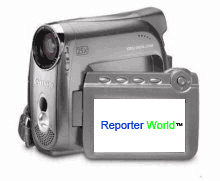 Product:
Canon ZR700 Digital Video Camcorder
Manufacturer: Canon Inc.
Relevance: Canon's ZR700 is a very capable consumer-targeted camcorder with lots of features to keep aspiring videographers busy. It is able to shoot SDTV in both standard 4:3 format as well as 16:9 widescreen.
Review: You probably won't be (intentionally) shooting your next on-location or stand-up with Canon's ZR700, but the near-SDTV video you can create is surprisingly good considering the cost and size of this small hand-held camera.
The ZR700 is inexpensive enough to outfit videographers during their off-hours and physically small enough to conceal in a trench coat pocket for low profile work. Using the camera as a hidden walk-around unit is possible, but requires a bit of practice to get the angles right. Reporters with physically larger hands are obviously better able to conceal the camera in these circumstances.
Like others in the ZR family, the ZR700 has more features than many of its competitors vying for the same market. The ZR700, for example, lets videographers shoot for widescreen (i.e., 16:9 aspect ratio) as well as standard (i.e., 4:3 aspect ratio) screens, transfer video to a computer using Firewire, convert existing (analog) VHS video onto (digital) DV tape and stabilize images (to a degree) to reduce camera shake when shooting in less-than-optimal conditions. The results are quite impressive, using video or the still shot mode.
Zooming:
The camera is able to optically zoom to 25X and digitally zoom up to 1000X. Although the usefulness of digital zoom maxes out quite quickly, it can certainly extend the capabilities of the camera particularly in situations where it is dangerous or otherwise impossible to get closer. As we'll discuss later in this review, any digital zooming requires the use of a tripod. The camera is also able to capture still shot images at a maximum resolution of 1024 by 768 pixels onto a SD or MMC memory card. Although this resolution is not suitable for professional work, the shots can be used to storyboard or frame the video.
We also liked the ZR700's smooth magnification controls. Unlike some other cameras in this category, the Canon offering sports surprisingly even and continuous zooming throughout its available optical and, if you've enabled it, digital ranges. We found that using the (included) hand-held remote offered smoother zooming results, in some cases, almost approaching professional-grade results when used on a tripod.
Interface-wise, the ZR700 is a joy to operate, with a simple-to-read menu system and a nice joystick that even our most ham-fisted reviewer was able to manipulate easily. The single joystick control operates playback, exposure and menu options with only modest finger roll movements. All three reviewers noted the camera's comparatively large 2.7" LCD view screen that made watching videos easier even in bright lighting conditions.
One of the many small things we liked about the ZR700 is that the viewfinder on the camera actually displays the widescreen image in a letterbox 16:9 format. We noted the image we saw on the camera's screen is actually the image we achieved when we imported the video into our test Macs and PCs. This is a welcome difference from some cameras that record in widescreen format but are only able to preview/playback in the older standard 4:3 format, at least on their on-board screens. We liked that the ZR700 eliminated the guess work by accurately showing us what was actually captured.
Still nicer, we liked the camera's Widescreen/Datacode button positioned directly on the fold-out LCD screen. In the record mode, the button lets you quickly toggle between standard 4:3 imaging to 16:9 widescreen format and without resorting to the context sensitive menus. We thought this would save time and minimize camera shake and movement while shooting.
Low light
While the ZR700 sports a sexy built-in LED video light, we found that it didn't really illuminate much more than a small space directly ahead of the camera. This would make the light suitable for small-room focused shots in low light conditions, but not suitable for fast moving or wide shots. In general, we found that the camera was much more comfortable shooting in normal or even bright light conditions and not particularly suited to low light conditions where some graininess and noise was seen. Canon does sell an affordable external video light to augment the camera's built-in LED but we did not test it so cannot comment as to its effectiveness.
Another helpful feature than Canon's engineers included in the ZR700 is something the company calls Level Shot Control. If you enable this function, the camera will provide a crosshairs image in your viewfinder. Using this, it becomes easier to level the horizon for landscape shots or keep people in the center of the frame while shooting action scenes.
We were peeved, however, about the placement of the tripod mount on the bottom of the camera. If the ZR700 is placed on a tripod – pretty much necessary for any optical zooming and completely necessary for digital magnification – we found we had to physically dismount the tripod from the bottom of the camera and unfasten the accessory shoe to access the tape door. This is obviously a bother for pro or semi-pro photographers who might need to change tapes during a shoot. With practice, the entire change process might take only 30 to 40 seconds, but certainly this is significant if you're shooting fast breaking news or working in less-than-ideal conditions.
Besides the camcorder itself, the ZR700 includes Canon's NB-2LH battery pack, the CA-570 power adapter and the WL-D85 wireless hand-held remote. Also in the box is the STV-250N stereo/video cable, the IFC-300PCU USB cable and the Digital Video Solution Disk for PC and Mac.
Overall: We were suitably impressed with this consumer-oriented camera. The ZR700 is both small and powerful, with many features that can help student videographers learn about lighting, style and other important aspects. For stringers and off-duty pros, it may be just the thing to pack into your (big) pocket so you don't miss anything. Recommended.
End of Review
---
Have your say.
You can give us your feedback by visiting our Terms of Service page.
Buy this camera.
If you wish to buy this camera right now, please click here.
Read other reviews.
If you wish to return to the main Reviews page, please click here.
---