---
Reviews:
Reporter World provides a variety of safety equipment, identification products, specialized high-visibility clothing, pertinent news, product reviews, book reviews and useful links specifically for reporters, writers, assignment editors, news correspondents, journalists, ENG crews, photographers, production staff, directors, segment producers, media security personnel, and freelancers: in short, anyone who is part of the news gathering, information reporting, or documentary film industries.

In this section we review various products and services of relevance to reporters, writers, correspondents, ENG teams and production staff. These products include cameras and accessories; computer hardware and software; scanners; printers; books and other products. Smaller, mini-reviews, are also available in other sections of this site including Products, Books and Movies.

We are constantly adding additional reviews to this section. If you have any suggestions for other products you would like us to review, simply e-mail us using the feedback address on our Terms of Service page. Please supply us with as much information as you can about the product (including name, manufacturer, model number) or book (including title, author, ISBN and publisher).
---
Product: i850 Photo Printer

Manufacturer: Canon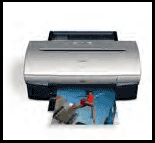 Title: Canon i850 bubble jet printer offers up advanced "prosumer" photo printing
Relevance: Canon's new i850 Photo Printer introduces a sleek new design and high level of performance, both ideal for text and photographic work. The i850 Photo Printer offers impressive image quality and fast borderless photo printing with a new print head and extremely small (2 picoliter) droplet size.
Review: Canon's i850 Photo Printer, the flagship of the company's latest i-series printers, features a new print head that can alternate between 5 picoliter droplets for fast coverage and 2 picoliter drops for truly impressive detail when photo printing. This apparent magic is accomplished by means of two new advances: a new print head from Canon that sports 1600 nozzles and Canon's new Microfine Droplet Technology, that ejects a very precise amount of ink for the specific printing application. Both these advances result in impressive photo prints and faster speeds.
Unpacking the printer was easy and the i850 Quick Start Guide takes care of those new owners who are unfamiliar with driver software and USB cabling. The i850 is a top-loading printer (one that loads its paper into the top of the device and then draws it through in an "L" shaped paper path. The printer's control panel is simplicity itself. There is a main power light and two buttons on either side. The power button (toggles: on and off) is on the left of the power light while the page advance/resume printing button is on the right. When the printer is on and ready, the power light glows solidly green; paper out is indicated by the light repeatedly flashing amber-amber-green until you either add paper or stop the job using the on-screen notification dialog box.
Two CD-ROMs are included with the printer: an i850 Setup Software & User Guide and a BJ Solution Disk. As you might guess, the Setup Software & User Guide contains the necessary driver software to install the printer and let it communicate with your Mac or PC. The BJ Solution Disk contains various software packages such as ZoomBrowser EX 3.5.1, PhotoRecord 1.6.0, ImageBrowser 2.6.0/2.7.0, PhotoStitch 3.1.5, Easy-PhotoPrint 1.1.1 and Easy-WebPrint 1.0.4. Since Canon positions this printer primarily at the high end consumer (and not professional) market), most of this software works only on the Windows platform.
The printed manual is short and to the point, covering the entire installation in just 21 pages. If new owners need additional help, they can refer to the User Guide that is available on the Setup disc. The only thing that might confuse new users (or, at least, printer owners unfamiliar with Canon's installation software) is the process by which one must align the printer's print heads.
Aligning the print head positions the printer's print nozzles to eliminate shifts in color registration. This practical upshot of this alignment is that it helps your i850 print more accurately. Although the alignment process is quite complex behind the scenes, Canon has made the process quick and painless from the owner's point of view.
The alignment process begins when the printer prints a series of color bars on a piece of paper. You are then asked to judge which bars are best rendered on the page. The i850 then makes the necessary internal adjustments to its print head and stores them in its memory. If you need help, the Quick Start guide explains the entire process in a few well-illustrated instructions. Since we were very familiar with the alignment process, we were done in less than five minutes.
The i850 has four ink cartridges: cyan, yellow, magenta and a double-sized cartridge for black. Most high end photographic printers these days come with either six or seven color cartridges (the extra ones typically are light versions of the three mixing colors with, rarely, a "darker" black for large area coverage). Although this design was surprising given the positioning of the printer within the so-called "digital darkroom" marketplace, we were very satisfied with the printer's color output -- whether on traditional copy paper or Canon's own photo paper.
Four print modes
The i850 driver software prints in four different preset resolution modes: Text (lowest quality, but fastest output), Graphic (acceptable for most graphic applications), Photo (you guessed it), and manual (where you can really tweak the output characteristics of the printer).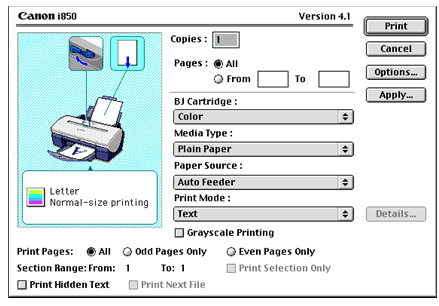 At its best resolution (but slowest print speed), the i850 can print as high as 4800 by 1200 dpi. In its normal, text mode, Canon says the i850 can print 22 pages per minute (black only text) and up to 14 pages per minute using color ink.
We found these times a bit optimistic in our experience. Using MS Word, we were not able to duplicate these claims but were able to reach very impressive speeds nonetheless. We were able to print a one-page news story in about 22 seconds (including setup), a four-page report in just over a minute and a full-color 8" by 10" line art graphic using the Graphic setting in less than a minute and a half -- speeds that all but the busiest editors and digital artists will find acceptable.
Our opinion is that it depends so greatly on what is printed (and whether new or duplicate pages are printed) that most speed statistics are merely guidelines to be taken with the proverbial grain of salt. Thus, we look upon speed statistics as comparisons between printers of the same manufacturer -- useful for buying decisions within the same printer family but nothing more.
The i850 is clearly an addition to any professional or semi-professional photographic studio. We found the i850 is capable of printing a borderless 4" by 6" photo in less than 60 seconds. A full coverage 8" by 10" photo at 400 dpi will print in less than five minutes. We found both times acceptable. Certainly, the printing quality was well above average, especially on Canon's (pricey) photo paper.
Another feature supported by the i850 printer is Exif Print (an acronym for "Exchangeable Image Format File"). Exif is a new standard for higher quality digital photo printing that preserves camera settings in the resulting JPEG images. Using Canon's Easy-PhotoPrint software (included on the BJ Solution Disk), the printer is able to use recorded data from Exif 2.2-equipped digital cameras for more accurate reproductions of digital images. Although most photographers will opt to open, edit, finalize and print their photos using Adobe Photoshop, the Exif Print is rather neat and will definitely appeal to the home and semi-pro users.
We also noticed Canon's new technology called Photo Noise Reduction. This software technology is built into Canon's printer driver and helps eliminate "noise" in digital camera images, especially from areas of light solid colors such as blue skies and dark areas such as shadows. Photo Noise Reduction works closely with Vivid Photo, another new image processing technology from Canon. Vivid Photo lets the printer exceed the normal range of colors displayed on a monitor -- typically called the gamut -- to more accurately print some digital images. Professional photographers who like tweaking their images will go wild over this new technology.
Overall: We were certainly impressed with Canon's i850 Photo Printer. The company is moving towards a direct and close integration between the real (i.e., analog) world and the digital one. As time and technology marches on, it's obvious that this printer (and its successors) will build upon the traditional strengths of Canon and bridge the gap between the existing millions of photographers and the new digital world.
The i850 easily handled any text we sent it with speed and accuracy. Color printing was also very accurate as well as acceptably fast. The printer is ideal for small news rooms, digital darkrooms, and other high tech environments requiring reliable and fast output. Recommended.
End of Review
---
Have your say.
You can give us your feedback by visiting our Terms of Service page.
Buy this printer.
This printer has been discontinued by its manufacturer.
You may be able to purchase an updated model or a used original printer by clicking here.
Read other reviews.
If you wish to return to the Reviews page, please click here.
---