---
Reviews:
Reporter World provides a variety of safety equipment, identification products, specialized high-visibility clothing, pertinent news, product reviews, book reviews and useful links specifically for reporters, writers, assignment editors, news correspondents, journalists, ENG crews, photographers, production staff, directors, segment producers, media security personnel, and freelancers: in short, anyone who is part of the news gathering, information reporting, or documentary film industries.

In this section we review various products and services of relevance to reporters, writers, correspondents, ENG teams and production staff. These products include cameras and accessories; computer hardware and software; scanners; printers; books and other products. Smaller, mini-reviews, are also available in other sections of this site including Products, Books and Movies.

We are constantly adding additional reviews to this section. If you have any suggestions for other products you would like us to review, simply e-mail us using the feedback address on our Terms of Service page. Please supply us with as much information as you can about the product (including name, manufacturer, model number) or book (including title, author, ISBN and publisher).
---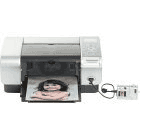 Product: Pixma iP6000D Photo Printer

Manufacturer: Canon

Relevance: Positioned near the top of Canon's consumer level photo printers, the Pixma iP6000D Photo Printer provides excellent output in both text and photo modes.

Review: We've been great fans of Canon digital products for years and we were eager to take one of the company's Pixma iP6000D printers out for a quick test drive. We found the printer both capable and versatile, and almost perfect for small editorial shops, photo prints and mid-level comping tasks.

The Pixma iP6000D is a six-color printer (standard CMYK with Photo Cyan and Photo Magenta added), capable of a wide gamut of colors and grayscale output. We were impressed by the vibrancy and saturation of the printer's output, even on recycled and pre-printed stock. For compers this is good news, but the printer can be used for many other writing and proofing tasks as well.

Installing the printer is a snap, with the driver CD doing its thing in just a few minutes. Installation was fast and problem-free on our test Macs and PCs, with the Macs getting up and running a bit faster. Besides the driver software, Canon's CD also includes PhotoRecord (Windows only), Easy-PhotoPrint 3.0 (Windows/Mac), and Easy-WebPrint (Windows only). All three are optional to load.

The Pixma iP6000D has a relatively small footprint and measures just under 17" wide by about 12.5" deep (without the output hopper extended) by about 7.5" high (with its paper tray folded down). Up and ready to go and with paper tray extended, the Pixma iP6000D's height and depth increase to 13" and 22" respectively. We thought all measurements were reasonable, given the functionality and design of the printer.

We liked the iP6000D's color LCD screen integrated into the top right-hand side of the printer. Those of you with those horrible overhead fluorescent lights in your office (as most offices have these days) will be pleased to know the screen can be titled to reduce glare.

The iP6000D is extremely quiet while printing and only a tad bit more noisy when ejecting pages. It is so quiet that we sometimes found it difficult to know it was actually printing (although noise levels in our lab may sometimes exceed those of a typical office). We found this near-silence had a price however: speed. The iP6000D is not the fastest printer we've tested recently, but we forgave its slight pokiness when we saw its impressive output.

We also found it a bit annoying that we had to reset our documents to be letter sized (rather than Canon's standard A4 paper settings) when we first got going. After saving the North American standard size once or twice the printer seemed to understand we did not want to print in the metric world. Those of you who do, indeed, want your metric paper printed will be happy to know you're very accommodated with the iP6000D.

Wide color gamut:
Graphics professionals will appreciate the wide gamut of color reproduction and paper handling capabilities of the printer. The Pixma is able to output at 4800 by 1200 dpi (in both monochrome/black mode and in color modes). In terms of compatibility with other Canon printers, the iP6000D uses Canon's BCI-6Bk for its Black ink tank, the BCI-6C for its Cyan ink tank, the BCI-6M for its Magenta ink tank, the BCI-6Y for its Yellow ink tank, the BCI-6PC for its Photo Cyan ink tank, and finally, the BCI-6PM for its Photo Magenta ink tank. All are readily available in office supplies stores and online from Canon and third party retailers.

The Pixma iP6000D can handle a wide variety of paper types including plain paper, US #10 envelopes, Canon Specialty Papers including Glossy Photo Paper (4" by 6" and letter size), High Resolution Paper (letter size), Matte Photo Paper (letter size), Photo Paper Plus Glossy (available in 4" by 6" and 5" by 7" sizes as well as letter size), Photo Paper Plus Double Sided (5" by 7" and letter size), Photo Paper Plus Semi Gloss (4" by 6" and letter size), Photo Paper Pro (4" by 6" and letter), and Bubble Jet Transparencies (letter size).

The specially engineered Photo Paper Plus Double Sided is best when you want to use Pixma iP6000D's dual sided printing feature. It doesn't print on both sides at once. Rather, it runs the paper through the printer in the traditional way and then draws it back into the printer for the reverse side.

As usual with ink jet printers, you get best results with the manufacturer's own paper and it's generally worth the added expense to use the good stuff as the results really shine with quality paper is used. This is especially true when printing photographic images. Using Canon's own paper (and the appropriate photo settings of the print driver) we were able to produce very impressive output, sometimes rivaling professionally finished, consumer grade silver halide film. We rarely saw banding on larger monochromatic area color blocks, and when we did, it was very slight, requiring a loupe for deeper examination.

One of the more interesting innovations of the Pixma iP6000D is its ability to print JPEG images from a photo-equipped cell phone using the printer's built-in infrared capabilities. We found we had to get very close to the printer to transfer files and wondered out-loud why someone would bother printing a cell phone image considering the poor resolution on cell phone cameras these days.

We realize, however, that it was clearly more convenient to beam images than go through the typical wire-transfer-to-computer nonsense. We also recognize that cell phone camera images will improve dramatically over the next few years and, one day, will probably provide enough viable pixels for even pro photographers. Although we know this won't happen overnight, it's nice to know that Canon's engineers are already working on it.

Another nice inclusion is the Pixma iP6000D's ability to accept a wide variety of media types and print direct from them. The printer can accommodate Compact Flash, Microdrive, SmartMedia, Memory Stick, Memory Stick PRO, Secure Digital (SD) Cards, MultiMedia Card, xD-Picture Card, Memory Stick Duo and miniSD Cards. If you need to use the last three of these formats, however, you will have to purchase an optional adapter from Canon.

PictBridge - the technology that allows suitably equipped cameras to output directly to a printer - is also alive and well on the Pixma iP6000D. Although most pro photographers will opt to massage and otherwise edit images with Photoshop, it is clear that PictBridge can be considered a useful proofing tool in the field and can be of some benefit to portrait photogs working with finicky subjects.

Compatibility wise, the Pixma iP6000D is quite impressive. The printer is able to talk with computers running Windows XP/Me/2000/98; Mac OS 9.x, Mac OS X v10.2.1 to 10.3.x. We did not test the iP6000D with Mac OS X 10.4. The printer communicates using its USB, PictBridge and wirelessly via the IrDA v1.2 standard (mobile devices only).

Overall:
We were most impressed with the Canon's Pixma iP6000D printer. It has a wide variety of applications from medium duty graphics to text. Print quality is uniformly good and sound levels were almost negligible. Photo output is really where this printer shines and we were most impressed with the printed quality of 4" by 6", 5" by 7" and letter-sized pictures. Misses included a slightly pokey output speed and driver software that initially thought we wanted to print to non-North American paper sizes. Recommended.

End of Review
---
Have your say.
You can give us your feedback by visiting our Terms of Service page.
Buy this printer.
If you wish to buy this printer right now, please click here.
Read other reviews.
If you wish to return to the main Reviews page, please click here.
---