---
Reviews:
Reporter World provides a variety of safety equipment, identification products, specialized high-visibility clothing, pertinent news, product reviews, book reviews and useful links specifically for reporters, writers, assignment editors, news correspondents, journalists, ENG crews, photographers, production staff, directors, segment producers, media security personnel, and freelancers: in short, anyone who is part of the news gathering, information reporting, or documentary film industries.

In this section we review various products and services of relevance to reporters, writers, correspondents, ENG teams and production staff. These products include cameras and accessories; computer hardware and software; scanners; printers; books and other products. Smaller, mini-reviews, are also available in other sections of this site including Products, Books and Movies.

We are constantly adding additional reviews to this section. If you have any suggestions for other products you would like us to review, simply e-mail us using the feedback address on our Terms of Service page. Please supply us with as much information as you can about the product (including name, manufacturer, model number) or book (including title, author, ISBN and publisher).
---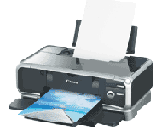 Product: Pixma iP8500 printer

Manufacturer: Canon

Relevance: Canon's Pixma iP8500 printer is ideal for color comping and general graphics work. A high-end consumer level printer, the iP8500 provides automatic two-sided printing, saving time and reducing the costs of consumables.

Review: We were very taken by Canon's new Pixma iP8500, an eight-color, two-picoliter droplet size, ink jet printer with a maximum standard paper size of North American Legal.

Unpacking and installing the Pixma iP8500 is simple and painless. Like other Canon printers on the market, the Pixma iP8500 comes with a Quick Start guide that explains installation requirements in simple text and straightforward graphics.

In fact, the majority of the time it took to set up the printer revolved around installing the eight ink tanks. The Pixma iP8500 uses the following ink tanks: Black (Canon part number BCI-6Bk); Cyan (BCI-6C); Magenta (BCI-6C) , Yellow (BCI-6Y), Photo Cyan (BCI-6PC), Photo Magenta (BCI-6PM), Red (BCI-6R), and Green (BCI-6G).

In our testing, we found that the last two tanks -- namely the green and red ones -- enable a much wider color output gamut, especially for outdoor photographers who need to capture the vivid reds and greens found in nature. As well, having the extra ink tanks provides some additional depth to non-red and non-green dominated photos.

The Pixma iP8500 is compatible with most popular operating systems including Windows XP/Me/2000/98. Laggard Mac shops that haven't made the leap to Mac OS X will be relieved that Canon -- thankfully -- still supports OS 9.x. in addition to Mac OS X v10.2.1 to 10.4. Although we didn't test the printer with OS 10.4, we were told by one of Canon's technical people that the Pixma iP8500 works just fine under this OS as well.

The standard interface for the Pixma iP8500 is a USB 2.0. To reach the high speeds associated with this technology, however, your computer must be running under Windows XP Service Pack 1, Windows 2000 Service Pack 4 or Mac OS X v10.2.7 to 10.4.

If your computer is running under a different OS, you'll be waiting around a bit longer for your output because the printer will default to the much slower (i.e., original) USB 1.0 speeds. We tried both speeds, and while faster is obviously better, we were quite satisfied with the slower rate as well. The Pixma iP8500 sports an 80 Kb buffer. Adequate, but we felt things would move a bit faster with a larger buffer size.

Print speed
Speaking of speed, Canon rates the speed of the Pixma iP8500 as being able to print 16 pages per minute (ppm) in black/draft mode. Doing the math, this means the printer takes fewer than four seconds to print each black-only page. The printer can also generate up to 12 ppm in color, meaning it takes only five seconds per page.

Of course, these figures are for comparison only. Your actual results will vary greatly by the driver you have loaded, the amount of RAM in your computer, its clock speed, its bus speed, and a host of other somewhat intangible factors that are difficult to compare from one installation to another. All we know was that we were happy with the overall speed, even with the delays involved in duplex printing (but more about this really cool feature later).

For those who are keeping track (or trying to compare one printer to another), the print head for the Pixma iP8500 contains an amazing number of nozzles: 768 for each of its eight colors (C, M, Y, Bk, PC, PM, R, G), for a total of 6,144! This enables the printer to output black-only or color photos up to a maximum of 4800 by 2400 dpi. Considering the droplet size of the Pixma iP8500 can be as low as two picoliters -- yes, this is two-trillionths of a liter -- the printer can produce some rather impressive results.

The printer is capable of handling North American Letter, Legal, Credit Card, 4" by 6," 5" by 7," and US #10 business envelopes. In terms of paper compatibility, the Pixma iP8500 can use plain paper and several Canon specialty papers including Glossy Photo Paper (yielding either 4" by 6" or full letter size); High Resolution Paper (yielding letter size); Matte Photo Paper (letter); Photo Paper Plus Glossy (4" by 6", 5" by 7" and letter), Photo Paper Plus Double Sided (5" by 7" and letter), Photo Paper Plus Semi Gloss (4" by 6" and letter), Photo Paper Pro (4" by 6" and letter); and Bubble Jet Transparencies (letter). Whew!

You may have noticed the reference to Photo Paper Plus Double Sided paper in the previous paragraph. Well, one of the more interesting features of the Pixma iP8500 is its ability to print duplex, that is to print on both sides of the paper. Of course, it doesn't do this at once. Rather, it prints the one side, ejects it (almost completely), then pulls its back into the printer to print the second side. Although duplexing has been available on expensive laser printers for years, it's quite amazing to see it offered on an inkjet printer costing much less.

We were a bit put off initially by the time it took to dry one side of the page and then be drawn back into the printer for the reverse side. When we compared the alternative of printing one side, waiting for it to dry completely and then re-feeding the page so we could print onto the second side, we realized the true advantage of the Pixma iP8500's duplex capability. This is especially true if you're comping double-sided brochures or book pages where this feature can shave off many minutes from your job time.

PictBridge
Some pro photographers may not immediately recognize the benefit of PictBridge but many consumer-level owners of the Pixma iP8500 certainly will. PictBridge - a direct print standard developed by Canon, Fuji, HP, Olympus, Seiko/Epson and Sony - allows various image capture devices such as cameras to connect and print directly to photo printers and other output devices.

With PictBridge, no computer is required: you simply connect a PictBridge compatible digital camera or DV camcorder and print. The Pixma iP8500's built-in screen gives you a good idea of what you're about to get before you commit to printing. While no real editing can take place with PictBridge (for this, you'll need your computer and Photoshop), you can quickly and easily print out 4" by 6" snaps without the trouble of setting up a laptop and connecting cables.

Pro photographers can also use PictBridge to print out contact sheets for their clients or editors as well as for storage purposes. PictBridge is just coming into its own in the professional world so we'll see what further market adoption as well as technical advancements bring.

Overall
We were quite impressed with the Pixma iP8500. Its wide color gamut and high resolution can create high-end prints. The automatic duplexing feature is also very attractive for shops who work in the "two sided world", either for more accurate comping or just text printing. Highly recommended.

End of Review
---
Have your say.
You can give us your feedback by visiting our Terms of Service page.
Buy this printer.
If you wish to buy this printer right now, please click here.
Read other reviews.
If you wish to return to the main Reviews page, please click here.
---