---
Reviews:
Reporter World provides a variety of safety equipment, identification products, specialized high-visibility clothing, pertinent news, product reviews, book reviews and useful links specifically for reporters, writers, assignment editors, news correspondents, journalists, ENG crews, photographers, production staff, directors, segment producers, media security personnel, and freelancers: in short, anyone who is part of the news gathering, information reporting, or documentary film industries.

In this section we review various products and services of relevance to reporters, writers, correspondents, ENG teams and production staff. These products include cameras and accessories; computer hardware and software; scanners; printers; books and other products. Smaller, mini-reviews, are also available in other sections of this site including Products, Books and Movies.

We are constantly adding additional reviews to this section. If you have any suggestions for other products you would like us to review, simply e-mail us using the feedback address on our Terms of Service page. Please supply us with as much information as you can about the product (including name, manufacturer, model number) or book (including title, author, ISBN and publisher).
---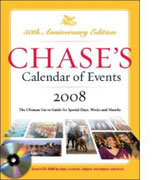 Title: Chase's Calendar of Events 2008

Editors: William and Helen Chase and others

Publisher: McGraw-Hill

Copyright: 2008

ISBN-10: 0-07-148903-7 (Set)

ISBN-13: 978-0-07-148903-4 (Set)

Relevance: Chase's Calendar of Events 2008, the 51st edition of this publication, has more than 12,500 entries in a broad range of subject areas. Ideal for busy news and assignment editors who need to know what events are being commemorated, anniversaries marked or holidays observed.

Review: Those readers unfamiliar with Chase's Calendar of Events do themselves and their readers or viewers a great disservice. Inside this edition's 750 pages are references to thousands of interesting events, anniversaries, holidays and other important facts and trivia to keep the average reporter, assignment editor, or dare we say it, freelancer, busy for years.

The directory is organized on a day-by-day basis, starting naturally with January 1st and proceeding to December 31st of 2008. Each day's entries provide fodder for news updates, where-are-they-now pieces, and other time-sensitive story pegs.

Chase's Calendar of Events 2008 is also, thankfully, thoroughly cross-referenced with a nice index in the back of the book, spanning over 100 pages. The entry for the first day of every month is crammed full of "awareness months" and other weekly or monthly festival beginnings. With a fully American audience emphasis, Chase's Calendar of Events 2008 clearly is aimed at an American media market, but Canadian, British and Australian journalists can also utilize the directory as long as they don't labor too long on the book's focus.

Each day's entry also has a Birthdays Today section in which the birthdays of 10 to 15 famous (or infamous) people are noted. Nicely, each person's birthday comes with their age, their original name if changed, where they were born and a very brief sentence detailing why they're listed.

We also liked the calendar information tucked away near the back of the directory noting various religious holy days (including Christian, Eastern Orthodox, Jewish and Islamic), important civic calendar dates (American, Canadian, Mexican and British), calendar information for 2009 and 2010, and one of those handy perpetual calendar enabling you to figure out the exact day and date in years ranging from 1753 to 2100.

We also enjoyed a one-page listing of the National Days of the World for close 200 countries and territories around the world. Also included is a handy Chinese calendar, a traditional wedding anniversary gift guide, a world map of time zones, a listing of universal standard and daylight savings times, astronomical phenomena for years 2008, 2009 and 2010, as well as a listing of Atlantic and Eastern Pacific hurricane names and Central Pacific and Western Pacific tropical cyclone names for the next three years. As we said, an ideal desk reference for all who must deal with time sensitive news and general interest stories

Some facts about US presidents follow including their birthplace, party, tenure, first lady and vice president. US governors, senators and supreme court justices, some facts about Canada (squeezed in), a larger section on Mexico, as well as a listing of 2008 special months - October and May being the months in which most "awareness campaigns" are held.

Although it is incomplete, we also note several listings for major stage, film and television awards including Tony Awards, Academy Awards, Sundance Film Festival, Cannes, Golden Globe, Primetime Emmy and Daytime Emmy. Awards for arts humanities and other journalistic activities are also given, as well as a sampling of music awards.

Overall: We are big fans of the Chase series and think it's essential for every newsroom, journalist, researcher or freelancer to have one on his desk or nearby. We do note, however, that the book's focus is primarily American events, obviously ideal for American news and other outlets but less so for more international ones. The enclosed CD ROM is excellent because it is fully searchable by date and event – but only if you work in a Windows-based shop. Mac-based reporters are out of luck with this one.

Finally, we wish the book came in a hardcover edition as the only real criticism we have of this book is that it tends to get dog-eared and damaged with all the busy use you'll give it. Highly recommended.

End of Review
---
Have your say.
You can give us your feedback by visiting our Terms of Service page.
Buy this book/CD.
If you wish to buy this book/CD combination right now, please click here.
Read other reviews.
If you wish to return to the main Reviews page, please click here.
---