---
Reviews:
Reporter World provides a variety of safety equipment, identification products, specialized high-visibility clothing, pertinent news, product reviews, book reviews and useful links specifically for reporters, writers, assignment editors, news correspondents, journalists, ENG crews, photographers, production staff, directors, segment producers, media security personnel, and freelancers: in short, anyone who is part of the news gathering, information reporting, or documentary film industries.

In this section we review various products and services of relevance to reporters, writers, correspondents, ENG teams and production staff. These products include cameras and accessories; computer hardware and software; scanners; printers; books and other products. Smaller, mini-reviews, are also available in other sections of this site including Products, Books and Movies.

We are constantly adding additional reviews to this section. If you have any suggestions for other products you would like us to review, simply e-mail us using the feedback address on our Terms of Service page. Please supply us with as much information as you can about the product (including name, manufacturer, model number) or book (including title, author, ISBN and publisher).
---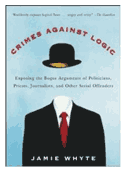 Title: Crimes Against Logic
Author: Jamie Whyte
Copyright: © 2005
Publisher: McGraw-Hill Books
ISBN-10: 0-07144643-5

Relevance: Crimes Against Logic should be on every first year J-school course list. It ruthlessly, brutally and comedically lays waste to lies, falsehoods and other tools used by people trying to control us for whatever reason.

Review: If pressed, we would guess that Professor Jamie Whyte doesn't get invited to too many dinner parties. With his razor sharp insight both philosophical and logical into all things that claim to be factual, he would likely drive most people away muttering "what a peculiar sort of man".

This is a great shame because Dr. Whyte has a great deal to tell all of us about how to see through the "bogus arguments of politicians, priests, journalists, and other serial offenders". In other words, he is exactly the kind of man one should want to chat with and grab a long coffee with...especially if one enjoys a brilliant mind and razor-sharp intellect.

Since we are mentioned in Whyte's group of suspects, it behooves us as journalists to understand the crimes of logic of which we may be a party. It's difficult to itemize the contents of Crimes Against Logic and the bare bones Table of Contents provides little relief in this regard. However, this small yet intensely useful and powerful book should not be ignored by anyone intending on a career as a journalist, correspondent or other "truth teller".

Using personal examples as well as ones ripped from the very newspapers, stand-ups and op-ed pieces that many of us write and present, philosopher Whyte scrutinizes and sanitizes what should be, but unfortunately often is not, clear prose lacking in subterfuge, slant and other enemies of honest journalism.

Funny and acerbic: All three or our reviewers thought this book was both funny and acerbic at the same time, although truth be told, it helps to think as Whyte does. In other words, if your idea of journalism is to copy a government or industry press release and then toss it up on air or into a newspaper, this book is likely not for you. It should be for you, but you likely won't be able to accept (and act) on its many challenges.

If, on the other hand, you want to test and improve your writing, thinking and doing, to be cleaner, more informative and dare we say it, less slanted and opinionated, this book will help you immeasurably.

Americans in particular may find some of Whyte's examples a bit off-putting due to their excessive Britishisms. This said, we were certainly able to forgive Whyte for these small transgressions (even if we could refer to them as such) because the content of his book is so useful and funny at the same time.

One of the many things that pleased us about Crimes Against Logic is its clear and analytical style allowing us to pick up the book at a moment's notice, read a few pages, muse about the content, and put the book down again for the next time. By using this discrete, well-separated style, readers don't get overwhelmed with didactic sermons from the philosophical mount. Rather, one is entertained by someone who understands how our language can be manipulated and makes us giggle and squirm when he exposes faulty reasoning wherever he finds it.

We would have liked to see a bit more organization and perhaps even bulleted lists or checkboxes in order to reinforce key messages. This assumes, however, that Whyte's intent was to write a journalism textbook, which he clearly did not intend to do. Still, it would make this small book even better for those we suspect would most benefit from more careful study.

Overall: We thoroughly enjoyed Crimes Against Logic and found ourselves agreeing, sometimes remorsefully, with all of the author's lessons. Highly recommended for anyone involved in journalism or writing of any sort.

End of Review
---
Have your say.
You can give us your feedback by visiting our Terms of Service page.
Buy this book.
If you wish to buy this book right now, please click here.
Read other reviews.
If you wish to return to the main Reviews page, please click here.
---