---
Reviews:
Reporter World provides a variety of safety equipment, identification products, specialized high-visibility clothing, pertinent news, product reviews, book reviews and useful links specifically for reporters, writers, assignment editors, news correspondents, journalists, ENG crews, photographers, production staff, directors, segment producers, media security personnel, and freelancers: in short, anyone who is part of the news gathering, information reporting, or documentary film industries.

In this section we review various products and services of relevance to reporters, writers, correspondents, ENG teams and production staff. These products include cameras and accessories; computer hardware and software; scanners; printers; books and other products. Smaller, mini-reviews, are also available in other sections of this site including Products, Books and Movies.

We are constantly adding additional reviews to this section. If you have any suggestions for other products you would like us to review, simply e-mail us using the feedback address on our Terms of Service page. Please supply us with as much information as you can about the product (including name, manufacturer, model number) or book (including title, author, ISBN and publisher).
---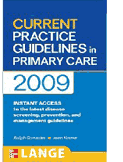 Title: Current Practice Guidelines in Primary Care 2009
Authors: Ralph Gonzales, MD and Jean Kutner, MD
Copyright: © 2009
Publisher: Lange, an imprint of McGraw-Hill
ISBN-10: 0-07-160133-3
ISBN-13: 978-0-07-160133-7

Relevance: Current Practice Guidelines in Primary Care 2009 is a pocket-sized, annual reference book ideal for reporters covering the health or medical beats.

Keywords: disease screening, disease prevention, disease management, health metrics

Review: Even physicians and medical researchers in clinical practice won't likley read Current Practice Guidelines in Primary Care from cover to cover, nor is it the authors' intent that they should do so. Instead, this pocket-sized 240-page reference book provides hundreds of current guidelines for several diseases, illnesses and conditions, as well as prevention strategies, disease management efforts and other important metrics when dealing with health both on an individual and epidemiological perspective.

The book, divided into four sections is essentially a series of small-sized charts and tables, is crammed full of valuable yet often esoteric information that clinicians, ER docs, paramedics and others need to fully and completely assess and treat patients under their care.

The book provides the latest screening prevention and management guidelines for more than 60 common outplacement illnesses. The vast amount of content (especially considering the book's small size) is no small miracle as it draws guidelines updated from a wide variety of government agencies, medical and scientific organizations and practicing in-field experts.

The first section of the book begins appropriately with disease screening models. Here we have a series of conditions ranging from abdominal aortic aneurysm through ADHD, various forms of cancer, coronary artery disease, depression, dementia, family violence, hypertension, all the way through to visual impairment, glaucoma or cataract.

Next up, disease prevention. This much shorter section deals with diabetes, endocarditis and hypertension (including a handy hypertension prevention algorithm) and stroke-related metrics. Disease management is the third section in this powerful book and predictably a comprehensive one. Several conditions from alcohol dependence, asthma and atrial fibrillation down to tobacco cessation, upper respirator tract infections and urinary tract infections are also covered.

Designed to enhance clinical decision-making, the book provides dozens of current guideline-based health algorithms and disease screening parameters. Although primarily US-focused, the book does reference several non-American sites as well when appropriate.

Nicely, this year's version of Current Practice Guidelines in Primary Care also provides an immunization schedule for children and adults as provided by CDC. As well, several appendices provide additional screening information for conditions such as alcoholism, cognitive impairment (MMSE) and several more for depression including PRIME-MD, PHQ-9, Depression, The Beck Depression Inventory, and the Geriatric Depression Scale. Other appendices include assessment models for the elderly, for blood pressure, Body Mass Index ("BMI"), cardiac risk based on the now-standard Framingham Model, estimates of ten-year stroke risk, and acronyms and Web sites for the various medical and scientific professional societies, as well as several governmental agencies.

Overall: We were impressed with the depth and breadth of the information provided in Current Practice Guidelines in Primary Care. Although we suspect it won't be read cover to cover, it provides an astonishing amount of medical and scientific information in a small compact size. Besides its key market of doctors and other health care professionals, the book is also recommended for reporters who are responsible for researching and writing health, science or medical stories.


End of Review
---
Have your say.
You can give us your feedback by visiting our Terms of Service page.
Buy this book.
If you wish to buy this book right now, please click here.
Read other reviews.
If you wish to return to the main Reviews page, please click here.
---