---
Reviews:
Reporter World provides a variety of safety equipment, identification products, specialized high-visibility clothing, pertinent news, product reviews, book reviews and useful links specifically for reporters, writers, assignment editors, news correspondents, journalists, ENG crews, photographers, production staff, directors, segment producers, media security personnel, and freelancers: in short, anyone who is part of the news gathering, information reporting, or documentary film industries.

In this section we review various products and services of relevance to reporters, writers, correspondents, ENG teams and production staff. These products include cameras and accessories; computer hardware and software; scanners; printers; books and other products. Smaller, mini-reviews, are also available in other sections of this site including Products, Books and Movies.

We are constantly adding additional reviews to this section. If you have any suggestions for other products you would like us to review, simply e-mail us using the feedback address on our Terms of Service page. Please supply us with as much information as you can about the product (including name, manufacturer, model number) or book (including title, author, ISBN and publisher).
---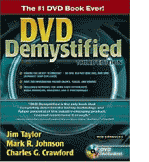 Title: DVD Demystified, Third Edition
Authors: Jim Taylor, Mark R. Johnson and Charles G. Crawford
Copyright: © 2006
Publisher: McGraw-Hill
ISBN-10: 0-07-142396-2

Relevance: DVD Demystified is one of the few books and, in our opinion, arguably the best book on the market that describes the history, technology and science behind various DVD formats. Ideal for production people and new media mavens, DVD Demystified is a highly technical yet concept-friendly reference book.

Review: To borrow a phrase from the 1970s, DVD Demystified presents everything you ever wanted to know about DVDs but were afraid to ask. If there is an element of DVD history and technology including many of the arcane formats that never really took off but periodically raised their heads, not included in this book we would be very surprised.

Simply stated, if you want to know anything about DVD production including the technology behind DVDs, the standards involved including various ancestors of DVDs such as Red Book (CD-DA), Yellow Book (CD-ROM), Green Book (CD-i) and all the other relatives that you don't quite remember how they fit into your family tree but yet still invite themselves to every get-together, this book is for you.

After two brief chapters on the history and background of DVDs, we launch into some basic fundamentals and features about those familiar shiny discs. Aspect ratios, digital compression, progressive scan fundamentals and display and signal technologies are all covered. Although all three writers strive to maintain a non-technical spin on things, it's really inevitable that this book quickly devolves into a technology primer.

Interesting for both production and intellectual property types, the book also features topics such as interoperability, network capabilities and content protection. Section III – Formats is where the shiny rubber meets the technological road. After a quick overview of formats including somewhat detailed descriptions of the optical disc families including standard DVD, UMD and BD, we get into highly technical areas such as red laser physical disc formats and once there, blue laser physical disc formats.

The book is truly a reference. We can't imagine anyone reading this 500 or so page tome in any one sitting. But this book really does provide an excellent introduction and technological background to all things DVD.

One of the many neat things about this book is a chapter of myths about DVD. Here, the authors take pains to outline the typical myths and misunderstandings concerning various optical disc formats. As well, Taylor, Johnson and Crawford spend time outlining what is wrong with current DVD formats and what may happen in the future to the designs. Both of these sections provide valuable insight into possible future format and content planning.

We also enjoyed the updated Web site full of the latest information that either couldn't be squeezed into the book or was only available after the book's printing. A hybrid DVD-Video/DVD-ROM showcases some interesting applications of DVD technology with relevant samples from Dolby, DTS, THX, IMAX, Joe Kane Productions, Microsoft, and Widescreen Review. The disc also includes several audio/video tests, Web DVD, HTML files, and worksheets.

We think this book ideal for anyone in the AV or entertainment business, new media, education technology, music or, of course, content production including writing and editing past or present stories. Our only (small) nit with the book is that we would have liked a more sensible page-numbering scheme. Pages in most books, of course, are usually numbered from 1 to whatever. In this book, however, the counter is reset at the beginning of each chapter. Thus, we have page numbers such as 3-22, 7-30, 9-69 and so on. Although this is completely logical and reasonable from a technical point of view and in fact, once one gets used to it, it makes a lot of sense, it is, however, very unwieldy for a non-technical reader audience to which this book is partially aimed.

Overall:
We heartily recommend DVD Demystified as an excellent example of how DVD technology in all its glorious multi-format complications can be explained to a non-technical audience. Although it can sometimes be a tough read for non-geeks, the book is meant as a reference and in that, it thoroughly excels. Recommended.

End of Review
---
Have your say.
You can give us your feedback by visiting our Terms of Service page.
Buy this book/DVD set.
If you wish to buy this book/DVD set right now, please click here.
Read other reviews.
If you wish to return to the main Reviews page, please click here.
---