---
Reviews:
Reporter World provides a variety of safety equipment, identification products, specialized high-visibility clothing, pertinent news, product reviews, book reviews and useful links specifically for reporters, writers, assignment editors, news correspondents, journalists, ENG crews, photographers, production staff, directors, segment producers, media security personnel, and freelancers: in short, anyone who is part of the news gathering, information reporting, or documentary film industries.

In this section we review various products and services of relevance to reporters, writers, correspondents, ENG teams and production staff. These products include cameras and accessories; computer hardware and software; scanners; printers; books and other products. Smaller, mini-reviews, are also available in other sections of this site including Products, Books and Movies.

We are constantly adding additional reviews to this section. If you have any suggestions for other products you would like us to review, simply e-mail us using the feedback address on our Terms of Service page. Please supply us with as much information as you can about the product (including name, manufacturer, model number) or book (including title, author, ISBN and publisher).
---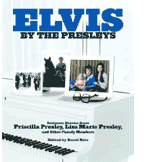 Title: Elvis by the Presleys
Editor: David Ritz
Copyright: © 2005
Publisher: Crown Publishers, a division of Random House
ISBN-10: 0-307-23741-9
ISBN-13: 978-0-307-23741-5

Relevance: Elvis by the Presleys is a behind the scenes look at arguably the greatest rock and roller in the last century, Elvis Presley. The book is ideal for reporters covering the entertainment beat or those having an interest in music, popular culture or recent US history.

Review: Elvis by the Presleys is an interesting behind the scenes look at the man who was Elvis Presley and not too much of the singer/musician the world thought they knew. The book is narrated by many people close to him including Priscilla Beaulieu (Elvis' former wife), Lisa Marie Presley (Elvis and Priscilla's daughter), Patsy Presley Geranen (Elvis' double first cousin), Ann Beaulieu (Priscilla's mother), Paul Beaulieu (Priscilla's father), and Michelle Beaulieu Hovey (Priscilla's sister).

The book weaves together the many strands of talent, performance, opportunity and drive that made Elvis the mega hit yet tortured star of the 50s, 60s and 70s. With snippet interviews from the close family members mentioned above, the book weaves together the complex tale of Elvis Aaron Presley. Exquisitely illustrated with dozens of full color historical photos of Elvis himself, the artifacts he collected, as well as the memorabilia the "King" generated, the book is a true homage to Presley and remembers him in only favorable lights.

It chronicles the personal struggles and triumphs of Elvis himself, as well as Priscilla, the 14-year-old girl who caught his eye while he was on US army service in Germany. The book, above all, is an unfailingly loving tribute to Presley and is apparent and if one reads between the lines, outlines the tremendous talent (and waste of talent) that Elvis was and became.

As a reference work, Elvis by the Presleys fails miserably as it lacks either an index, table of contents or much chronological staging. It does, however, provide Elvis fans with huge amounts of background and interviews from those who were closest to him throughout his life and at his death. Readers cannot help but feel a certain sorrow for Elvis despite all his successful songs, movies and public persona.

Colonel Tom Parker, Elvis' business manager and let's face it, handler, doesn't come off quite as well. Many times in the book, "The Colonel" comes across as an astute businessman who exploits the naïve and trusting Presley. This is certainly not to say that Presley didn't benefit from the Colonel's canny handling of Presley's public life, the book merely underscores what many fans have suspected: that Parker looked at Elvis merely as a way of making money and didn't particularly have the young man's interest at heart.

We thoroughly enjoyed the first person tone of the book, but found the book often cloyingly supportive of Elvis and glossing over many of the issues that fans are dying to know. Priscilla, for example, maintains that for five years, Elvis didn't consummate their relationship, but instead she was constantly chaperoned. This, of course, we believe, after all, Priscilla's father was still stationed in Germany but was a powerful air force colonel who could've made life very difficult for Elvis had the situation been different.

In more than one place in the book, Priscilla tells readers of her doubt over Elvis' fidelity to her. At one point, she asked herself, could she really be the only one in his life considering his onscreen romances with women such as Ursula Andress or Ann Margaret. What can we say? While Elvis was obviously not cut from the Hollywood cloth, we're not sure how any book sanctioned by Elvis Presley Enterprises could present the King in anything else but a super flattering light. The tough questions aren't answered nor are they even asked, but true fans likely won't care.

The book provides a rare look behind the scenes at the things that mattered dearly to Elvis. Besides the loss of his mother at a relatively early age, we learn of his deep spirituality, originally for Christianity but as he aged, for other religions both Western and Eastern. We also learn of his generosity, often to a fault when dealing with close friends and family. Of course, Elvis fans know most of this material anecdotally, but Elvis by the Presleys creates an interesting single source set of interviews by family members who were there when the stories unfolded.

Overall: We enjoyed Elvis by the Presleys and recommend it to any reporter or journalist interested in the subject or those who need to get an "insider's" look at what made Elvis tick. Although not a reference book by its strictest sense, Elvis by the Presleys does serve a large market of fans who want to know often in minute detail how Elvis lived, loved, entertained and eventually, died. Recommended.


End of Review
---
Have your say.
You can give us your feedback by visiting our Terms of Service page.
Buy this book.
If you wish to buy this book right now, please click here.
Read other reviews.
If you wish to return to the main Reviews page, please click here.
---