---
Reviews:
Reporter World provides a variety of safety equipment, identification products, specialized high-visibility clothing, pertinent news, product reviews, book reviews and useful links specifically for reporters, writers, assignment editors, news correspondents, journalists, ENG crews, photographers, production staff, directors, segment producers, media security personnel, and freelancers: in short, anyone who is part of the news gathering, information reporting, or documentary film industries.

In this section we review various products and services of relevance to reporters, writers, correspondents, ENG teams and production staff. These products include cameras and accessories; computer hardware and software; scanners; printers; books and other products. Smaller, mini-reviews, are also available in other sections of this site including Products, Books and Movies.

We are constantly adding additional reviews to this section. If you have any suggestions for other products you would like us to review, simply e-mail us using the feedback address on our Terms of Service page. Please supply us with as much information as you can about the product (including name, manufacturer, model number) or book (including title, author, ISBN and publisher).
---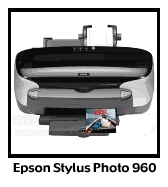 Manufacturer: Epson

Product: Stylus Photo 960

Title: Epson Intros "Digital Darkroom" Stylus 960

Relevance: As more and more professional photographers make the move to digital, printer manufacturers have been pushing the technology envelope. The result is, of course, better and better inkjet printers specifically designed for photographic work. There are, however, printers that advertise themselves as "photo" but do not live up to their billing. We take a look at Epson's latest photo printer as it relates to professional photographers, still cameramen and photo editors.

Review: As more and more professional photographers make the move to digital, printer manufacturers have been pushing the technology envelope. The result is, of course, better and better inkjet printers specifically designed for photographic work. After using Epson's new Stylus Photo 960 for the last six weeks, we can report the Photo 960 delivers the high-end quality expected by this professional market at a reasonable price.

The testers here at ReporterWorld have been big fans of Epson's Photo series for years and the 960 carries on this tradition of good value, impressive resolution and low hassle factor. Although the printer has a small footprint (letting owners squeeze yet another device into their "digital darkrooms"), the Photo 960 prints an impressive array of different paper sizes, types and qualities.

Very small dots of ink
First off, Epson's engineers have equipped the Photo 960 with the company's ubiquitous Advanced Micro Piezo ink jet technology. This technology enables the printer to position extremely small dots of ink on the page, making for exquisitely fine detail and very high resolution. These small dots can be as tiny as 2 picoliters -- that's two trillionth of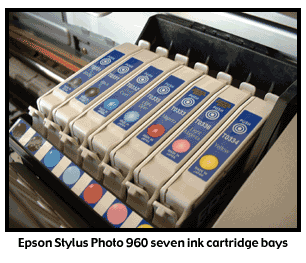 a liter!
The Photo 960 comes standard with Epson's six-color photo ink system (even though there are actually seven color cartridges to install). Traditional inkjets come with four colors (usually black, yellow, magenta and cyan); photo printers can come with six colors (usually light magenta, dark magenta, light cyan and a dark cyan, yellow and black).
The Photo 960 does traditional photo inkjets one better by adding an additional black for superior coverage over large, dark areas of your photos. The combination of the printer's small dot size and the additional ink colors results in truly impressive picture detail, more compositional depth and, generally, results that more closely mimic traditional silver halide photography. Skin tones, already good in the 960's predecessor -- Epson's Stylus Photo 890 -- seemed to have better tonality.
Resolution and paper
Arguably the most important feature of a photographic printer is its resolution. Without high resolution, all the color in the world won't make pro-level photos. The Stylus Photo 960 provides the necessary resolution up to 2880 by 1440 dpi, depending on printing mode selected and, of course, paper quality. While it's true that this resolution is lacking for extremely high-end work, the quality is definitely high enough for all but the most demanding professional photographers.
But all this photographic excellence requires the right tools, and for the Photo 960 (as is the case for all photo printers), using the correct paper for the job is vital. If you want to get the best results out of the printer, you must use Epson's pricey (but, oh so beautiful), specialty papers. If you're just using the Photo 960 for traditional office work, regular bond or photocopy paper will do. (Unlike some printer manufacturers that suggest relegating their photo printers to photo-only tasks, the Photo 960 works perfectly well for both photo and non-photo tasks.) If, however, you want to print photos or other high-end documents, Epson's specialty paper is clearly the way to go.
Speaking of traditional office printing, the Photo 960 is quite versatile, and consequently, would be suitable for small news bureaus, editorial offices or freelance photographers. The printer features four different paper paths: standard top-load path (for normal bond and photo paper, with small photo stock requiring the use of a supplied cardboard backing card); a front loading, straight-through paper path (for thicker media); envelopes (which, unlike the vast majority of so-called "envelope feeds" on printers we've tried to use, actually works); and a roller attachment for longer, non-standard sized images and continuous snapshot printing.
We also enjoyed printing to 4" by 6" photo stock, a feat that is also promised by many printers in the marketplace today but delivered by few. We found there were still small problems with aligning our 4" by 6" Photoshop-based pictures onto Epson's own 4" by 6" specialty photo paper, but we were very impressed nonetheless. After a bit of tweaking, we were able to print on most of the 4" by 6" stock with only a small white band running down one side of the picture (which we trimmed off manually). Since most of our attempts to use the smaller (and thus, more economical) "snapshot" paper have met with frustrating or disastrous results on other printers, our staff thought the fact that the Photo 960 couldn't quite print perfectly was a huge leap forward.
Speed
In testing, the Photo 960 seems to be noticeably faster than the Photo 890. It took us about two minutes to print a 4" by 6" photograph onto Premium Glossy Photo Paper. We considered this an acceptable amount of time, especially when only one of our staff could tell the difference between the Photo 960 print and the same photo developed traditionally and printed on Kodak paper.
Inkjet inks have come a long way in the last few years and Epson's inkjet inks are arguably the best in the industry. For portrait photographers looking at the archival qualities of photos printed on the Photo 960, Epson says its prints will resist fading up to 25 years using Epson's photo inks and fade-resistant papers such as Epson's Matte Paper Heavyweight. We have not tested this claim, but we do have Epson-printed photos hanging in our offices that have lasted over three years with no visible color degradation -- so perhaps we'll update this review in a few decades).
Software installation a snap
We also liked the well-behaved software that Epson installed on our test Macs. It took less than two minutes to pop in the driver CD, run the install program and restart our computers. The Photo 960 immediately showed up in our Chooser and seemed to work well whether directly connected or through a USB hub.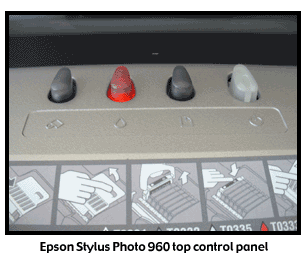 Additionally, we liked the physical design of the Photo 960's hardware. Ergonomically, access panels and control buttons were pretty much there where they should be for easy and error-free access.
Physical clearance around the printer really isn't much of a problem and we were satisfied with the overall look and feel of the device. See the accompanying photo for a close-up look at the Photo 960's control panel.
Nicely, Epson also includes an "uninstall" program in addition to its install program (a terrific boom to product testers -- and to upgraders -- who must otherwise search around for dozens, if not hundreds, of wayward software drivers).
We found, however, that the Photo 960's uninstall program didn't quite remove all the programs that its install program deposited. After the uninstall, we were still able to find at least ten of the Photo 960's driver files on our hard drive (we had to delete manually).
We do have a concern about the cost of the consumables with this (and other Photo printers we've tested). Potential owners of the Photo 960 should understand the true costs of this high end inkjet: each printer cartridge costs $15 US ($20 Canadian) and many consumer-oriented office supply stores sell the cartridges in a "special order double pack". This means when the original cartridges run out, you must purchase two units of the same color -- and it can take a few days to arrive.
Most specialty camera stores, however, carry the Photo 960's cartridges as stock items -- but at a higher cost. Likewise, the cost of the high-end paper will make many freelancer photographers turn their own shade of pale, but it's hard to get too hyped up about this when the final printed results are stunning.
Overall:
All in all, the Epson Stylus Photo 960 is an impressive printer and quite suitable for many photographic uses, including proofing and back office work. Although a bit pricey for the consumer market, the printer sports better-than-average speed, resolution and paper handling capabilities that make it attractive for anyone involved with digital photography, especially professionals looking for a truly serious printer to deliver high quality prints.
End of Review
---
Have your say.
You can give us your feedback by visiting our Terms of Service page.
Buy this printer.
This printer has been discontinued by its manufacturer.
You may be able to purchase an updated model or a used original printer by clicking here.
Read other reviews.
If you wish to return to the main Reviews page, please click here.
---