---
Reviews:
Reporter World provides a variety of safety equipment, identification products, specialized high-visibility clothing, pertinent news, product reviews, book reviews and useful links specifically for reporters, writers, assignment editors, news correspondents, journalists, ENG crews, photographers, production staff, directors, segment producers, media security personnel, and freelancers: in short, anyone who is part of the news gathering, information reporting, or documentary film industries.

In this section we review various products and services of relevance to reporters, writers, correspondents, ENG teams and production staff. These products include cameras and accessories; computer hardware and software; scanners; printers; books and other products. Smaller, mini-reviews, are also available in other sections of this site including Products, Books and Movies.

We are constantly adding additional reviews to this section. If you have any suggestions for other products you would like us to review, simply e-mail us using the feedback address on our Terms of Service page. Please supply us with as much information as you can about the product (including name, manufacturer, model number) or book (including title, author, ISBN and publisher).
---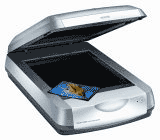 Product: Perfection 4990 Photo Scanner

Manufacturer: Epson

Relevancy: Epson's Perfection 4990 Photo is a professional class flatbed scanner, capable of scanning at resolutions up to 4800 by 9600 dpi. Depending on your scanning settings and time, you can also capture images in up to 48-bit color depth for some truly remarkable results.

Review: We tested Epson's new Perfection 4990 Photo scanner, a near pro level accessory of true value to high end graphic designers and photographers. Besides the assorted hardware bits and pieces, several software programs are also bundled in the 4990 Photo: Adobe Photoshop Elements, LaserSoft Imaging SilverFast SE 6, ABBYY FineReader Sprint OCR and Epson Scan with Epson Easy Photo Fix.

A slightly higher priced counterpart – Epson's Perfection 4990 Pro – differs from the 4990 Photo only by its software bundle. The Pro bundle substitutes the SilverFast Ai 6 version of software for its SE 6 counterpart, and adds MonocoEZcolor 2.6, ArcSoft PhotoStudio, ArcSoftPhotoBase and ArcSoft PanoramaMaker.

The scanning surface of the 4990 Photo measures 8.5" by 11.7", large enough to accommodate letter sized pages, A4 paper and, of course, 8" by 10" photo images. Size-wise, you'll have to set aside a space of at least 12.25" wide by 21.5" deep by 21.5" tall (to allow for the scanner's lid to fully open). Although not particularly sexy, the scanner was certainly elegant and few would complain about its looks.

Performance, of course, is what it's all about and installing the scanner is the first step in finding out if Epson's Perfection 4990 Photo lives up to its name.

Photoshop needed?
Epson's own Start Here instructions underscore that you must have Photoshop installed on your computer before you get everything running. If you don't have a full-blown version of Photoshop, Epson thoughtfully provides a stripped down version of the software in the form of Photoshop Elements on one of the supplied CDs.

It turns out that neither Photoshop nor Photoshop Elements is required to use the scanner. The Epson Scan driver can be called directly from the operating system and that's how we tested the 4990 Photo. Of course, like many readers, we have Photoshop loaded on all our test machines -- but we liked the fact that we didn't need Photoshop's TWAIN feature to run the scanner. Some other scanner manufacturers require users to operate their scanner through Photoshop. We think Epson's approach of a stand-alone driver is far superior.

Installing the driver software for the 4990 Photo only took a few minutes and didn't present any problems.

Once the software was installed, we had to assemble the scanner. Luckily, though, the entire assembly process didn't take more than five minutes, even when our usual hardware geeks responsible for lab set-ups were in a meeting and two graphic designers were substituted in their place.

Some assembly required
The operation requires you to insert two hinges from the top lid part into the bottom scanning part and lock each hinge into place. After you connect the 4990 Photo to your computer, you also have to attach a data cable from the (top) lid to the (bottom) scanner.

Next up is the document mat, a piece of white shiny plastic material with spongy foam on the back. You have to ensure the tabs on the bottom and sides of the document mat fit in the slots on the document cover. We thought that people with big fingers might make a mess of this – and if they weren't especially careful – might actually snap off a bit or two, but things went well for us, so perhaps the plastic bits aren't as fragile as they seem.

If you want to use the scanner for film or negatives, you'll also have to attach the appropriate film holders. Each film holder lets you scan multiple images at once, and depending on which holder you've installed, you can scan up to twenty-four 35mm filmstrip images, eight 35mm slides, three 120/220 (6 by 12 cm) film images, two 4" by 5" film images, or film or contact sheets up to 8" by 10". This we liked, and we think the versatility of the 4990 Photo shows why pro photographers should definitely consider the machine for their everyday needs.

Although the assembly sounds a bit complicated -- and yes, it was a bit daunting at first -- the entire procedure went very quickly. So, while new users may need to lean on Epson's excellent technical support people for a little hand-holding, we found the process actually rather quick and easy.

The 4990 Photo is a bit picky when it comes to what operating system it runs under. You must have Windows 98SE, Me, 2000 or XP. On the Mac side, you must be running at Mac OS X, version 10.2.x to 10.3.x. Although we tested the scanner under OS X 10.3, the technical folks at Epson told us the 4990 Photo works fine under Apple's new 10.4 (Tiger). The scanner runs only on Mac OS X, so if your shop is running earlier versions of the Mac OS you'll be out of luck with the 4990 Photo -- unless you have dual boot functionality on your Macs.

The final steps require you to unlock the scanner's transportation lock using the edge of a coin, remove the large yellow sticker covering the USB and FireWire ports, and then plug in your choice of cables. Nicely, the 4990 Photo comes with a USB cable, a gesture we'd like to see all manufacturers get involved with doing. How many times has a new owner taken delivery of a new USB or FireWire device only to find no cable included?

The interface for the Epson Scan driver software launches quickly without problems and its interface is both logical and functional. The default for the software is "Home Mode" where we were able to choose between color, grayscale or black and white results. We were also able to choose our image's "destination" as the Web, Printer or Other (this presumably shields inexperienced users from many of the pro settings – more about these in a moment).

DIGITAL ICE can save hours of manual retouching
The Home Mode also let us adjust images using a color restoration module, a "descreeing" filter and something Epson calls DIGITAL ICE. The latter represents a very impressive process that removes many scratches, tears, fingerprints or cracks by shining a second light source on the image and comparing the results.

Although DIGITAL ICE – yes, we hate it too when manufacturers insist on capitalizing product names – won't turn back the hands of time, we were pleasantly surprised at the amount of restorative qualities the software can manage, virtually erasing a large scratch, a smudge and a hair we purposely included on a test picture.

We found, however, that using the technology can take substantially more time than scanning without it, and would recommend using DIGITAL ICE only when necessary and when the job is too onerous to do manually in Photoshop.

For example, Epson's own manual says that a 4" by 6" photo will take 9 seconds to scan at 300 dpi without using DIGITAL ICE (a number we found slightly optimistic). Using the technology, however, the same image takes 115 seconds, over 12 times as long.

Similarly, Epson says a 35mm negative should take 67 seconds to scan at 2400 dpi. Using DIGITAL ICE, however, the same image takes just over nine minutes. Of course, for one or two badly defaced images, this extra time is pretty much negligible. After all, waiting a few extra minutes to have this kind of damage magically disappear is well worth the wait.

For professionals using the 4990 Photo as a working tool, however, time is truly money. Shaving even two minutes off the processing time could result in being able to process additional customer orders in a given business day. All this nit-picking aside, however, we were truly impressed with the results produced with DIGITAL ICE – we would just be happier if the software could work a bit faster.

Professional mode
Experienced users can easily access the "Professional Mode" offering up a range of resolutions (50 to 12,800, although much of these higher resolutions are mathematically interpolated), photographic corrections and other useful features at their fingertips. Dust Removal – only available in Pro Mode – mathematically removes dust from slides and negs (including black and white and Kodachrome film). Grain Reduction reduces the grain pattern on film. We found this particularly useful when scanning high-speed film or under exposed images.

We were also impressed that the Epson Scan software let us easily select which file format we wanted to save each image with, including TIFF, PDF, JPEG and others. Other pro-level adjustments include Auto Exposure, Histogram Adjustment, Tone Correction and Image Adjustment. The Professional Mode also lets you select between a range of output options including Black & White; 8-Bit Grayscale; 16-Bit Grayscale; Color Smoothing; 24-Bit Color and 48-Bit Color.

The 4990 Photo is not particularly speedy using a standard USB connection. Maximum throughput is rated at 1.5 MB per second, which we thought was barely adequate for the job. Nicely, however, the 4990 Photo also supports the much faster USB-2 and IEEE-1394 (i.e., FireWire) standards. That said, Mac owners with computers equipped with FireWire 800 will be disappointed the scanner does not support this faster throughput speed.

Under USB-2, the top speed for the 4990 Photo is 50 MB/second, and a FireWire connection can produce top speeds of up to 60 MB/second. Both of these high-end speeds depend on optimum conditions, including having lots of RAM, a really fast transfer bus and, of course, a fast CPU in your computer. The upshot of all this is that with enough raw processing speed and the proper connections, the 4990 Photo can be very fast indeed.

Third party software
Despite all the good things we could say about Epson's own software and hardware, we thought the 4990 Photo's third party optical character recognition (OCR) software could be improved. Epson licenses ABBYY FineReader Sprint OCR to let you scan in documents, interpret the text and save it out as a simple text file. While this sounds like a great idea, we found many problems with the software and eventually gave up trying to get what we would consider acceptable results.

We tried scanning a variety of pre-printed pages. On one page, we found the word "Ramada" was interpreted as "R.im.Khi" and the word "Regal" was translated as "Refill". We note that the first rendering would probably not have passed a spell check, but the second rendering definitely would have passed: it's a real word. Other problems: the Web suffix ".com" frequently scanned out as ".coin" (close, but clearly a different meaning) but was sometimes rendered as "corn" (not close, but we could see where the software was heading). Similarly, the number "800" once arrived as "BOO" and the number "888" popped up as "SSS".

While we applaud Epson's own Epson Scan software as being robust, error free and well designed, we'd skip the promise of OCR until the technology is significantly improved. Not only did it take a fair amount of time to OCR scan in our test pages, we found far too many errors in the text.

These errors concerned us for two reasons. First, they took a long time to correct – one of our reviewers said she could retype the page in Word faster than it took to compare and correct the scanned results. Second, sometimes the OCR software would scan words that were incorrect, yet would pass a spell check, leading us to the uncomfortable conclusion that we had to check every word just in case similarly spelled words had been inadvertently included.

For photographers and other key market users of the 4990 Photo, the scanner's core software is some of the best we've ever seen. Combined with the truly impressive hardware and Fast USB-2 and FireWire connections, the Epson Perfection 4990 is quite an impressive package. The third party OCR software, however, needs work and may frustrate more than help.

Overall: We were impressed with Epson's Perfection 4990 Photo scanner. Most everything worked perfectly and we found the scanner produced near-professional results that almost rivaled far more pricier drum scanning results. The 4990 Photo is ideal for a high end, consumer-level digital photographer, all the way up to an intermediate-level commercial photographer or graphic designer. Especially using the Professional Mode, the scanner is able to produce a wide gamut of colors with a surprisingly degree of accuracy. Highly recommended.

End of Review
---
Have your say.
You can give us your feedback by visiting our Terms of Service page.
Buy this scanner.
If you wish to buy this scanner right now, please click here.
Read other reviews.
If you wish to return to the main Reviews page, please click here.
---