---
Reviews:

Reporter World provides a variety of safety equipment, identification products, specialized high-visibility clothing, pertinent news, product reviews, book reviews and useful links specifically for reporters, writers, assignment editors, news correspondents, journalists, ENG crews, photographers, production staff, directors, segment producers, media security personnel, and freelancers: in short, anyone who is part of the news gathering, information reporting, or documentary film industries.
In this section we review various products and services of relevance to reporters, writers, correspondents, ENG teams and production staff. These products include cameras and accessories; computer hardware and software; scanners; printers; books and other products. Smaller, mini-reviews, are also available in other sections of this site including Products, Books and Movies.
We are constantly adding additional reviews to this section. If you have any suggestions for other products you would like us to review, simply e-mail us using the feedback address on our Terms of Service page. Please supply us with as much information as you can about the product (including name, manufacturer, model number) or book (including title, author, ISBN and publisher).
---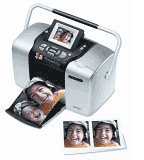 Product:
Epson PictureMate Deluxe Viewer
Manufacturer: Epson
Relevance: Epson's PictureMate Deluxe Viewer provides a viable way to quickly print just about any photo image – without resorting to a computer hookup – from just about any camera. While it's not pro quality, the printer is able to provide impressive images nonetheless, despite the very fast output time, fool proof operation and great portability.
Review: If you've ever been in a position where you wanted to print a 4" by 6" digital camera shot immediately, Epson's PictureMate and its higher end Deluxe Viewer edition are definitely worth a long look. Both printers are able to output six-color pigment-based photographic prints at up to 5760 by 1440 dpi resolution for vibrant photographic detail.
What's more, both printers can work without AC power, using an optional battery pack (Epson product code C12C831074) - making your portable photo shop even more portable.
Like many printers in this category, the PictureMate supports many popular memory cards and is able to print directly from PictBridge and Bluetooth devices including, obviously, cameras and interestingly, cell phones. You can also save or print from an external CD-R drive although you will need an optional Bluetooth adapter to make this magic happen.
The PictureMate is limited to handling a 4" by 6" format page, this being the most common format for consumer level prints. Those wishing to print in a 5" by 7" format will have to look at other options.
The PictureMate printer uses an interesting ink tank design that is purchased along with its photo paper bundle. In other words, you get the ink and the photographic paper together in one SKU. It is currently not possible to buy the ink separately, although we figure it is possible to use non-Epson paper if you want to squeeze any "extra" prints using leftover ink in the cartridges.
Although photographic purists might roll their eyes heavenward at having to discard the entire print cartridge but for the lack of one or two colors, we found that within this market, this easy-to-use approach to ink cartridge management would be appreciated and likely mimicked by other manufacturers.
Installing the printer is easy. You need Windows 98SE, 2000, Me or XP. If you're a MacHead, you can also use Macintosh OS X, as long as you're running at least 10.2 or later. You don't need to fool around with even the simple installation if all you're doing is printing directly from a memory card.
The PictureMate Deluxe Viewer is also able to reach out and communicate with a wide variety of digital appliances and storage media. There is, of course, the standard USB connection for chatting between the printer and your PC or Mac.
But the printer's USB connection can also be used to connect external CD-R/RW drives; Zip drives; Flash memory (so-called, thumb drives); Bluetooth (if you have Epson's optional Bluetooth Photo Print adapter); and PictBridge and USB Direct Print-enabled digital cameras.
So why would a pro use a consumer oriented printer
Purists might be quick to dismiss the PictureMate as not having a satisfactory bit depth and color gamut. While the PictureMate will never be able to compete with much higher end purpose-built photo printers from both Epson and other manufacturers, it may address several important situations in a pro's studio.
First, it is very portable, weighing less than six pounds and measuring only 10.0" by 12.0" by 6.4". This means it can be easily thrown into a large photobag and used on-site. With the optional battery, the PictureMate can truly be a portable photographic studio. While it obviously won't rival professionally developed photos, a lot can be said for the immediacy and frankly, quite impressive graphics able to be output from the printer.
At its highest resolution, Epson's six-color pigment system can produce photos up to 5760 by 1440 dpi. The minimum ink droplet size is 2.5 picoliters, printed in a configuration of 90 nozzles for each of six colors. Thus, while it can't directly compete against many popular photo printers that can print with droplets as small as one picoliter, it more than makes up for the comparative resolution disadvantage with portability and ease of use.
Second, no pro can argue with the great advantage of immediacy. With Epson's PictureMate Deluxe Viewer, you can easily proof your images on the printer's own LCD screen before you print – and print them quickly whenever you want. For pros this means waiting only about 90 seconds before an image comes out of the printer.
At parties, corporate events or other social occasions, this can lead to an excitement not possible with delays involved with traditional development – and, of course, you can always print out images using traditional means. Plus, the PictureMate Deluxe Viewer gives you the choice of printing 1-up (4" by 6") , 2-up and 4-up pics, good for quick wallet-sized prints.
Overall: We liked Epson's PictureMate Deluxe Viewer. For the specific market of printing 4" by 6" images, the PictureMate Deluxe Viewer provides an excellent alternative to more cumbersome photo printers. While the output rivals lower end consumer level photo finishing, the printer really shines when one considers the excellent output versus the fast turnaround time involved. Recommended.
End of Review
---
Have your say.
If you wish to comment on this review, you can do so from our Terms of Service page..
---