---
Reviews:

Reporter World provides a variety of safety equipment, identification products, specialized high-visibility clothing, pertinent news, product reviews, book reviews and useful links specifically for reporters, writers, assignment editors, news correspondents, journalists, ENG crews, photographers, production staff, directors, segment producers, media security personnel, and freelancers: in short, anyone who is part of the news gathering, information reporting, or documentary film industries.
In this section we review various products and services of relevance to reporters, writers, correspondents, ENG teams and production staff. These products include cameras and accessories; computer hardware and software; scanners; printers; books and other products. Smaller, mini-reviews, are also available in other sections of this site including Products, Books and Movies.
We are constantly adding additional reviews to this section. If you have any suggestions for other products you would like us to review, simply e-mail us using the feedback address on our Terms of Service page. Please supply us with as much information as you can about the product (including name, manufacturer, model number) or book (including title, author, ISBN and publisher).
---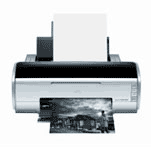 Product:
Epson Stylus Photo R2400 printer
Manufacturer: Epson
Relevance: The Epson Stylus Photo R2400 is a high-end, eight-color ink jet printer capable of handling cut paper sizes up to A3 and longer rolled media. It is aimed at the professional and semi-professional photography market and produces impressive RGB-based results.
Review: We've had a long fondness for Epson's inkjet printer models and our reviewers found the Epson Stylus Photo R2400 another example of how the company really gets it right.
As one might guess from its name, the Photo R2400 is aimed at the higher end photography market with lots of features designed to appeal to the pro and semi-pro markets. Like other Photo printers in Epson's line-up, the Photo R2400 printer is really only good at printing photographs. If what you want is a general inkjet printer most of the time and a photo inkjet for a few pics now and then, you should probably look elsewhere. If, however, you are looking for a specialist printer, capable of showcasing truly high-end work, then you should give the Photo R2400 a close look.
At the heart of the printer is an eight-color ink system yielding a very wide color gamut for just about every photographic application. Epson even gives owners of the Photo R2400 a choice of outfitting one of the printer's eight ink bays with either a "Photo Black or "Matte Black" cartridge, depending on the type of images they wish to produce. This means the printer is technically a nine-cartridge system, albeit one that can only use eight colors at any given time.
Inks, of course, are key to any printer's performance and the ones that come with the Photo R2400 are quite impressive. The company has produced a series of pigments expressly designed for archival color as well as black and white photos. Epson's UltraChrome K3 nine-ink palette consists of Cyan, Light Cyan, Magenta, Light Magenta, Yellow, Photo Black or Matte Black, Light Black and Light-Light Black.
While cynics might suggest that printer manufacturers work hard to maintain their profit margins by convincing printer owners to keep buying OEM cartridges rather than their much cheaper no-name or even refilled counterparts, our testing found that Epson's proprietary inks are truly worthwhile, delivering outstanding coverage across all color ranges. And, provided we used Epson's own brand of paper, our results often seemed to surpass consumer-grade photofinishing results. In a few cases, we thought they actually reached professionally finished levels.
And, because the UltraChrome K3 inks are pigment-based, Epson says they can deliver fade-resistant color photos that stay viable for over 100 years and monochrome (i.e., grayscale) images that last over 200 years. Obviously we can't test these lofty claims but we note that we did see some outstanding results when we ran the printer through a series of our benchmark prints.
We found the Photo R2400 delivers top-of-the-line results on just about any Epson media we could think of using (please see later in this review for the complete media list). The printer's three paper paths support matte, glossy, canvas, roll, poster board and several other types of papers. Although we weren't especially impressed with the Photo R2400's speed at high resolution, we always thought the results were well worth the wait.
Epson says the R2400 is capable of printing photos up to 13 inches wide using a maximum 5760 by 1440 optimized dpi. We found this to be a bit optimistic. Unless images are extremely highly resolved and you're using the very best in Epson's own paper, you likely won't benefit from all this technology. We were very happy with the results of several 20 MB JPEGs printed almost edge to edge on A3 paper.
Installation
Installing the Photo2400 is a simple task, taking only a few minutes on most of our Macs and Windows-based PCs. We say most because the CD-ROM supplied driver does not support Intel-based Macs. This was inexplicable to us as Apple made the CPU switch to Intel quite some time ago and the very high-end market to which the Photo R2400 is targeted is the very same market that would be interested in high-end photography.
To get these newer Mac models working with the Photo R2400 we had to download an Intel-based driver from Epson's support Web site and install it. Unfortunately, this didn't do the trick and part of the Epson's troubleshooting procedure was to tell us to use Apple's Printer Setup Utility to "Reset Printing System".
Unfortunately, and as we feared it might, resetting the System in this way also cleared our test Mac of all other installed printer drivers – even ones that were working fine before the addition of the Epson R2400 to our lab family. This, then, necessitated a call to Epson's support people. After being talked through the tedious process of manually removing the old printer drivers from various places on our hard drives and reinstalling the driver we originally downloaded, things went right from there.
Once working, we were very impressed with the printer. We tested a variety of sizes from 4" by 6" all the way up to A3 and found the printer could handle all with aplomb. A very cool feature of the Photo R2400 is its ability to run a bleed onto letter-sized pieces of paper. We can think of more than one large-format printer on the market that can't do this feat of magic so we were suitably impressed.
The write stuff
But the magic doesn't really work unless you're willing to invest in high-end media such as Epson's papers. We found that printing on plain bond paper, although possible, resulted in washed out images. Printing text was only so-so and even the company's own support people confirmed that the R2400 is aimed purely at a photographic market. While it can print text, it is certainly not the machine's forte.
Owners looking to do CMYK work such as color separations will have to look elsewhere for a large format printer. While photos print wonderfully in RGB, compers and others who work in CMYK will lament that Epson has not written drivers to support this color model. With only an RGB model, CMYK graphics will print in gorgeous color, it just won't be accurate color for the model.
We thought that the R2400 was delightfully parsimonious with ink, considering the vibrancy and opacity of coverage and changing ink cartridges really couldn't be easier. When the cartridge is empty, a red ink light glows on the printer's control panel. One simply lifts the printer cover exposing the inner workings and then lifts a smaller locking cover to pull out the spent cartridge. Nicely, the printer clearly shows which ink cartridge needs replacing by flashing a small red LED directly over the spent unit.
Getting technical, the R2400 has 180 nozzles per ink cartridge and is able to produce extremely small droplets – some as small as 3.5 picoliters – to get the results required. The Photo R2400 can accommodate a wide variety of paper sizes including 4" by 6", 5" by 7", 8" by 10", A4 (8.3" by 11.7"), US letter (8.5" by 11"), US legal (8.5" by 14"), 11" by 14", B (11" by 17"), 12" by 12", A3 (11.7" by 16.5"), Super B (13" by 19"), user definable, plus 4", 8.3" and 13" wide panoramic roll papers. The Photo R2400 cannot be thought of as a "poster" printer because the maximum printable area is 13" by 44" – even if you have a longer roll of paper.
As we mentioned earlier in this review, the Photo R2400 should only be used with Epson's own papers to get the full advantages of the printer. Along these lines, we note the printer is able to use Epson's Premium Glossy Photo Paper, Premium Semigloss Photo Paper, Premium Luster Photo Paper, Enhanced Matte Paper, Matte Paper Heavyweight, Watercolor Paper - Radiant White, Velvet Fine Art Paper, UltraSmooth Fine Art Paper, PremierArt Water-Resistant Canvas for Epson, PremierArt Matte Scrapbook Photo Paper, Double-Sided Matte Paper, Proofing Paper Commercial Semimatte, Photo Quality Inkjet Paper and the company's Premium Bright White Paper.
Plain paper, all three of our reviewers thought, should not be used with the printer. The cheap stuff produces such washed out results that we wondered if using the ink printing onto plain bond was worth the money, even if expectations were set appropriately low.
Although the printer does not support PostScript, it does support a variety of color management models including Epson Standard, Epson Vivid Color, Adobe RGB and ICM and ColorSync using ICC profiles.
Overall: We were suitably impressed with the Epson Stylus Photo R2400. It is ideal for larger format printing of color and grayscale prints on a very wide range of paper types. It is not suitable for any CMYK work because it lacks the appropriate driver. Recommended.
End of Review
---
Have your say.
You can give us your feedback by visiting our Terms of Service page.
Buy this printer.
If you wish to buy this printer right now, please click here.
Read other reviews.
If you wish to return to the main Reviews page, please click here.
---