---
Reviews:
Reporter World provides a variety of safety equipment, identification products, specialized high-visibility clothing, pertinent news, product reviews, book reviews and useful links specifically for reporters, writers, assignment editors, news correspondents, journalists, ENG crews, photographers, production staff, directors, segment producers, media security personnel, and freelancers: in short, anyone who is part of the news gathering, information reporting, or documentary film industries.

In this section we review various products and services of relevance to reporters, writers, correspondents, ENG teams and production staff. These products include cameras and accessories; computer hardware and software; scanners; printers; books and other products. Smaller, mini-reviews, are also available in other sections of this site including Products, Books and Movies.

We are constantly adding additional reviews to this section. If you have any suggestions for other products you would like us to review, simply e-mail us using the feedback address on our Terms of Service page. Please supply us with as much information as you can about the product (including name, manufacturer, model number) or book (including title, author, ISBN and publisher).
---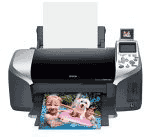 Product: Stylus Photo R320 printer

Manufacturer: Epson

Relevance: The Stylus Photo R320 is a great six-color proofing printer suitable for advanced consumers and intermediate professionals.

Review: We were impressed with Epson's new Stylus Photo R320, a replacement for the company's venerable Stylus R300M ink jet printer. The R320 is a high end consumer-level model, aimed at digital camera owners and others who need to print good quality photographs from a desktop printer. Like some other printers in the current Epson line-up, the Photo R320 offers direct camera-to-printing output and – in the case of this model – supports an impressive 13 different types of memory cards.

Not only does the Stylus Photo R320 let you print images without the need for a Mac or PC, it also features a built-in LCD monitor for viewing and selecting images before you print them. People who frequently use CD-Rs and DVD-R/DVD+Rs will appreciate that the Photo R320 lets you print directly onto the surface of these ink jet printable media types. And this is very cool.

Installing the R320
Setting up the printer was straightforward and easy, and the accompanying CD-ROM makes quick work of the installation process. The R320 supports Mac OS v9.2 or later, and Mac OS X, v10.2.x or later. On the Windows side, you have to be running 98SE, 2000, Me or XP.

The R320 is capable of printing both text and graphics (by changing the appropriate driver settings) and we were satisfied with the results obtained. We thought the R320's results were particularly good considering the relatively low price point of the printer. As we mentioned earlier, the R320 is a six-color printer. While this generates far better results than lower-end four-color printers, it also means the R320 lacks the depth and color gamut of an equivalent eight-color printer that many professionals use today.

Depending on your output application, this may or may not be a problem. For home use, the R320 is a superb "just-about-everything" printer. It outputs well formed text quickly and quietly and with a very small cycle-on time. Amateur photo bugs will be pleased the printer also offers up borderless photos in traditional sizes including 4" by 6", 5" by 7", 8" by 10" and North American letter-size. At its maximum resolution and with special Epson paper, the R320 is capable of printing at 5760 by 1440 with ink droplets as small as 3 picoliters. Again, very cool.

Pro users, however, will probably have a look at several other printers within the Epson line-up if they want higher resolution, decreased graininess and more presence. Of course, there is an increased cost associated with higher end printers, and we note that all four reviewers who worked with the R320 were happy with the tradeoffs made by Epson's engineers for this model.

Paper types and sizes
As with other Epson printers we've reviewed recently, the R320 is able to print on a wide range of media types and sizes. For example, the printer supports plain paper, Epson Premium Bright White, Glossy Photo Paper, Premium Glossy Photo Paper, Premium Luster, Premium SemiGloss, ColorLife, Matte Paper Heavyweight, Ink Jet Transparencies, Matte Scrapbook Paper, Photo Quality Ink Jet Paper, Greeting Cards and Photo Stickers.

Size-wise, the R320 is capable of printing to the two North American standards (letter and legal), four European standards (A4, B5, A5, A6), half-letter, executive, borderless photo sizes (4" by 6", 5" by 7", 8" by 10") and panoramic paper (8.3" by 23.4"). One reviewer thought the R320 should have a larger input tray and that 120 sheets might be a bit small for the printer's intended market. Others, however, felt it was quite adequate for the job. In the end, we agreed to disagree.

Rather than making owners print onto messy (and frankly, somewhat risky) adhesive labels for CD-R and DVD-R discs, the R320 lets you print directly onto the surface of (ink-jet printable) CD-R and DVD-R media. Not only has the company thoughtfully provided a special front-loading CD tray standard with the printer to facilitate this magic, Epson has also included the necessary software. Our only (small) complaint with this is that MacHeads who are running Mac OS 9 are shut out; only those who have made the move to Mac OS X can use this particular function. Just another reason to upgrade, people!

High end consumers will also appreciate that the Stylus Photo R320 also supports Print Image Matching (P.I.M.) technology. P.I.M. technology lets you create the best possible prints automatically, without complicated color corrections. There are currently over 180 P.I.M.-enabled products from 24 different manufacturers of digital cameras, printers and software.

Ink cartridges
We were impressed that the R320 had six individual ink cartridges: Black (Epson #T048120), Cyan (Epson #T048220), Light Cyan (Epson #T048520), Magenta (Epson #T048320), Light Magenta (Epson #T048620) and, of course, Yellow (Epson #T048420). Having the six cartridges may irk some home-based owners as they may feel it will be expensive to replace each cartridge. But this is a false perception. In our experience, having more, not fewer, cartridges can actually help reduce the ever-present cost of consumables. After all, with the R320, one only replaces the particular color one uses, not the entire (single) color cartridge found in some lower end consumer printers these days.

Two reviewers lamented that Epson's OEM printer cartridges are not see-through. This means that owners must rely solely on the out-of-ink warnings from the printer, which can come up unexpectedly. Unlike some other manufacturers who design see-through cartridges, Epson's standard cartridges provide no visual feedback due to their opaque colored cases.

On the other hand, the R320 makes it very easy for consumers and professional alike to crop, re-size, and print photos directly from memory cards or picture CDs without having to use their Mac or PC. The printer is equipped with built-in memory card slots that support CompactFlash Type I and II, MultiMediaCard, IBM Microdrive, xD-Picture Card, Sony Memory Stick, Memory Stick PRO, Memory Stick Duo, Memory Stick Pro Duo, MagicGate Memory Stick, SmartMedia, xD-Picture Card and Secure Digital memory formats (although adapters are required for some more esoteric cards).

Interestingly, you can also save images from your memory cards directly onto a CD-R or a Zip disk without using a computer by utilizing the printer's USB port. Most of this magic is controlled by the printer's own LCD control panel, allowing a surprisingly wide range of options including paper type (nine types), paper size and number of copies – again, all without having to use a Mac or PC. You can also save your print settings for the next time.

Overall
We were very impressed with the R320. Although not suitable for high end color work and oversize comping, the printer does an admirable job with text as well as photo printing. Perfect for freelancers, very small news bureaus and others wishing quality output at a reasonable cost. Epson's Stylus Photo R320 may be just what you need. Recommended.


End of Review
---
Have your say.
You can give us your feedback by visiting our Terms of Service page.
Buy this printer.
If you wish to buy this printer right now, please click here.
Read other reviews.
If you wish to return to the main Reviews page, please click here.
---