---
Reviews:
Reporter World provides a variety of safety equipment, identification products, specialized high-visibility clothing, pertinent news, product reviews, book reviews and useful links specifically for reporters, writers, assignment editors, news correspondents, journalists, ENG crews, photographers, production staff, directors, segment producers, media security personnel, and freelancers: in short, anyone who is part of the news gathering, information reporting, or documentary film industries.

In this section we review various products and services of relevance to reporters, writers, correspondents, ENG teams and production staff. These products include cameras and accessories; computer hardware and software; scanners; printers; books and other products. Smaller, mini-reviews, are also available in other sections of this site including Products, Books and Movies.

We are constantly adding additional reviews to this section. If you have any suggestions for other products you would like us to review, simply e-mail us using the feedback address on our Terms of Service page. Please supply us with as much information as you can about the product (including name, manufacturer, model number) or book (including title, author, ISBN and publisher).
---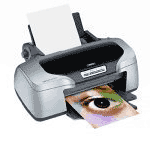 Desktop Photo Printing Takes a Big Leap Forward
Product: Epson Stylus Photo R800
Manufacturer: Epson
Relevance: Any pro or semi-pro photographer who needs to print digital photos from a desktop printer.
Review: We've been fans of Epson printers for many years and the company's new Stylus Photo R800 ink jet photo printer is one of the many reasons why this is so.
The R800 is an eight cartridge printer that features 1.5-picoliter droplet size, and delivers impressive resolutions up to 5,700 by 1440 dpi. This makes for some rather incredible pictures, whether you're printing on Epson's special Photo paper or traditional plain bond.
Unpacking the printer is straightforward and installing the driver software went uneventfully. The printer is compatible with Windows 98SE, Me, 2000 and XP. On the Mac side, you'll need any Mac OS from 8.6 to 9.2.x or OS X 10.1.3 or later. As usual, the more available RAM you have, the happier you'll be, especially if you plan on using the R800 with Adobe Photoshop.
Epson's engineers have worked hard over the years to create bulletproof driver software and it shows. After the few-step installation process was complete, we were ready to print.
Besides the R800's impressive print quality, we thought the printer's speed deserved special notice. Epson says the R800 can print a 5" by 7" color photo in as little as 45 seconds. While we found this claim to be accurate, professional photographers will be happier at higher resolutions, taking more printing time.
This said, even the speedy printing, at a relatively low resolution, is quite impressive; and at higher resolutions (and using Epson's own Photo paper), the R800 can produce photo output that surpasses consumer grade photo labs and approaches pro quality studio work. Text printing was a bit slower than we thought appropriate, but still within the bounds of what we considered reasonable.
Borderless Printing
But photo printing is where the printer really shines. The R800 is able to print true borderless photos in a number of popular sizes, including 4" by 6", 5" by 7" and 8" by 10". In addition, the printer can use a wide variety of plain and photo papers, as well as transparencies and envelopes. In tests, we found the R800's input tray holds just under 100 sheets of regular photocopy or specialized inkjet paper. We were typically able to safely squeeze between 15 and 18 sheets of Epson's special Photo paper into the input tray.
For the truly adventurous, the R800 also lets you print envelopes (storing up to 10 in the input tray) and even the newer so-called "printable" CD-R or DVD-R discs!
The R800's color profiles can help pro photographers and designers better manage color in conjunction with Adobe Photoshop. If this is of interest, you must configure Photoshop to use U.S. Prepress Defaults (this will set "Adobe RGB (1998)" as the RGB working space. It also has the added benefit of warning you if you create any profile mismatches or missing color profiles. When printing, you must also remember to select "No Color Management" from the Print dialog box.
The R800 sports eight individual cartridges, including Matte Black ink and something new: Gloss Optimizer -- and both serve to add a surprising amount of additional depth to each photo. Although Epson says its Hi-Gloss pigment ink enables "archival" quality glossy and matte photos that last over 100 years, we were unable to verify this claim.
The R800 also sports two interfaces of special interest to professionals: a Hi-Speed USB 2.0 port and FireWire/IEEE 1394 connection. Understandably, we found the FireWire port much faster than its USB counterpart, but we certainly applaud Epson's decision to incorporate both in the hardware.
Size May Matter
One of the very few reservations we had with the R800 is that the largest paper it will print to is 8.5" by 11". If you need to print to a larger format, you might consider the Epson Stylus Photo 1280 (a six cartridge printer with a maximum print size of 13" x 19" and resolution of 5760 by 720 dpi) or the Epson Stylus Photo 2200 (a seven cartridge printer with a maximum print size of 13" x 44" and resolution of 2880 by 1440 dpi).
Alternatively, you can use the R800's roll paper attachment to print to either 4" or 8.3" (wide) rolled paper. Although many pro photographers won't take advantage of this option, some will; and those who do will find this a painless way to make great quality banners or long signs.
Besides the printer itself, the Stylus Photo R800 also includes eight print cartridges: one cyan ink cartridge (Epson part #T054220); one magenta (#T054320); one yellow (#T054420); one photo black (#T054120); one matte black (#T054820); one red (#T054720); one blue (T054920); one gloss optimizer cartridge (#T054020); a CD print tray and Epson's Print CD software.
Finally, like most manufacturers these days, Epson does not include a USB or FireWire cable in the box. If you're upgrading, this is fine; if you're buying a new printing station, don't forget to pick up the appropriate cable.
Overall:
We were very impressed with the Epson Stylus Photo R800. Its rich, deep inks create photos that truly need to be seen to be appreciated. Its high resolution (requiring Epson's pricey Photo paper) and ease of use, will tempt many a professional photographer. Highly recommended.
End of Review
---
Have your say.
You can give us your feedback by visiting our Terms of Service page.
Buy this printer.
If you wish to buy this printer right now, please click here.
Read other reviews.
If you wish to return to the main Reviews page, please click here.
---