---
Reviews:
Reporter World provides a variety of safety equipment, identification products, specialized high-visibility clothing, pertinent news, product reviews, book reviews and useful links specifically for reporters, writers, assignment editors, news correspondents, journalists, ENG crews, photographers, production staff, directors, segment producers, media security personnel, and freelancers: in short, anyone who is part of the news gathering, information reporting, or documentary film industries.

In this section we review various products and services of relevance to reporters, writers, correspondents, ENG teams and production staff. These products include cameras and accessories; computer hardware and software; scanners; printers; books and other products. Smaller, mini-reviews, are also available in other sections of this site including Products, Books and Movies.

We are constantly adding additional reviews to this section. If you have any suggestions for other products you would like us to review, simply e-mail us using the feedback address on our Terms of Service page. Please supply us with as much information as you can about the product (including name, manufacturer, model number) or book (including title, author, ISBN and publisher).
---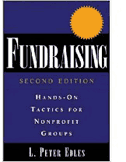 Title: Fundraising, 2nd edition
Author: L. Peter Edles
Copyright: © 2006
Publisher: McGraw-Hill
ISBN-10: 0-07-146143-4
ISBN-13: 978-0-07-146143-6

Relevance: This easy-to-read primer detailing tactics for non-profit groups is beneficial to reporters covering financial stories as well as political campaigns.

Review: An update to the popular Fundraising, this edition shows how non-profit organizations can design and run simple fundraising campaigns. Aimed primarily at smaller non-profit organizations, the book delves into such basics as expecting the most money from the least people, what to expect from a governing board, and ten reasons why fundraising campaigns succeed.

We liked the basic nature of Fundraising because it clearly lays out the steps that non-profits must take to run successful campaigns. For reporters and other writers who lack a fundraising background, this is very advantageous.

Other topics covered are broadening the base of the fundraising campaign, timetables and the choice of fundraising software. We especially enjoyed the section concerning how to get medium-sized or large gifts into the campaign and we thought it very helpful for reporters who want to understand anything behind the fundraising mystique and learn how these programs operate.

Small gifts, the life blood of any fundraising campaign, are also covered extensively including door-to-door campaigns, telephone solicitations and the old standby, direct mail.

New for this edition are what author Edles calls e-campaigning, essentially cultivating and soliciting prospects over the Web using e-mail, e-newsletters and your own Web site. Edles also covers how to use e-Bay auctions for fundraising activities although we must confess we really weren't sure if this would be successful in the real world.

We also enjoyed the various ways in which Edles suggests getting public relations and news coverage for the campaign. Although he only spends a pawltry six pages on how to deal with the media, we thought many of his points were well taken and would prove successful.

We thought of particular interest to reporters would be the large number of examples that Edles uses to explain his thinking on the various subjects involved with fundraising. We would have liked to see more worksheets, perhaps in the appendix, although the ones he supplies are well thought out and to the point.

If we were to have a wish list for the third edition, we would suggest the publisher include a CD-ROM of some fundraising scripts, worksheets, and other essentials that this book includes in paper form. Although useful, they could be a lot more useful for the smaller fundraising efforts at which this book is obviously aimed.

Overall: We enjoyed Fundraising, 2nd edition and thought the book would be advantageous for any reporter or researcher working in either the financial, community or political arenas. It covers all necessary basics to get started in fundraising and provides many solid ideas for those wishing to raise funds for their particular non-profit organizations. It would have been helpful to include real world cases to illustrate the author's points, but we recognize this might be difficult bearing in mind the confidential nature of many fundraising efforts.

End of Review
---
Have your say.
You can give us your feedback by visiting our Terms of Service page.
Buy this book.
If you wish to buy this book right now, please click here.
Read other reviews.
If you wish to return to the main Reviews page, please click here.
---