---
Reviews:
Reporter World provides a variety of safety equipment, identification products, specialized high-visibility clothing, pertinent news, product reviews, book reviews and useful links specifically for reporters, writers, assignment editors, news correspondents, journalists, ENG crews, photographers, production staff, directors, segment producers, media security personnel, and freelancers: in short, anyone who is part of the news gathering, information reporting, or documentary film industries.

In this section we review various products and services of relevance to reporters, writers, correspondents, ENG teams and production staff. These products include cameras and accessories; computer hardware and software; scanners; printers; books and other products. Smaller, mini-reviews, are also available in other sections of this site including Products, Books and Movies.

We are constantly adding additional reviews to this section. If you have any suggestions for other products you would like us to review, simply e-mail us using the feedback address on our Terms of Service page. Please supply us with as much information as you can about the product (including name, manufacturer, model number) or book (including title, author, ISBN and publisher).
---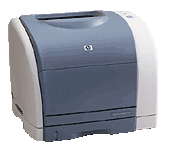 Manufacturer: Hewlett-Packard

Model: HP Color LaserJet 1500 and HP Color LaserJet 3500

Title: HP's Two Color Lasers Great For Text Output

Relevance: As an increasing number of busy news bureaus, information providers and other media outlets look more to color printing -- either for final output or for accurate comping -- we are starting to see a few well known manufacturers roll out color laser printers that are both reasonably priced and offer good performance.

Review: In this review, we take a look at two such color printers from printing powerhouse Hewlett Packard: the HP Color LaserJet 1500 and the HP Color LaserJet 3500. These two printers are part of a recently announced desktop color printer family that also includes the HP Color LaserJet 2500 (and its 2500L cousin) and the higher end HP Color LaserJet 3700 models.

We chose to review the LaserJet 1500 and LaserJet 3500 together in the same article as both printers focus on the same market and can reasonably be called entry level color laser printers. While both the LaserJet 1500 and LaserJet 3500 are far superior in terms of speed and output to entry level ink jet printers, neither laser printer has much (if any) memory and processing power on their own. This means that both printers must rely heavily on the speed, memory and other performance characteristics of their respective host computers. In other words, the faster your Mac or PC is, the faster your printer will operate.

Host based
This is both a blessing and a curse. Recognizing that some buyers want an inexpensive color laser solution but are unwilling to pay to get it within today's cost realities, HP (and other manufacturers) have come up with the idea of stripping out -- or stated more accurately, not adding -- some of the more expensive bits and pieces that are normally included in higher end (and more expensive) laser printers. This means that some color laser printers are less expensive than others -- although their vital statistics can make them look rather similar.

The HP Color LaserJet 1500, for example, looks very impressive on paper. The printer is rated by HP at speeds up to 16 pages per minute (ppm) when printing with black-only toner and up to 4 ppm when printing with all four colors (the printer sports separate cartridges for each of black, yellow, magenta and cyan). HP also says the Color LaserJet 1500 take only 16 seconds to get the first page out of the printer when printing with black toner and only 29 seconds when printing color.

In terms of resolution, the HP Color LaserJet 1500 also sports some impressive stats. The Color LaserJet 1500 prints at 600 by 600 dots per inch (dpi) in either black-only mode or in four-color mode. The printer's resolution technology, however, is built around HP's ImageREt 2400 color layering technology, not on Adobe PostScript. As we cover later in this review, this is an important distinction, especially if you are working with PostScript-based applications such as Adobe Photoshop or Adobe InDesign.

Regardless of what type and class of computer we hooked up to the Color LaserJet 1500, we were unable to duplicate HP's printing statistics for the 1500 -- although we were able to get somewhat close using non-graphical applications such as Microsoft Word, Winpad or SimpleText. When we tried printing graphical-based documents, we found the Color LaserJet 1500 could take minutes to get the first page out. Subsequent pages could be somewhat faster, but not necessarily so.

Since printing speeds were directly related to the power and memory of our host computer, we recommend that buyers recognize that, all other things being equal, more powerful computers should be attached to host-based printers such as the Color LaserJet 1500 and the Color LaserJet 3500. The irony is that if buyers attempt to save a bit of cash by purchasing the 1500 (as opposed to the Color LaserJet 2500 series) or the Color LaserJet 3500 printer (over the analogous Color LaserJet 3700 model), they'll likely be spending more money on their computers to run the less expensive printers.

In addition, since neither the Color LaserJet 1500 series nor the Color LaserJet 3500 come with Adobe PostScript built in, printing PostScript-based applications such as InDesign or Photoshop can be troublesome. Yes, they can be printed, especially on the beefier Color LaserJet 3500, but there can be a hassle involved. One of our reviewers found she had to print out a relatively simple InDesign 6 page document, one page at a time, rather than all at once. Her equipment? A 900 MHz-based G3 iBook with 640 MB of RAM. When the job was moved to a G5-based processor with 2 GB of RAM, it printed much, much quicker and with a minimum of hassle.

Further, if the job got too complex (usually caused by too many graphics, fonts and especially: rotated text or graphics), the printer simply stopped processing. The most vexing thing about this was the printer's response to all of this. Rather than tell us in a dialog box that the job was too complex, the printer's driver software simply moved the active print job into the Trash can and returned to a normal waiting state. One of our reviewers coined the phase, the Ostridge Effect, to describe this perplexing state of affairs. A HP technical support rep we chatted with admitted that engineers should have designed the driver software to provide better user feedback.

There are two ways of buying into the Color LaserJet 1500 family: a standard 1500 model (HP part #Q2488A) and an enhanced 1500L variety (HP part #Q2489A). The two printers look identical except for the 1500L's added 250-sheet input tray added to the bottom.

While we can clearly recommend the Color LaserJet 1500 for certain text-based tasks within a busy news room such as copy editing or storyboarding, we think that other printers within HP's Color LaserJet family should be looked at by those who need fast, laser-based color output.

The Color LaserJet 3500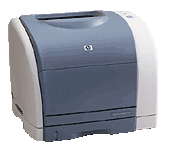 HP's larger, heavier and more powerful Color LaserJet 3500, however, is a much different story from the Color LaserJet 1500. Like the Color LaserJet 1500, the LaserJet 3500 series comes in two varieties. Unlike the Color LaserJet 1500, however, the differences in the Color LaserJet 3500 are with the printer's networking capabilities. The 3500 has only a USB 2.0 connection while the 3500n model also has HP's Jetdirect en3700 external print server networking built-in. And, in case you were wondering, a 3500 model can be upgraded to a 3500n.
We were more impressed with the overall performance of the Color LaserJet 3500, although still put-off a bit by the printer's heavy reliance of our Macs and PCs to print. HP says that the Color LaserJet 3500's first-page out is a reasonable 22 seconds (in both black-only and color modes). We found that these too were a bit optimistic but clearly a lot better that the results we saw in the Color LaserJet 1500 tests.
As a sidenote, we noticed that the internal design of the printers were very different from each other. While the Color LaserJet 1500 uses a rotating carousel to apply each color (thereby requiring each of the four carousels to be positioned at the paper path and then the paper drawn through), the Color LaserJet 3500 locates all color cartridges in-line with the paper path, thereby requiring fewer printing steps (and therefore, faster output). We thought the design of the Color LaserJet 3500 was superior as it involves fewer mechanical movements when printing.
Consequently, long-term color registration problems inherent with carousel rotation technology will be reduced (as well as overall speed increased) when compared with the Color LaserJet 1500.
We were far more impressed with the Color LaserJet 3500. Its printing quality, speed and overall look and feel seemed to be more durable and more likely to hold up to the rigors of a busy news room.
Paper handling:
Both printers are able to handle a wide variety of media including plain paper, glossy, recycled stock, envelopes, transparencies, labels, card stock over a wide variety of thicknesses. We were very impressed by the overall output quality of both the LaserJet 1500 and LaserJet 3500, with a wide range of color and a rich range of color saturation. Graphic artists may want to adjust hue levels to achieve optimum matching between screen design and paper output.
We noted that HP's engineers have added options to the driver software that allow you to select from a wide variety of paper types and thicknesses. Although there is an "auto sensing" option that purports to automatically adjust the printer's speed to compensate for different paper thicknesses, we found more luck when we specifically indicated what paper we had loaded into the printer.
We were very intrigued when we tried to print on non-white paper, and especially onto non-white card stock. In particular, we found the LaserJet 3500 would not print on red or blue paper and sometimes had problems printing on other colors. While we noted the option for color paper printing in the driver software, the LaserJet 3500 was frequently stumped by blue or red stock. HP's engineers suggested this was a safety feature explaining that research had found that a few customers damaged their laser printers by using inappropriate stock (for example, using inkjet transparency stock rather than the more expensive laser transparency stock) when printing. The auto sensing feature was designed to prevent these types of catastrophes. We also documented a problem with the HP Color LaserJet 1500 software in which page selections would be strangely reset.
Graphics:
Since both the Color LaserJet 1500 and the Color LaserJet 3500 are host based and lack onboard PostScript, neither one can be recommended for heavy-duty graphics applications such as Photoshop, Illustrator or InDesign. If graphical ability coupled with laser output is what you're looking for, we'd suggest HP's more graphical capable Color LaserJet 2500 series of printers or the Color LaserJet 3700.
That said, both the Color LaserJet 1500 and the Color LaserJet 3500 can print beautiful text-based color and, in a pinch, can be coaxed to run a bit of color graphics. Graphic artists in this position should definitely use the most powerful computer they have as a job server loaded with lots of RAM.
Overall:
We were impressed with both the Color LaserJet 1500 and the Color LaserJet 3500 for text-based applications. Graphics-based applications, on the other hand, are somewhat more problematic -- with either printer. Photographers and graphic artists looking for laser-based proofing output should look to Hewlett-Packard's very capable Color LaserJet 3700 printer family.
End of Review
---
Have your say.
You can give us your feedback by visiting our Terms of Service page.
Buy this printer.
This printer has been discontinued by its manufacturer.
You may be able to purchase an updated model or a used original printer by clicking here.
Buy this printer.
If you wish to purchase the HP Color LaserJet 3500, please click here.
Read other reviews.
If you wish to return to the main Reviews page, please click here.
---