---
Reviews:
Reporter World provides a variety of safety equipment, identification products, specialized high-visibility clothing, pertinent news, product reviews, book reviews and useful links specifically for reporters, writers, assignment editors, news correspondents, journalists, ENG crews, photographers, production staff, directors, segment producers, media security personnel, and freelancers: in short, anyone who is part of the news gathering, information reporting, or documentary film industries.

In this section we review various products and services of relevance to reporters, writers, correspondents, ENG teams and production staff. These products include cameras and accessories; computer hardware and software; scanners; printers; books and other products. Smaller, mini-reviews, are also available in other sections of this site including Products, Books and Movies.

We are constantly adding additional reviews to this section. If you have any suggestions for other products you would like us to review, simply e-mail us using the feedback address on our Terms of Service page. Please supply us with as much information as you can about the product (including name, manufacturer, model number) or book (including title, author, ISBN and publisher).
---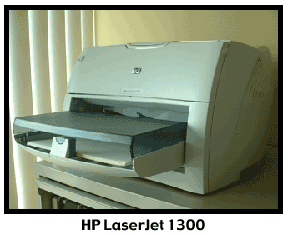 Manufacturer: Hewlett-Packard

Product: HP LaserJet 1300

Title: The LaserJet 1300 - Hewlett-Packard's great text printer full of surprises

Relevance: Anyone looking for a quick, small footprint monochrome printer, capable of printing text and, to a lesser degree, graphics in a busy small or medium-sized newsroom. Photographers looking for a color or proofing printer should look to other products.

Review: When it comes to laser printers, no company takes a back seat to Hewlett-Packard. From its initial LaserJet printer decades ago, the company has revolutionized the way cubical dwellers have printed with their personal computers.

It was then with great anticipation that we marked the impending arrival of HP's new LaserJet 1300 to our office. The company claims the printer provides up to 20 pages per minute of output and a first-page-out in less than eight seconds with HP's patented Instant-on Fuser technology.

Further, the LaserJet 1300 printer is well suited for a busy news room. It's quiet, both on stand-by and when printing; is rated at a monthly volume of 10,000 pages; can print at resolutions up to 1200 by 1200 dpi, and can hold up to 250 sheets in its single input tray (double this with the optional second tray). We couldn't wait!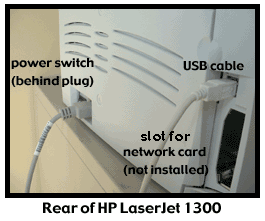 Although HP does make a LaserJet 1300 with networking built in (for about $200 US/$300 Canadian more than the base model), the printer we tested was designed for direct-connect use. By offering both alternatives, HP positions the LaserJet 1300 as a scalable solution that can grow as your news room grows -- and this is clearly an advantage for customers (and the company).
Blood on the testing floor
When the loaner unit arrived, we immediately set upon the box like a pack of hungry lions on a felled gazelle, all vying for who would open up the box and set up the printer. Okay, we think it goes without saying that when it comes to new hardware we're pretty much geeks.
Suddenly, one of the techs who had won the race into the box screamed out, "the bloody thing just bit me" and held up his now dripping-red finger so everyone could see his fresh wound. We never really found out exactly what part of the printer had cut our tech guy but the unpacking clearly took on a less festive mood.
Once a suitable sterile dressing was applied (and the printer was completely unpacked), we were in for another surprise, this time pleasant. Rather than the big, clunky printer we were expecting, the HP LaserJet 1300 looked compact, svelte, and well, almost beautiful. The printer weighs in at just under 20 pounds with paper and is a welcome change from the old days in which much larger, clunkier LaserJets required two weight lifters to install a printer.
Esthetically, the LaserJet 1300 printer is a clearly hit, with clean lines that look good from any angle. Obviously, how one's printer looks isn't at the top of most buyers' lists of "must-haves" -- at least initially. Our experience has shown, however, that looks tend to grow on people. If a printer is ugly -- no matter how well it prints -- owners tend to express less satisfaction with the buying experience and the printer tends to be shifted from location to location within the office, much like a hot potato that nobody really wants near them.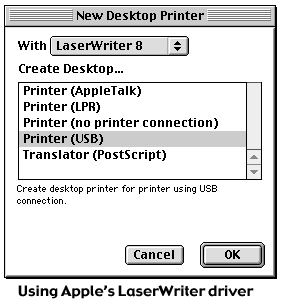 Unfortunately when it came to install the printer driver we immediately ran into problems. Rather than use its own driver (as is by far the standard these days, HP's software engineers decided to piggyback onto Apple's old (but proven) LaserWriter driver. New users, therefore, must create their own LaserJet 1300 driver using a seldom-used Apple mini-application called Desktop Printer Utility.
After puzzling through the last part of the installation using the Desktop Printer Utility, we were ready to go. Only we weren't. Although it looked as if we had successfully installed the driver properly, and an HP LaserJet 1300 icon did indeed appear on the desktop of our test printer, we couldn't print anything.
Going to our test Mac's Chooser really didn't tell us anything significant since we (or rather HP) had used Apple's LaserWriter driver -- and that icon appeared to be properly in place. Our printer didn't come with a paper manual or even a set-up poster so we fooled around a bit with the driver but didn't get very far. Stumped, we decided to call HP's support lines and chat with one of the helpful techs there.
Apparently, our mistake was that we took the default options when guessing how to set up this arcane utility. After the 20 minute troubleshooting session with HP we were able to figure out what we had done wrong and put things right. In retrospect, HP really should make it clear to mere mortals exactly how to install this driver.
Printing results
Once installed, however, the printer worked flawlessly with text-based applications such as MS Word and MS Excel. We found the printer took approximately 25 seconds to set-up and print the first page of a Word document and about five seconds for each additional page. We considered this fast enough for all but the most demanding and busiest newsrooms.
QuarkXPress also worked, although we noticed graphics-based output generally slower than predominantly text-based documents. Not surprisingly, we saw a direct correlation between the complexity of the page and the time it took the printer to print the page. For example, it took about 30 seconds to print a simple XPress-based letter-size page with two small spot graphics. As with our Word-based documents, we found that once the printer had set up the page internally, the LaserJet 1300 printed the actual page very quickly.
When we constructed a more complex page consisting of a 300 dpi, 5" by 7" full color graphic stretched to 150 percent and then shaded at 30 percent, the printer took a few minutes to print. Further, one of our known-good graphics (from our commercial collection of clip art) generated PostScript errors and ejected page after page of gibberish. Consequently, photographers looking for a proofing printer should look elsewhere rather than trying to wrestle with the intricacies of printing photos on this printer.
Even more strangely, we found we couldn't print a Macintosh standard font called "VT100" using the LaserJet 1300. This was the first time we had ever encountered a pre-installed Mac font that could not be rendered by a printer. Of the 36 font families that came with our test Mac, we found "VT100" was the only font that would not print.
We later confirmed this problem with a Hewlett-Packard technician who recreated the problem and agreed we had found a bug in the driver. In HP's defense, however, this font is certainly not in the mainstream, and HP came up with a workaround using another printer driver which would work. All this said, the fact that any fonts have trouble printing isn't a confidence builder.
On the plus side, however, the printer can handle a variety of media including plain and recycled paper, card stock, envelopes, labels and transparencies. Usable sizes include letter, legal, executive, index card, number 10 envelopes (standard size business size) and Monarch envelopes. We were especially pleased that the printer could print standard business envelopes without too much fooling around getting the settings correct. This is in stark contrast to many otherwise capable printers on the marketplace that cause much frustration when attempting envelopes.
No warning lights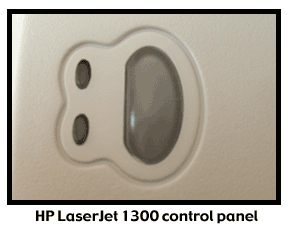 Unlike other printers on the market, the LaserJet 1300 seems to have no clear warning when it is out of paper, except for a small flashing yellow light (which we mistook for an "image processing" light). Nor did we receive any warning about the paper-out situation from our test Mac through the Finder. We found this very anomalous and, although we couldn't confirm it, thought that the lack of software-based feedback might be because HP's engineers elected to use the standard LaserWriter driver for the LaserJet 1300, thus possibly creating a stripped-down feature set.
To make things worse, we found that it is not completely obvious that the printer has run out of paper. This is because the LaserJet 1300 uses the company's standard underneath-the-printer paper tray feed, unlike other "top load" printers where paper levels are more obvious.
Also strange was the location of the printer's power switch. Unlike just about every printer we've reviewed over the past few years, the LaserJet 1300's power button is located all the way at the back of the printer, near where the power cord attaches to the device. Users have to reach around and push a horizontal (not vertical) rocker switch to turn the print on and off. This was inconvenient -- especially in crowded work areas -- and we thought this design decision was especially strange considering the other refinements HP's engineers have incorporated into LaserJet 1300 design.
Overall:
We found the HP LaserJet 1300 a quick and easy-to-use text printer ideal for a busy news room or media outlet. Owners will find the hefty size of the LaserJet's input tray a real plus, especially those who need lots of paper-based story proofing and output -- and need it quickly. The LaserJet 1300 supports the Mac using Mac OS and the PC through various versions of Windows.
Highly recommended for writers and editors who need quick, well-formed text printed on standard-sizes of paper. Not recommended for photographic proofing, professionals who need color output (since the LaserJet 1300 prints only black), or those who need lots of graphics, exotic fonts or large paper sizes.
HP LaserJet 1300 at a glance:
Pluses:
• great text quality
• fast text printing
• large paper tray, plus an optional double-size tray
• small footprint
• handles envelopes well

Minuses:
• confusing set up
• graphics print relatively slowly
• some sharp edges on device
• monochrome output only
• driver software must be uninstalled manually (there is no auto uninstall)
• power switch located inconveniently at back on unit

End of Review
---
Have your say.
You can give us your feedback by visiting our Terms of Service page.
Buy this printer.
If you wish to buy this printer right now, please click here.
Read other reviews.
If you wish to return to the main Reviews page, please click here.
---