---
Reviews:
Reporter World provides a variety of safety equipment, identification products, specialized high-visibility clothing, pertinent news, product reviews, book reviews and useful links specifically for reporters, writers, assignment editors, news correspondents, journalists, ENG crews, photographers, production staff, directors, segment producers, media security personnel, and freelancers: in short, anyone who is part of the news gathering, information reporting, or documentary film industries.

In this section we review various products and services of relevance to reporters, writers, correspondents, ENG teams and production staff. These products include cameras and accessories; computer hardware and software; scanners; printers; books and other products. Smaller, mini-reviews, are also available in other sections of this site including Products, Books and Movies.

We are constantly adding additional reviews to this section. If you have any suggestions for other products you would like us to review, simply e-mail us using the feedback address on our Terms of Service page. Please supply us with as much information as you can about the product (including name, manufacturer, model number) or book (including title, author, ISBN and publisher).
---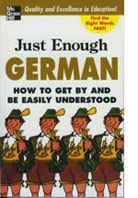 Title: Just Enough German, 2nd ed.
Author: D.L. Ellis and A. Cheyne
Copyright: © 2007
Publisher: McGraw-Hill
ISBN-10: 0-07-149222-4
ISBN-13: 978-0-07-149222-5

Relevance: Just Enough German is a German-language phrasebook that is packed with the bare essentials of German vocabulary and expressions designed to get travelers up and running in Germany, Switzerland and Austria.

Review: Just Enough German is one of those few phrasebooks that lives up to its name providing just enough German to get by in many different situations that basic travelers often come up against. The book can easily fit into a back pocket, inside suit pocket, briefcase or purse and provides hundreds of useful phrases, idioms and vocabulary words so reporters can muddle through basic conversations, meals, getting directions and so forth.

One of the things we liked about Just Enough German is that it doesn't promise too much, but what it does promise, it delivers well. The book starts off with a very basic pronunciation guide – essential for new German speakers – and quickly moves on to phrases related to everyday life (e.g., "hello", "good-bye" and "excuse me") and useful expressions for crossing the border dealing with customs and immigration.

Next up is a section on meeting people including words for introducing oneself, where one lives and words especially for business people. Following that, sections on asking directions (crucial in any new place) and how to reach the local tourist office, serve to give some practical assistance in finding one's way.

We also enjoyed the useful phrases section in the general shopping category (e.g., drug store, vacation items, buying clothes and replacing equipment) although we found very few translations of specific interest to reporters and other journalists. Shopping for food nicely has a chapter on its own as does eating and drinking in a restaurant or bar. Again, we don't see phrases especially for reporters, but we do note the importance of the general phrases that are, in fact, included.

Health and other problems are also mentioned and we did like the specific sections about complaints, losses and theft. All things that plague (pun intended) frequent travelers as well as reporters. There is an extensive (20-page) reference section in the back of the book that may very well serve to help budding German speakers master a bit more of this complex yet interesting language. We would have liked, however, to see a more detailed index, perhaps if space were tight, in smaller font.

Overall: Style-wise, the book does a solid job of introducing content in a logical and orderly way, and seems to cover many of the complexities that might befall an average traveler. The pronunciation guide is good, but not perfect, and native German speakers might find a few nits to pick with the over-simplification of their native tongue.

This said, German is one of the most difficult Western languages to pronounce properly and the book does an admirable job of letting its readers just "get on with" through important phrases. While like most phrasebooks, Just Enough German will not make a non-native speaker fluently bilingual, it can help making one feel more at ease in asking simple questions, getting directions and making small talk when on the road. Recommended

End of Review
---
Have your say.
You can give us your feedback by visiting our Terms of Service page.
Buy this book.
If you wish to buy this book right now, please click here.
Other book in this series:
• Just Enough French
• Just Enough Italian
• Just Enough Spanish
• Just Enough Chinese
• Just Enough Russian
• Just Enough Japanese

Read other reviews.
If you wish to return to the main Reviews page, please click here.
---