---
Reviews:

Reporter World provides a variety of safety equipment, identification products, specialized high-visibility clothing, pertinent news, product reviews, book reviews and useful links specifically for reporters, writers, assignment editors, news correspondents, journalists, ENG crews, photographers, production staff, directors, segment producers, media security personnel, and freelancers: in short, anyone who is part of the news gathering, information reporting, or documentary film industries.
In this section we review various products and services of relevance to reporters, writers, correspondents, ENG teams and production staff. These products include cameras and accessories; computer hardware and software; scanners; printers; books and other products. Smaller, mini-reviews, are also available in other sections of this site including Products, Books and Movies.
We are constantly adding additional reviews to this section. If you have any suggestions for other products you would like us to review, simply e-mail us using the feedback address on our Terms of Service page. Please supply us with as much information as you can about the product (including name, manufacturer, model number) or book (including title, author, ISBN and publisher).
---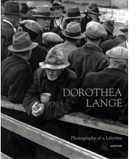 Title:
Dorothea Lange - Photographs of a Lifetime
Essayist:
Robert Coles

Afterword:
Therese Heyman
Copyright:
© 1998
Publisher:
Aperture Foundation
ISBN:
0-89381-835-6
Relevance: This compelling collection of Dorothea Lange's work presents not only a snapshot of a bygone time in American history, but also chronicles the rise and apprenticeship of one of the best female photographers ever.
Review: As most photography students know, Dorothea Lange was born in Hoboken, New Jersey in 1895. In her mid-twenties, she traveled to San Francisco and set up a portrait studio and began honing her photographic skills.
In 1932, she came to the attention of Roy Stryker, then head of the US Farm Security Administration. Seeing her work and recognizing her talent, Stryker hired the young Lange to chronicle America's rebirth through the depression and subsequent "Dust Bowl" years. As a result, between 1935 and 1939, Lange traveled throughout America and interviewed and photographed countless people whose lives had been horribly uprooted by the economic and societal tragedies which plagued the country at that time.
What most photographers don't know, however, is the breadth and depth of her work in depression-era America. This, of course, is brought to life within the pages of Photographs of a Lifetime, but significantly augmented by Robert Coles' detailed and feeling essay describing her work.
Despite the fact she was a woman and suffered the innumerable challenges that beset females until recently, Lange was able to reach beyond the ordinary and very often capture the essence of the tortured souls she photographed.
Lavishly illustrated, this book makes for great viewing (and reading) for any photographic student, especially those interested in the use of black and white to connote various emotional messages within the familiar photographic frame.
More than merely a compendium of photos, Dorothea Lange - Photographs of a Lifetime represents a significant contribution to the history of America and chronicles the coming of age of photographers in general and female photographers in specific during these crucial times.
Overall: We thoroughly enjoyed Photographs of a Lifetime and found it both useful and educational to help us understand and appreciate the historic growth of a country and the skills of one special photographer. Recommended.
End of Review
---
Have your say.
If you wish to comment on this review, you can do so from our Terms of Service page.
Buy this book (softcover).
If you wish to buy this book right now, please click here.
Buy this book (hardcover).
If you wish to buy this book right now, please click here.
Read other reviews.
If you wish to return to the main Reviews page, please click here.
---