---
Reviews:
Reporter World provides a variety of safety equipment, identification products, specialized high-visibility clothing, pertinent news, product reviews, book reviews and useful links specifically for reporters, writers, assignment editors, news correspondents, journalists, ENG crews, photographers, production staff, directors, segment producers, media security personnel, and freelancers: in short, anyone who is part of the news gathering, information reporting, or documentary film industries.

In this section we review various products and services of relevance to reporters, writers, correspondents, ENG teams and production staff. These products include cameras and accessories; computer hardware and software; scanners; printers; books and other products. Smaller, mini-reviews, are also available in other sections of this site including Products, Books and Movies.

We are constantly adding additional reviews to this section. If you have any suggestions for other products you would like us to review, simply e-mail us using the feedback address on our Terms of Service page. Please supply us with as much information as you can about the product (including name, manufacturer, model number) or book (including title, author, ISBN and publisher).
---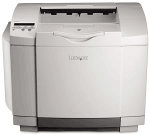 Manufacturer: Lexmark

Model: Lexmark C510

Title: Lexmark's C510 Color Laser: Razor Sharp Text, Great Graphics

Relevance: Lexmark's C510 new color laser is a printer aimed at small workgropups such as those found in news bureaus around the world. The printer boasts speeds of up to 30 pages per minute (ppm) in black and up to 8 ppm in color. Although the printer is quite heavy (more about this later), it has a surprisingly small desktop footprint making it ideal for cramped offices, individual workgroups and freelancers.

Review: The Lexmark C510 is an exemplary printer that successfully merges color fidelity with laser quality. Unlike other printers in this class, the Lexmark C510 is fully graphics compatible, meaning it is able to print from a wide variety of PostScript and non-PostScript applications. This makes it possible to use the C510 as a proofing printer for small press publishers and graphic artists working (within the limitations of a legal-size piece of paper).

Installation is a simple matter in which the Lexmark driver software uses Apple's generic LaserWriter driver to create a suitable driver. Once completed, the Lexmark software deposits a desktop icon on your Mac. Two of our reviewers reiterated their ongoing irritation with printer vendors who design their software to create desktop printer icons -- especially since each of their computers had multiple printers already connected. Although this would be considered technical kvetching for most small offices in which one printer was used, it should be noted that this practice would quickly fill up an already crowded desktop in multiple-printer installations.

Printing from all applications tested (Microsoft Office, Adobe CS Suite applications such as Photoshop, InDesign and Illustrator) worked flawlessly and we were very impressed by both the speed at which the first page popped out (typically less than 15 seconds for a text-based application) and the overall quality of the images. Adobe PostScript 3 and PCL 6 are not embedded in the C510's ROM. Rather both page description languages are emulated. We thought this might lead to printing slow-downs when printing complex documents but we did not experience this during testing.

Flaking toner was our fault
We were initially concerned when the second page of every print job was blurry and had the toner flaking off the page. A quick call to Lexmark's technical support people put us on the right path. It turned out our (in-house) hardware guy had failed to remove some arcane packing material from the printer's fuser unit. This was causing our problem. Lexmark's technician acknowledged that many customers couldn't figure out how to remove the two errant fuser fasteners -- and the company was looking into how to notify customers how to remove them better. Of course, this comment may have been designed to make our sheepish technician feel a little better.

We found that Lexmark's Lexington, Kentucky-based technical support was very helpful, knowledgeable and patient even when we purposely posed silly questions. Call triage -- the process of gathering initial information about the caller's name, telephone number, printer serial number and other information -- was done through Bangalore, India. The telephone line quality was sometimes poor and the reps in Bangalore were obviously following an inbound telesupport script citing exactly -- and we mean exactly -- the same verbiage in handling all our calls. Once we cleared these hurdles, however, we were shunted to the helpful folks in Kentucky who answered our questions promptly.

Lexmark claims the C510 can print at speeds up to 30 ppm in black and up to 8 ppm in color. Although we couldn't quite reach these speeds in our tests, we were certainly most impressed with the speed of the printer. Depending on the page content, we found the C510 could spit out a black-text only page out once every three or four seconds -- almost as fast as a photocopier. Complex color pages, however, such as those created in Adobe Photoshop and printed using InDesign could take minutes to print, especially if unflattened files were used. We found the C510's graphic printing speeds to be acceptable even when we intentionally tried to clog the printer's USB line with graphics composed of complex rotations and raster fills.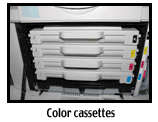 More memory?
Nicely, you can upgrade the memory of the C510 from its factory standard 64 MB to a maximum of 320 MB. This might be a good idea if you are regularly using your C510 as a comping printer. Otherwise, we found the factory standard 64 MB fine for most situations. Lexmark also sells a duplexer for the C510 that lets you print your paper on both sides of the page in one print command. Of course, you could always manually place the already-printed paper back into the paper tray -- and put it through a second time. Alas, we found this leaves an unsightly "edge blur" where the roller grabs the page. For this reason, we cannot recommend the C510 for manual duplexing.
We printed on a wide variety of traditional paper stocks including card stock, envelopes, glossy paper, labels, plain paper, and transparencies. As we noted above, hand duplexing created a bit of a smudge on the leading edge of the stock -- especially when thicker paper stocks were used. Envelopes -- traditionally a problem for all printers -- worked well, although we sometimes noticed a bit of slight smearing on the return address -- where the flap of the envelope caused a doubling of the paper thickness. We judged these problems to be minor in nature; clearly nothing that preventing us from using the printed envelope.
Like other printers in this class, the Lexmark C510 is a hefty printer. At almost 90 pounds in its shipping box, it clearly takes two people to unpack the hardware. Even unpacked (without the box, manuals and other shipping stuff), the printer weighs in at about 67 pounds -- so care must be taken when setting up or moving the printer. That said, we recently reviewed a "desktop" laser printer that weighed in at close to 90 pounds (without its box and shipping materials) so we thought the C510 was comparatively lightweight. Despite its weight, the printer is a bit on the small side for a color laser at about 19.5" wide by 14.75" tall by 16.75" deep.
A wide variety of operating systems is supported including Windows (including 2000, Server and NT), Mac (both 9.X and X), NetWare, IBM iSeries and IBM AS/400 Systems (with TCP/IP with OS/400 V3R1 or later using OS/400 Host Print Transform) and almost any hardware platform supporting TCP/IP -- this, of course, includes UNIX and Linux-based OSes from suppliers such as SCO, Sun Microsystems, Compaq/Digital, SGI, HP and IBM.
Overall:
We were very impressed by the overall quality and speed of the Lexmark C510 and would recommend it to any news bureau or independent writer looking for a high speed color office laser for text or graphics work. With additional RAM, the C510 could also be a welcome addition to a busy graphics or photographic house where fast output and accurate color is needed. Recommended.
End of Review
---
Have your say.
You can give us your feedback by visiting our Terms of Service page.
Buy this printer.
If you wish to purchase this printer, please click here.
Read other reviews.
If you wish to return to the main Reviews page, please click here.
---