---
Reviews:
Reporter World provides a variety of safety equipment, identification products, specialized high-visibility clothing, pertinent news, product reviews, book reviews and useful links specifically for reporters, writers, assignment editors, news correspondents, journalists, ENG crews, photographers, production staff, directors, segment producers, media security personnel, and freelancers: in short, anyone who is part of the news gathering, information reporting, or documentary film industries.

In this section we review various products and services of relevance to reporters, writers, correspondents, ENG teams and production staff. These products include cameras and accessories; computer hardware and software; scanners; printers; books and other products. Smaller, mini-reviews, are also available in other sections of this site including Products, Books and Movies.

We are constantly adding additional reviews to this section. If you have any suggestions for other products you would like us to review, simply e-mail us using the feedback address on our Terms of Service page. Please supply us with as much information as you can about the product (including name, manufacturer, model number) or book (including title, author, ISBN and publisher).
---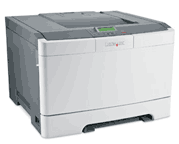 Product: Lexmark C543dn CMYK color laser printer

Manufacturer: Lexmark


Relevance: Lexmark's C543dn color laser printer is an excellent CMYK device for the small or medium busy newsroom, agency, artist or writer.

Review: Perhaps paradoxically, full CMYK-capable printers are getting smaller and smaller with quality rising and rising. We found this to be the case with Lexmark's C543dn. Weighing in at only 54 pounds in the box (that's about 24 kilograms if you're counting in Metric), the C543dn is a solidly built, four color printer that quickly won our hearts and print jobs.

Unpacking the printer is a bit of a chore. Two people need to lift the device printer onto a (very) solid desk. Despite huge breakthroughs in printer design over the past few years, the C543dn is very much a four-color laser. Once you set it up, you're not going to want to move it around too much. Packaging was reasonable to protect the C543dn and removing it left us with a more manageable 46 pound (21 kilogram) handsome light and dark gray addition to our testing lab. Roughly measuring 11.5" high by 17" wide by 16.5" deep (add three more inches if you opt to use the US Legal paper tray option cover), the C543dn isn't by any stretch big, but you certainly know it's there.

Pulling all those wonderful orange plastic strips from inside the C543dn took more time than we thought it should, although one reviewer noted she wished all printers were protected as well as this one is for shipping. We had to actually refer to the set-up sheet to figure out how some of the little orange strips could be removed from the printer. After a few minutes, however, we were ready to hook up the USB cable, add paper in the tray and install the software. The printer also supports Ethernet 10/100BaseTX cabling in case your environment leans towards this standard.

OS compatibility? Oh yeah!
If there is an OS out there the Lexmark C543dn does not support we would be very surprised. Of the three popular OS environments, the C543dn supports Mac, Windows and Linux...all pretty much completely as far as we could tell.

Like most Lexmark's printers, for example, our test printer liked chatting to our in-house Macs running Apple Mac OS X (and could even communicate with an older iMac we managed to find boxed up downstairs that ran Mac OS 9.2 in its day. For those who haven't yet made the switch we thought the Lexmark C543dn would be one of the few new printers one could use with such old hardware. We extend our kudos to Lexmark for reaching out to those laggards still running older hardware.

Naturally, MS Windows is well supported in its now seemingly endless variations: Windows 2000; XP; Server 2003; XP x64; Server 2003 (running Terminal Services); 2000 Server (running Terminal Services); Server 2003 x64; Server 2003 x64 (running Terminal Services); Vista; Vista x64; Server 2008; Server 2008 x64; Server 2008 (running Terminal Services); and Server 2008 x64 (running Terminal Services). Whew!

Linux, the third popular OS, is also very well provided for by the C543dn. Supported variants include Linpus Linux Desktop 9.2 and 9.3; Red Hat Enterprise Linux WS 3.0, 4.0 and 5.0; SUSE Linux Enterprise Server 8.0, 9.0 and 10.0; SUSE Linux Enterprise Desktop 10; openSUSE 10.2, 10.3, and 11.0; Linspire Linux 6.0; Debian GNU/Linux 4.0, Red Flag Linux Desktop 5.0 and 6.0; and Ubuntu 7.10 and Ubuntu 8.04 LTS.

Remarkably, the C543dn also supports various Citrix MetaFrame implementations, Novell's OS, and Unix (including some "big iron" systems such as Sun Solaris SPARC 8, 9, 10; Sun Solaris x86 10; HP-UX 11.11, 11.23, 11.31; and IBM AIX 5.2, 5.3, 6.1).

Paper tray does double duty:
We found we could load a wide variety of papers in the C543dn's 250-sheet input tray including, of course, US Letter and A4. Other paper sizes supported include A5, A6, Executive, Folio, JIS-B5, Universal and Oficio. We thought it nice that the printer also lets you use US Legal paper without resorting to buying a new, larger tray. This is in contrast to many printer manufacturers that make owners buy a separate tray to use any stock larger than US Letter or A4. In the C543dn, however, the ingenious engineers at Lexmark figured out a way of expanding the letter size tray and poking through the rear side of the printer.

Before we fiddled about and tried to use the US Legal feature of the paper tray, we couldn't quite figure out what an "extra" piece of plastic was for on the rear of the printer. Turns out it protects the paper tray once it's extended for use in the US Legal. To keep things neat, Lexmark includes this optional plastic cover for you to attach to the printer so the lengthened tray is still protected from dust.

Quality:
Of course, all these neat features play second fiddle to print quality and output speed. Here, the C543dn's resolution at 1200 by 1200 dpi in black and 1200 by 600 dpi in color is quite impressive. The printer comes standard with 128 MB of RAM, expandable to 640 MB, but we found no delays in printing regardless of jobs we sent. Clearly, larger workgroups or environments using lots of downloaded fonts would benefit from more memory but we didn't find any need for extra RAM during our testing.

The printer has a 100-sheet output bin, which we thought a bit small considering the input bin holds a maximum of 250 sheets. Still, we thought 100 sheets would be more than enough for all but the busiest of newsrooms, especially in conjunction with the next, very cool feature of the C543dn: duplexing.

The C543dn differs from its similar series brethren mainly by its very cool integrated duplexing feature. In plain English, this means the C543dn can print on both sides of a page in one go, without having to manually turn the pages over and figure out the tedious and error prone task of printing both sides. The C543dn prints one side, then draws the page back in for the second round. It's not magic but it always looks that way to us when we see a small printer such as the C543dn work this way. If you're having trouble deciding between the various C543 models and have ever, ever needed to print on both sides of the page, it would be smart to seriously consider the C543dn for this feature alone.

The printer supports an acceptable number of media types including card stock, paper labels, plain paper and transparencies. Acceptable paper weights range from 16 to 47 pound (60 to 176 gsm in the Metric world). While the specifications clearly do not include printing onto heavier stock such as cover or card, we found the C543dn could easily take card stock (67 pound/147 gsm) without batting one of its gray eyelashes.

Few problems:
Every printer has a problem or two and the C543dn is no exception. Two of our reviewers thought the color balance of the CMYK output was "too loud" and they both found ways of adjusting the saturation to "get things right" (according to them, at least). Those shops looking for pro press-perfect fidelity will need to take a long hard look to see if the C543dn is for them. The printer also lacks a straight pass-through paper feed path. This means that you can't put really heavy stock into the printer without using the tray (and the resulting curvy paper path). Nobody in the lab thought this was a deal breaker for the vast majority of potential C543dn owners, just a caveat.

Finally, the printer takes a lot of power, similar to some other higher end color laser printers we've tested in the past. The C543dn is Energy Star rated but our lab rats noted a visible AC pull on some incandescent work lamps plugged into the same circuit as the printer. Powering on seems to drain AC the most, followed by printing. In its sleep/stand-by mode, we hardly noticed it was on at all. Particularly quiet offices (ours is not one of these for good or for bad) might also notice noise levels a bit high on the C543dn, although, as we said, we didn't really notice it was on at all. Independents and small bureaus, however, might want to position the printer away from their phones. No biggie.

Overall:
We were quite impressed with Lexmark's C543dn. We thought its speed and well-saturated color coverage would be welcome additions to any newsroom or writer's office. The handy duplexing feature, although not completely necessary, was a huge time saver for book proofing and other layout applications while the printer's strong set of software drivers makes it chummy with just about every computer in the office, even the older boys and girls! Highly recommended.

End of Review
---
Have your say.
You can give us your feedback by visiting our Terms of Service page.
Buy this printer.
If you wish to buy this book right now, please click here.
Read other reviews.
If you wish to return to the main Reviews page, please click here.
---