---
Reviews:
Reporter World provides a variety of safety equipment, identification products, specialized high-visibility clothing, pertinent news, product reviews, book reviews and useful links specifically for reporters, writers, assignment editors, news correspondents, journalists, ENG crews, photographers, production staff, directors, segment producers, media security personnel, and freelancers: in short, anyone who is part of the news gathering, information reporting, or documentary film industries.

In this section we review various products and services of relevance to reporters, writers, correspondents, ENG teams and production staff. These products include cameras and accessories; computer hardware and software; scanners; printers; books and other products. Smaller, mini-reviews, are also available in other sections of this site including Products, Books and Movies.

We are constantly adding additional reviews to this section. If you have any suggestions for other products you would like us to review, simply e-mail us using the feedback address on our Terms of Service page. Please supply us with as much information as you can about the product (including name, manufacturer, model number) or book (including title, author, ISBN and publisher).
---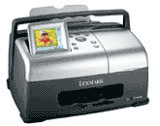 Product: P315 Snapshot Photo Printer

Manufacturer: Lexmark

Relevance: Any professional photographer who needs to print quick 4" by 6" snaps without the use of a computer.

Review: You might wonder why a resource such as ReporterWorld would devote any time to a portable snapshot printer such as Lexmark's new P315 Snapshot Photo Printer. The answer is that every professional photographer needs to be at least aware of the advancements made in stand-alone photo studio technology. And while Lexmark's P315 won't replace professional dye-sub or high-end inkjet printers, it does provide surprisingly capable output results direct from just about every digital camera or memory card.

Unlike many specialized photo printers on the market today, Lexmark's P315 doesn't need a Mac or PC to process or crop images. True, you won't get the kind of results realizable with a computer loaded with lots of RAM and Photoshop's powerful editing capabilities, but for its intended market -- namely small office, home office, home recreational, and casual users -- the printer is ideal.

Further, one of the best features of the P315 is the ease at which it can print 4" by 6" photos anywhere that AC power is available. This means that wedding photographers, paparazzis or photojournalists who need hard copy output quickly can use this printer.

The P315 sports a handy 2.5" color LCD screen letting you preview and edit each image before you print them. Although one certainly doesn't have the full creative capabilities that professional photographers demand, images printed on the P315 are both crisp and clean -- and limited editing features (such as cropping) are available through the printer's on-board control panel.

We were surprised at how good the output really was especially considering the high speed at which the printer does its work. The LCD screen features a countdown timer -- more of a status bar -- that lets you know how long each picture will take. The status bar is mostly accurate, with a few seconds here and there unaccounted for when a new shot is loaded into RAM.

One of the nice features built into the firmware of the P315 is its ability to let you select one, any or all of the images in your camera to be printed without further intervention. This means that you can browse through all the available images on the printer's LCD screen, choosing the ones you want to print, and then hitting "print." You come back a minute or two later (for each shot) and your selected images ready to show off.

We tested the P315 in a variety of environments and found the printer both resilient, and with its fold-away handle, very portable. In printing close to 50 shots (the P315 uses a 25-sheet paper bin), the P315 did not jam once.

PictBridge
The P315 automatically recognizes PictBridge-enabled cameras. This means when you plug your PictBridge-enabled camera into the P315, all images stored on the camera's memory card (or memory disk) become available to print. This automatic mounting technology lets photographers -- pros and amateurs alike -- concentrate on the business at hand (namely printing photographs) rather than fooling around with the technology.

The P315 will also work with non-PictBridge compatible cameras, but requires an additional step: the removal of the memory device from the camera -- be it a card or drive -- and its insertion directly into one of the printer's two media storage bays. Although this is less convenient than the direct cable connection, it certainly widens the P315's compatibility footprint. We used both strategies and found little if any difference between printing times.

We tested several types of storage media including CompactFlash Type I and II, Microdrive, Multimedia Card, secure digital memory stick, SmartMedia and xD picture card. All worked, but we were most impressed with the PictBridge direct connection, especially since it was sometimes difficult to remove smaller media from a given storage bay.

A key advantage for professional photographers is the P315's ability to support Microdrive technology, giving a much larger capacity than is traditionally found on smaller card-type media.

Size wise, the printer is less than 10" wide by 9" deep by 5.5" tall and weighs in at slightly less than 7 pounds (2.5 kilos). It also has the capability of printing multiple copies of an image making it an excellent proofing resource for large groups, weddings, parties, or other occasions in which professional photographers frequently find themselves.

The P315 cartridge system is very simple: only one cartridge containing four inks. We found that each standard cartridge lasts between 35 to 40, 4" by 6" pictures, although this would obviously depend on factors such as color range and saturation requirements. There is also an optional high-yield color cartridge available (Lexmark part number 18C0035).

The P315's color gamut is acceptable but not spectacular, and professionals looking to the P315 as a final color proofing printer might want to consider spending a bit more money on a higher end product. For the price and feature set, the printer's output is very good. The P315 represents a healthy trade-off involving cartridge technology (the P315's four-color versus six- or even eight-color technology), its fast print speed (the printer is usually able to output a photo in under two minutes), and, of course, its low price point.

Two improvements we would make to the printer if we were forced to make suggestions to Lexmark would include an output tray and an optional battery power pack. The output tray would be nice in situations in which the printer has limited or no desk space. We found that perching the printer on the edge of a crowded work bench meant that finished photos could easily fall on the floor. An optional battery pack would definitely extend the printer's usefulness in many industrial, commercial and community news gathering applications.

Overall:
We were surprisingly impressed with the Lexmark P315. It is an excellent photoproofing printer, although limited in output size to 4" by 6", A6 and Hagaki formats. The P315 is definitely worth a good look if you need quick and accurate results but yet have a limited budget. Pro photographers can use the P315 to proof their prints just after taking them, so subjects can see themselves quicker than with traditional photo printing. Recommended.

End of Review
---
Have your say.
You can give us your feedback by visiting our Terms of Service page.
Buy this printer.
If you wish to buy this printer right now, please click here.
Read other reviews.
If you wish to return to the main Reviews page, please click here.
---