---
Reviews:
Reporter World provides a variety of safety equipment, identification products, specialized high-visibility clothing, pertinent news, product reviews, book reviews and useful links specifically for reporters, writers, assignment editors, news correspondents, journalists, ENG crews, photographers, production staff, directors, segment producers, media security personnel, and freelancers: in short, anyone who is part of the news gathering, information reporting, or documentary film industries.

In this section we review various products and services of relevance to reporters, writers, correspondents, ENG teams and production staff. These products include cameras and accessories; computer hardware and software; scanners; printers; books and other products. Smaller, mini-reviews, are also available in other sections of this site including Products, Books and Movies.

We are constantly adding additional reviews to this section. If you have any suggestions for other products you would like us to review, simply e-mail us using the feedback address on our Terms of Service page. Please supply us with as much information as you can about the product (including name, manufacturer, model number) or book (including title, author, ISBN and publisher).
---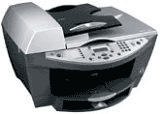 Product: Lexmark X7170 Office Productivity All-In-One Printer

Manufacturer: Lexmark

Relevance: A four-color ink jet based multifunction printer, scanner, copier and fax suitable for general purpose use in small bureaus or as a standalone solution for freelancers.

Review: We were very pleasantly surprised with Lexmark's new X7170 multifunction printer (MFP). To confess, we're not usually great fans of MFPs in general because they attempt to do a lot of things but only succeed in doing a mediocre job at everything. If you've heard the expression, "Jack of all trades, yet master of none" you know what we're taking about.

Thankfully, however, the Lexmark X7170 performs its promised functionality with aplomb and style. True, you won't get the specialized performance of a dedicated printer, fax machine or scanner, but you also won't be paying the money for these separate machines and -- especially important for those who want fewer gadgets around -- you won't have lots of dangly wires going off to various bits of technology around your work area.

As we'll discuss in this review, the X7170 is a solid workhorse machine suitable for a small news bureau or a reporter's home office. Depending on your situation, the X7170 could also be an excellent choice for a freelancer.

Printing
First and foremost, the X7170 is a four color inkjet printer, with the default ink cartridges being the traditional CMYK color model. In these days of six and eight color inkjets as well as inexpensive color laser printers, how does the X7170 measure up? Surprisingly well, especially on Lexmark's own photo paper, where it is able to generate a top resolution of 4800 by 1200 dpi in color.

Overall output is relatively fast as well. True, it won't match speeds of high-end inkjets, but we were very surprised with the alacrity at which the printer is able to output pages. We found the X7170 could print up to 20 same-page prints per minute (in black-only text), and up to 15 same-page prints per minute in color -- at its lowest resolution setting.

With each higher step of printed resolution comes the expectant drop in overall output speed, but even at its highest resolution, we weren't waiting around too long for pages. We found the X7170 a tad noisy for a quiet single-person office, but certainly nothing you couldn't talk over. For busy bureaus, you won't even hear it printing.

Like most printers, you will get better results with the X7170 if you use a good quality paper. We found, for example, even lower end inkjet-specific paper produced far better results than generic (i.e., non-inkjet) or photocopy paper. Those anticipating higher resolutions (including photo quality) should expect to fork over a bit of money for the top-quality paper. If you can't find Lexmark's own branded photo paper, you can also use Fuji photo paper (Fuji makes Lexmark's photo paper).

Hard core Photoshop mavens might be disappointed in the X7170 four-color output technology since many have come to expect the larger color gamut achievable with six or eight color ink printers. And like many four color printers we see in our lab, Lexmark does not offer a CMYK driver for the X7170. Instead only the default RGB based driver is available for printing. For normal text and spot color printing this is perfectly fine.

Excellent Cartridge Life
The X7170 ships with Lexmark's standard "Black 32" and its standard "Color 33" cartridges. There are high capacity cartridges available (respectively, the Lexmark "Black 34" and the Lexmark "Color 35") that are more suited for the increased duty cycles involved with office work.

Since the cost differential between the standard use cartridges and the heavy duty ones is only a extra few dollars, should everybody be buying the "Black 34" and the "Color 35"? The answer was provided by Lexmark's own technical support people: since opened cartridges can start drying up within two to three weeks of non-use, customers should buy the cartridge that best suits their specific needs. We recommend starting off with the default (i.e., supplied) cartridges and moving onto the high capacity ones if you find yourself making multiple visits to your local office supply store.

It could also be false economy to purchase the heavy duty cartridges and have them dry up on you if you aren't printing a lot every day. Lexmark suggests that "light users" -- defined by those who perhaps only print a few pages a week -- should run a single test page through the X7170 every week to ensure the ink is not drying out (this is true with all inkjet-based printers, not just Lexmark's).

If you are going to be out of town or on assignment for a few weeks, you should consider removing the X7170's cartridges, placing them in a Ziploc bag and storing them in a refrigerator. Just remember to let the cartridges rise to room temperature for a few hours before using them.

There are, of course, printers whose manufacturers warn against removing cartridges before they are completely empty. This is not the case with Lexmark's cartridge-friendly X7170. But besides going away on assignment, why would you want to remove the X7170 cartridges before they are empty?

Well, one good reason is Lexmark's Photo Color cartridge. Replacing the usual color cartridge, the Photo Color cartridge is able to produce surprisingly good photo quality images -- provided you use Lexmark's (or Fuji's) own photo paper. Printing in "Best" mode on Photo paper is decidedly slow but the results are near miraculous, especially considering the general market at which this printer is aimed. Again, it won't replace a dedicated (i.e., high end) photo printer, but at its price point (not to mention, its additional functionality) it's hard to think of another printer that even comes close to the photo results we achieved.

Copying
Of course, once you have the printer part of the X7170 nicely humming along, it's time to turn your attention to this device's one-touch copying functionality. For many tasks, the X7170 can replace a traditional light duty office photocopier. We found the X7170 can produce single copies in as little as 15 seconds in black text at about 5 percent coverage, while taking a few seconds longer for a single page with spot color. Multiple copies of the same page are printed much faster, with times again depending on coverage.

The X7170 also lets you reduce or enlarge your copied image in sizes ranging from 25 percent to up to 400 percent of the original. The size of the paper tray (about 125 sheets) and the X7170's own firmware dictates the maximum number of copies you can make in one go at 99, but we thought this point was moot as most owners will opt to save wear and tear on the printer and send out the large copy jobs to a commercial print shop.

We were impressed with the quality of the X7170's copies, with one of our reviewers finding it difficult to discern the copy from the original in one of our tests. Another reviewer thought that one particular copy was actually better than our test original! Since the X7170 copies are based on ink (and not traditional fuser-based toner powder), we found ourselves concerned with the possibility of fading over long term storage conditions but we had no evidence of this actually happening.

A nice touch, and one that is rarely seen on multifunction printers in this class, is the X7170's own automatic document feeder (ADF). The ADF makes it easy for reporters to process multiple pages for copying, scanning and faxing. The 50-sheet ADF makes it less tiresome to do larger copying and scanning jobs.

Scanning
The X7170 also functions as a medium resolution flatbed scanner. Since it has an expanding hinge attaching its cover, you can easily copy thick books, reports, brochures and other items that tend to give traditional flatbed scanners pause for concern.

We found Lexmark's default scanning interface very easy to understand and use. Lexmark's scanning software automatically selects what it considers the "best" scanning resolution when you ask it to scan based on what it "sees" on its scanning surface. Is the object to be scanned a color photo? The scanner makes the appropriate adjustments. Is it a color business chart or other line art object? The scanner makes the appropriate adjustments. And so on.

But getting to the advanced scanning interface is a bit of a challenge and may elude the casual user. At first glance, there is little indication that you can actually tweak the X7170's scan settings to get better results. Clicking on the Preview button, however, brings up another menu that gives you far more options than the default ones. Rather than the default resolution of 300 dpi for a color photograph, for example, you can crank the resolution all the way from 75 dpi to 9600 dpi.

Additional settings include Brightness, Contrast, Gamma and Blur/Sharpen. One also has the ability to fine tune the rotation of the object being scanned (plus or minus 10°), invert the image, or create a mirror image of the scanned object. Of course, you can do all this in Photoshop -- and much, much more -- but it is nice to have in the onboard scanning software. As well, a writer or reporter may not have access to all the tools that a graphic artist takes for granted.

We found the X7170's scanning features worked well with only four consumer-level options. We were puzzled why Lexmark doesn't exactly make it easy to get into the expert mode. One reviewer suggested it might be a marketing or support decision: since the X7170 is aimed squarely at the consumer or small office/home office, perhaps it was felt that adding another obvious layer of complexity would confuse the target audience?

And, as professionals know, there are problems associated with the manipulation and storage of larger files. A color photograph scanned in at 300 dpi saves out as a 5 MB TIFF file. The same image scanned in at 600 dpi will increase storage space by about 400 percent (requiring up to 25 MB, depending on the individual image). At higher resolutions, the progression continues until there is absolutely no hard drive space remaining.

Scanning a photo developed at a consumer level photo finisher at anything more than 300 dpi is a waste of time and space since the resolution of the original image can't be "improved" by better scanning. While professional designers know this, many consumers don't -- and can get into trouble very quickly trying to get higher resolution out of a mediocre original. Perhaps this is the reason why Lexmark's software doesn't make it entirely obvious you can manually tweak your scans.

Faxing
Finally, one can also use the X7170 to produce color or black-only faxing with no PC or Mac required. The X7170's memory can store up to 100 pages (depending on page coverage), and send the lot at speeds of up to 33.6 kbps. You can also view caller ID information (provided you pay for this feature through your telco) and even toggle on the X7170's distinctive ringing feature, important for freelancers who might be sharing lines or using their home line during the business day.

If you need to send lots of documents by fax, you'll appreciate the X7170's ability to bulk send with 20 group-dials, 79 speed dials, and five quick-dial buttons. The X7170 also supports auto redial and pause, and you can forward and re-broadcast faxes as required. If your local telephone company supports it, you can also program your X7170 to help you block junk faxes.

Installation, Setup and Operation
The X7170 was up and running within a few minutes of unpacking. Unfortunately, the X7170 works only on Mac 10.2.3 and up, so those shops that haven't made the switch over to X will be out of luck for printing and scanning (although copying and faxing work just fine). If you're running Windows, you'll need 98/ME, 2000 or XP.

For some reason the driver software takes up about 200 MB for the Mac version, but a whopping 800 MB for the Windows drivers. You'll also need 286 MB of virtual memory if you're running Windows 2000 and 300 MB of virtual memory if you're running on XP.

We found we had to re-install the driver software twice to take care of weird problems such as the printer not being recognized or other odd happenings. Since re-installing the drivers takes less than five minutes, we didn't really think this was particularly irksome.

Overall
We were very impressed with the Lexmark X7170 and recommend it for general purpose printing, scanning and faxing at small bureaus. Freelancers and other small office/home office users can also benefit from the many features of Lexmark's powerful printer. Although not suitable for serious color comping or pre-press work, production level scanning or super fast copying, the X7170 performs the majority of what many people want in a multifunction device. Recommended.

End of Review
---
Have your say.
You can give us your feedback by visiting our Terms of Service page.
Buy this printer.
If you wish to buy this printer right now, please click here.
Read other reviews.
If you wish to return to the main Reviews page, please click here.
---