---
Reviews:

Reporter World provides a variety of safety equipment, identification products, specialized high-visibility clothing, pertinent news, product reviews, book reviews and useful links specifically for reporters, writers, assignment editors, news correspondents, journalists, ENG crews, photographers, production staff, directors, segment producers, media security personnel, and freelancers: in short, anyone who is part of the news gathering, information reporting, or documentary film industries.
In this section we review various products and services of relevance to reporters, writers, correspondents, ENG teams and production staff. These products include cameras and accessories; computer hardware and software; scanners; printers; books and other products. Smaller, mini-reviews, are also available in other sections of this site including Products, Books and Movies.
We are constantly adding additional reviews to this section. If you have any suggestions for other products you would like us to review, simply e-mail us using the feedback address on our Terms of Service page. Please supply us with as much information as you can about the product (including name, manufacturer, model number) or book (including title, author, ISBN and publisher).
---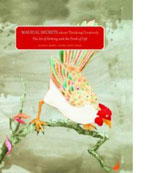 Title:
Magical Secrets About Thinking Creatively – The Art of Etching and the Truth of Life
Author: Kathan Brown
ISBN: 3-79133654-1
Publisher: Crown Point Press, distributed by Prestel Publishing
Copyright: 2006
Relevance: Magical Secrets is directly relevant to you if you are a traditional artist interested in learning by example and working in new ways. More metaphorically, however, this combination DVD/hard cover book provides some interesting exercises for anyone who wants to be more creative in their work or personal life.
Review: Kathan Brown founded Crown Point Press in 1962 and has made the company the world's most influential publisher of etching related material. In this combination book and DVD, she outlines 13 secrets she has learned about etching and how they can be used as a metaphor for life's adventure in both art and learning.
Each of these secrets is lavishly illustrated in both black and white and color plates, and the book itself could easily be considered a work of art. Interestingly enough, although the book is obviously meant at those practicing the comparatively arcane art of etching, the book's lessons can be applied to a wide variety of artistic endeavors, from writing and publishing to photography and videography. This makes the book ideal, therefore, for any professional or beginner alike wanting to push him- or herself further along an artistic or vocational plane.
"Cultivate Sensuality" is Brown's first secret and briefly touches on the subjects of hard ground etching intaglio and aquatint. Here she uses the example of Wayne Thiebaud, a California artist to illustrate how to discover the details of the physicality of your materials.
Secret #2 is titled "Use a Lot of Time". Here, Brown uses Chuck Close to illustrate the two important principles of taking enough time for what you're doing and being aware of your artistic vocation.
Secret #3 is titled "Get into the Flow", an interesting and powerful metaphor for all artistic application of creative power. Here, Brown encourages readers to engage in a mental state she calls "Flow" that has a direct connection to creativity and aptly uses artist Richard Diebenkorn to illustrate her principles.
As a digression, we greatly enjoyed the book's DVD and thought it directly applied to what author Brown was trying to say. In fact, we thought the disc made greater Brown's book by illustrating directly and further explaining key principles about which she speaks. Too often, we find art and design books, if they include a CD-ROM or DVD-ROM at all, bear little if any direct relation to the content, theme or mood of the attached book. In Magical Secrets, however, we were happy to see a full multi-media adjunct to the book.
Connection
Secret #4, "Have an Idea", involves the direct relationship between thinking about what you are doing as an artist and the physical motions involved with actually creating the art. Although this seems a bit ethereal, Brown makes well the point using both cogent text, photographs and, of course, etchings.
Likewise, Secret #5, "Don't Know What You Want", celebrates what all real artists have found as their art improves: that they have been able to cultivate an open and inquiring mind. A further point made is how an open mind is yet another metaphor for the openness of one's art and one's ability to constantly improve one's physical skills in creation.
Seemingly conversely, Secret #6, Know What You Don't Want, stresses the fundamental honesty in understanding what others before you have done and taking steps not to repeat their work. We note that closely juxtaposing these two Secrets makes the book even more Zen-like in its specific perspective to art and its general outlook on life.
In total, Brown uses the work of 16 separate artists to illustrate her 13 secrets relying heavily on the metaphor of art as it affects one's life's learnings. These include Robert Bechtle, John Cage, Chuck Close, Richard Diebenkorn, Peter Doig, Hans Haacke, Saul Lewitt, Tom Marioni, Dorothy Napangardi, Nathan Oliveira, Laura Owens, Shahzia Sikander, Pat Steir, Wayne Thiebaud, Richard Tuttle and Fred Wilson.
Overall: We were most impressed with Magical Secrets About Thinking Creatively – The Art of Etching and the Truth of Life. The book's pictorial style and powerful metaphors combined with the useful DVD can give serious artistic students and, in fact, creative individuals of all types, some serious thought as to how and why to take art to the next level. Highly recommended.
End of Review
---
Have your say.
You can give us your feedback by visiting our Terms of Service page.
Buy this book.
If you wish to buy this book right now, please click here.
Read other reviews.
If you wish to return to the main Reviews page, please click here.
---