---
Reviews:
Reporter World provides a variety of safety equipment, identification products, specialized high-visibility clothing, pertinent news, product reviews, book reviews and useful links specifically for reporters, writers, assignment editors, news correspondents, journalists, ENG crews, photographers, production staff, directors, segment producers, media security personnel, and freelancers: in short, anyone who is part of the news gathering, information reporting, or documentary film industries.

In this section we review various products and services of relevance to reporters, writers, correspondents, ENG teams and production staff. These products include cameras and accessories; computer hardware and software; scanners; printers; books and other products. Smaller, mini-reviews, are also available in other sections of this site including Products, Books and Movies.

We are constantly adding additional reviews to this section. If you have any suggestions for other products you would like us to review, simply e-mail us using the feedback address on our Terms of Service page. Please supply us with as much information as you can about the product (including name, manufacturer, model number) or book (including title, author, ISBN and publisher).
---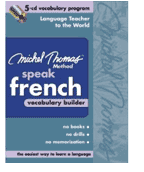 Title: Michel Thomas Method - Speak French Vocabulary Builder
Author: Helene Lewis and Michel Thomas
Copyright: © 2007
Publisher: McGraw-Hill
ISBN-13: 978-0-07148805-1

Relevance: Part of the Michel Thomas language instructional CDs, this offering adds a wealth of new words, expanded sentence-building skills and quite possibly enhanced, near-native French-speaking abilities. It is useful for any reporter or journo working in French speaking countries or regions including France, parts of Africa, Canada, Switzerland, and southeast Asia among many others.

Review: If you've read other reviews about the Michel Thomas Method of language instruction on our Web site, you know that we're big fans of the series. Mr. Thomas' system boasts that students should not write or take any notes regarding new words, styles, idioms or grammar rules, nor should they try to "remember" the new language. Most importantly, students must not get frustrated if they make a mistake. Sounds too good to be true?

We love the fact that each lesson waits for you to fully interact with the recordings and give you samples of two students' real-world responses (oftentimes with stumbles and mistakes). One of the key tenets of the Michel Thomas Method in French system (or any other language in the series) is that listeners do not learn by repetition or by figuring out the answers to each question, rather the CDs help listeners train their minds so that they start thinking in a different language. After that, it's just a matter of time before one becomes fluent.

We also like the organized way in which the CD-based lessons are presented. Many language tapes or CD combinations, or dare we say it, books, lose aspiring language students quickly when they go from "0 to 100" in a few seconds. No matter how familiar one is with a particular language, if one is lost, the learning stops and the frustration sets in. How many of us have at least one language book/tape/CD/video sitting lonely on the shelf somewhere in our offices or at home?

We find neither boredom nor frustration with the Michel Thomas Method and we particularly liked this CD set (offering mainly vocabulary building) because it helps extend the usefulness of what we've already learned in other Michel Thomas main offerings.

Like other audio language tapes, the Michel Thomas series is only effective if one listens and learns from it. Unlike many other tapes on the market, however, the way in which Michel Thomas "teaches" his students somehow imbues a higher degree of confidence and a quicker ability to pick up new concepts. And this we liked very much.

Although you can use the vocabulary builder on its own, our reviewers thought it would be best combined with other programs in the series such as the Speak French Get Started Kit (for people who have never heard the language before) and Speak French for Beginners (for those with some basic experience).

Overall: It has often been said the three key things involved with learning a new language are repetition, repetition, and more repetition. For those who don't believe this old piece of counsel, take heart. The Michel Thomas series, and in particular, the Speak French Vocabulary Builder, somehow miraculously manages to teach listeners how to think, act and even respond (a key differentiator between different language products) in their new tongue. Highly recommended.

End of Review
---
Have your say.
You can give us your feedback by visiting our Terms of Service page.
Buy this CD set.
If you wish to buy this CD set right now, please click here.
Read other reviews.
If you wish to return to the main Reviews page, please click here.
---