---
Reviews:
Reporter World provides a variety of safety equipment, identification products, specialized high-visibility clothing, pertinent news, product reviews, book reviews and useful links specifically for reporters, writers, assignment editors, news correspondents, journalists, ENG crews, photographers, production staff, directors, segment producers, media security personnel, and freelancers: in short, anyone who is part of the news gathering, information reporting, or documentary film industries.

In this section we review various products and services of relevance to reporters, writers, correspondents, ENG teams and production staff. These products include cameras and accessories; computer hardware and software; scanners; printers; books and other products. Smaller, mini-reviews, are also available in other sections of this site including Products, Books and Movies.

We are constantly adding additional reviews to this section. If you have any suggestions for other products you would like us to review, simply e-mail us using the feedback address on our Terms of Service page. Please supply us with as much information as you can about the product (including name, manufacturer, model number) or book (including title, author, ISBN and publisher).
---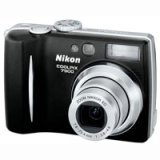 Product: Coolpix 7900 camera

Manufacturer: Nikon

Relevance: Nikon's new Coolpix 7900 camera sports an amazing number of features in a form factor not much larger than a standard pack of playing cards. We turned one loose on three of our in-house photo hounds and found the camera's output bested most point-and-shoot models available today. What's more, we found we could sometimes produce better shots with the 7900 than with low end digital SLR cameras.

Review:
You'd be forgiven if you thought Nikon's Coolpix 7900 was just another digital point-and-shoot. After all, at first glance the camera is a rather small entry into the increasingly crowded digital camera market.

But the Coolpix 7900 is one of the most interesting and powerful point-and-shoots we've seen in years. The camera measures only 3.5" by 2.4" by 1.5" (about 90 mm by 60 mm by 38 mm) and weighs in at about 6 ounces (about 170 grams), including the rechargeable lithium battery. The camera's two-inch LCD monitor is bright, clear and visible (with a bit of hand shading) even in bright sunlight.

Having a comparatively large screen for such a small camera makes the difficult task of composing and viewing images all that much easier. It also makes it simple to navigate the camera's menu, featuring both names and icons for easy navigation. As usual, one of our reviewers had the task of using the camera without the benefit of reading the manual (we do this to mimic realistic field conditions). He, too, found the camera easy to use and effortless to transfer images.

Since the camera is so small, it can easily be carried in a jacket pocket, purse or in your standard camera bag as a backup unit. Unlike some point-and-shoot models we've tested, it's refreshingly difficult to turn the Coolpix 7900 on by accident due to the camera's recessed on/off button. When the camera is turned on, its lens cover retracts and the lens itself automatically extends.

Camera controls are simple and well placed, with a total of three on the top of the camera (power, mode, and shutter release) and six on the back of the unit (zoom in, zoom out, trash, menu, play/record, and a small track pad-like controller to navigate through the menus or directionally zoom a recorded image). The camera comes with the standard-thread tripod mount on the bottom of the unit.

Picture Taking
Of course, the reason why people buy cameras is to take pictures. With this obvious bit of reasoning in mind, we were pleased to note the Coolpix 7900 is able to capture images at a surprisingly good rating of 7.1 megapixels, giving it one of the best size-to-pixel-ratio currently in the marketplace, especially considering its compact size.

The Coolpix 7900 comes equipped with a 3x Zoom-Nikkor ED lens with a focal range roughly equivalent to that of a 38-114mm 35 mm lens. Imaging is accomplished by means of a 1.125 inch CCD. All this technology yields some quite impressive results, and even when formatted to 8" by 10" sized portraits, the highest resolution produces near professional results.

Although most pros will be using the Coolpix 7900 at its highest resolution (7 MB - 3072 by 2304 pixels), the camera is able to capture images at four other resolutions: 5 MB - 2592 by 1944 pixels (the 7900's default resolution); 3 MB - 2048 by 1536 pixels; 1024 by 768 pixels; and a "TV" mode of 640 by 480 pixels.

If you need to shoot quickly, the Coolpix 7900 can accommodate you up to two frames per second. Coupled with a very short cycle-on time, we thought the camera was an ideal takealong, even when you're off the clock. Obviously, if you need to burst shoot five or six frames a second for a few seconds, the Coolpix wouldn't be able to keep up with you. This said, if you have these higher end requirements, Nikon would love you to look at its D2X, D100 or D100 models.

Despite its high end features, can the Coolpix 7900 replace your digital SLR for everyday work? Maybe, it rather depends on where your work is used. Obviously for high end magazine, extended distance or specialized environment work, you'll be looking at a higher end SLR-based unit. For other pro uses, however, the Coolpix might just do the trick.

Certainly the Coolpix 7900 is a very capable backup or walking around camera, especially for those days you can't (or, for security or safety reasons, shouldn't) carry your more visible SLR. The black matte finish also serves to significantly reduce glareback, helping to keep you low profile. Since it doesn't have a swivel LCD display (and thus is difficult to shoot while not looking directly into the camera), we would not recommend it for clandestine or UC work.

More Features
Nikon's high-precision Multi AF gives photographers the choice of 99 manually selectable areas, and five choices for Auto select AF. And something new: Nikon's very interesting "face-priority" AF function helps the camera zero-in on your subject when shooting portraits.

Without too much of a science lesson, the camera automatically senses the presence of a human face in the frame and sets its focus and color balance accordingly. If your content is destined for the Web, you'll be interested to know that the Coolpix 7900 can record VGA-size movies with sound at a smooth rate of 30 frames per second. Of course, we'd recommend at least a 512 MB memory card for this application.

Close up via macro control is accomplished by three clicks of the menu selector button and stays switched "on" until changed by the photographer. We liked the fact that the macro remains on until it is specifically changed; other cameras typically return to their default settings when they are cycled off and on. As is standard, the camera's macro mode is indicated by the ubiquitous small on-screen flower. We found installing driver software to be simple and fast. One of our reviewers chose not to install the driver software on her Mac but found, quite by accident, that images were automatically mounted on the desktop.

Powerhouse
Battery life -- always on the mind of photographers -- seems to be no problem for the Coolpix 7900. Nikon says it has spent time reducing the camera's power consumption and we can attest to the fact that battery life is quite generous. According to the company, the Coolpix 7900 can take over 200 shots with its fully charged lithium battery (Nikon part #EN-EL5).

Although we didn't test this particular claim, we did take dozens of pictures, roughly spread between daylight and flash situations. It was only when we transferred the images to our test PC did it dawn on us we hadn't given a thought to recharging the battery. In fact, when we did recharge the battery for the next day's testing, we found it only took about 20 minutes to recharge completely – a feat we thought very impressive. Although our battery was good to go in only a few minutes, Nikon says that a fully discharged battery will take about two hours to recharge completely.

If recharging the supplied battery is not possible in the field, photographers can also purchase "CP1" lithium batteries to power the camera. We applaud Nikon for providing an alternative power source for the camera. Too many manufacturers insist that photographers rely solely on the supplied (usually propriety) batteries for power -- and don't give a thought to emergency situations where AC power for recharging may not be available. Of course, you can always order a few lithium battery packs as backups but for us, there's nothing better than having the option of buying extra disposables.

This is not to say we didn't have a few concerns about the Coolpix 7900 power system. The Coolpix 7900's battery charger requires a long and non-standard power cable. Other chargers we've seen have foldaway power plugs that are boon to photogs on the go. Not the 7900. For some reason, the length of this power cable stretches almost 6 feet (and yes, we measured it).

We were surprised that so elegantly designed a camera would require such a heavy duty and -- considering the diminutive size and weight of the actual camera -- hefty cordset. On a lesser camera we wouldn't have given this a second thought. In the 7900's case, this two piece design seemed to our reviewers a bit klugey. We're sure there is a reason for this long cord. Nikon's engineers rarely do anything without lots of solid market research behind the decision. This said, we would like to see the option of the charger plugging directly into a wall socket. Sure, if physical limitations prohibit this, perhaps the cord could be used as an extension.

Blur Warning
We found one of the best features on the camera was an option (turned on by default) that automatically warns you if you've somehow taken a shot which the camera thinks is blurry. Although it is easy to tell if your picture is very blurry or unfocused, we often find it difficult to tell if a particular pic is slightly unfocused -- until, that is, we get it up on the screen and into Photoshop.

Nikon's Blur Warning changes all this. Now, whenever the camera senses a blurry shot (typically created by a shaky hand or a vibrating vehicle), the 7900 displays a warning across the LCD screen and asks if you really want to save it. This gives the photographer time to recompose the shot and take it with a steadier hand. Obviously, this won't help you if the shot is already "gone" but if the subject is still there, the Blur Warning can make the difference between shooting again and missing the shot completely.

And, in case you were wondering, you can override the warning by simply saving the picture -- and you can shut the entire feature off if you like. Nicely, Nikon's software engineers have disabled the Blur Warning for several modes where asking for a confirmation from the photographer might interfere with taking the shot. In Continuous mode, for example, the camera temporarily disables the Blur Warning since you won't be wanting to stop taking shots to confirm any camera messages. Likewise, the warning is suppressed when you're using "5 Shot Buffer", Museum, Fireworks Show and Panorama Assist scene modes. We thought this was very well thought out.

Overall
We were very impressed with the look, feel and functionality of the Coolpix 7900. Whether you're shooting close up and require a lot of resolution or you need an inexpensive backup unit to throw into your regular camera bag, the Coolpix 7900 is an excellent choice for many applications. Although its lack of interchangeable lens rather blunts the camera's usefulness as a first-in pro shooter, the Coolpix 7900 packs a surprisingly large amount of power in a little case. Its battery system is both lightweight and long-lasting, two important characteristics for field photographers. Highly recommended.

End of Review
---
Have your say.
You can give us your feedback by visiting our Terms of Service page.
Buy this camera.
If you wish to buy this camera right now, please click here.
Read other reviews.
If you wish to return to the main Reviews page, please click here.
---