---
Reviews:
Reporter World provides a variety of safety equipment, identification products, specialized high-visibility clothing, pertinent news, product reviews, book reviews and useful links specifically for reporters, writers, assignment editors, news correspondents, journalists, ENG crews, photographers, production staff, directors, segment producers, media security personnel, and freelancers: in short, anyone who is part of the news gathering, information reporting, or documentary film industries.

In this section we review various products and services of relevance to reporters, writers, correspondents, ENG teams and production staff. These products include cameras and accessories; computer hardware and software; scanners; printers; books and other products. Smaller, mini-reviews, are also available in other sections of this site including Products, Books and Movies.

We are constantly adding additional reviews to this section. If you have any suggestions for other products you would like us to review, simply e-mail us using the feedback address on our Terms of Service page. Please supply us with as much information as you can about the product (including name, manufacturer, model number) or book (including title, author, ISBN and publisher).
---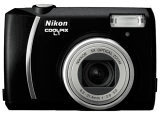 Product: Nikon Coolpix L1

Manufacturer: Nikon

Relevance: The Nikon Coolpix L1 is a small yet powerful point-and-shoot digital camera capable of capturing 6.2 megapixels of resolution using its 5x optical zoom.

Review: The Nikon Coolpix L1 is an excellent quality point-and-shoot camera with a minimum focal range of 50 cm (20 inches) The camera's notable 2.5 inch, 115,000 pixel TFD LCD monitor provides an impressive level of user feedback and slide show capabilities.

We were quite taken by the diminutive Coolpix L1. Its 5X zoom and 6.2 megapixel resolution can provide all but the most demanding professionals with a great takealong camera for off-duty or backup use. As a point-and-shoot, it is obviously not suitable for high end pro use and its inability to connect an external flash will limit its functionality in terms of night use or for especially fast action shots.

All this said, we were very impressed with the Coolpix L1 and noted its many prosumer features. The camera features several shooting modes including Auto, Scene Assist (Portrait, Landscape, Sports and Night Portrait), Scene (Party/Indoor, Beach/Snow, Sunset, Dusk/Dawn, Night Landscape, Close-Up, Museum, Fireworks Show, Copy, Backlight and Panorama Assist). Other shooting modes include BSS (Best Shot Selector), Color Options, a handy Blur warning, Date Imprint and a 10-second self-timer.

We thought one of the many neat things about the Coolpix L1 is its power supply. The camera comes standard with Nikon's EN-MH1-B2 (nickel metal hydride) batteries, but can also use ubiquitous alkaline or upgraded lithium batteries – all based around a AA battery footprint.

We like this feature a lot because there is always a way of getting power for the camera no matter where you are in the world. This feature makes the Coolpix L1 ideal for reporters and correspondents because, in the field, one often doesn't always have the luxury of time (or AC mains access) to charge one's batteries.

But the Coolpix L1 is primarily aimed at consumers (yes, the pun is intended) and two of the unit's features hit this market square on. First, the Coolpix L1 is able to automatically correct red-eye, a problem plaguing many consumer-level pics for decades. Second, the camera's high tech blur warning tells when the shot has been compromised by a shaking hand. You then have the choice of erasing the problem pic and then recomposing the shot, or keeping the original.

Movies Too
The Coolpix L1 is also adept at producing small-sized movies at either 15 frames per second (fps) or 30 fps, with sizes up to 640 by 480 pixels. While this certainly is not broadcast quality, it is a neat feature to have on board. Considering the ridiculously poor quality that people put up with these days when taking still photographs from their cell phones – and let's not even discuss those horrid grainy movies – we thought the Coolpix L1 outstanding by comparison.

Another neat feature of the Coolpix L1 is that it has 10 megabytes of flash memory. This means you can keep on taking pictures even when your SD memory card becomes full. Naturally, you can't take pictures forever like this. At maximum resolution of 6.2 megapixels, for example, the Coolpix L1 can only store three extra images; at slightly less resolution you can store six extra images. This said, it is very handy to have a few extra shots available "on the roll" just in case.

As any pro knows, it's always good to have a few spare shots on the roll just in case you see something noteworthy on the way back from your assignment. In the "old" days of analog (i.e., film photography), we were always taught to shoot down to your last three exposures, and use these for emergencies. The principle is the same with digital photography, Now, however, the Coolpix L1 lets you shoot your entire card and still have a few emergency pics available. Nice.

In yet another tip of the hat to its high end consumer market, the Coolpix L1 lets you connect it to a PictBridge compatible printer and print images stored on the camera. These images can either be printed from the SD memory card or from the internal memory space. Although PictBridge is cool for consumers, the technology can also be used by pros and semi-pros to quickly proof images before a costly upload to your home bureau or for freelancers who need an on-the-spot proof for further editing.

Overall:
We were quite impressed with the Coolpix L1 and note that while a digital point-and-shoot marketplace is becoming crowded with knock-offs and wannabes, Nikon continues to produce cameras that are easy to use, accurate and have good hand-feel. Excellent for just about all consumer level photographers, and impressive as a standard point-and-shoot backup, the Coolpix L1 is recommended.

End of Review
---
Have your say.
You can give us your feedback by visiting our Terms of Service page.
Buy this camera.
If you wish to buy this camera right now, please click here.
Read other reviews.
If you wish to return to the main Reviews page, please click here.
---