---
Reviews:
Reporter World provides a variety of safety equipment, identification products, specialized high-visibility clothing, pertinent news, product reviews, book reviews and useful links specifically for reporters, writers, assignment editors, news correspondents, journalists, ENG crews, photographers, production staff, directors, segment producers, media security personnel, and freelancers: in short, anyone who is part of the news gathering, information reporting, or documentary film industries.

In this section we review various products and services of relevance to reporters, writers, correspondents, ENG teams and production staff. These products include cameras and accessories; computer hardware and software; scanners; printers; books and other products. Smaller, mini-reviews, are also available in other sections of this site including Products, Books and Movies.

We are constantly adding additional reviews to this section. If you have any suggestions for other products you would like us to review, simply e-mail us using the feedback address on our Terms of Service page. Please supply us with as much information as you can about the product (including name, manufacturer, model number) or book (including title, author, ISBN and publisher).
---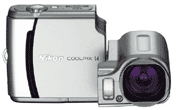 Product: Coolpix S4 camera

Manufacturer: Nikon

Relevance: Nikon's Coolpix S4 is a six megapixel, point-and-shoot camera with an impressive 10X zoom lens and a swiveling two-piece body. The S4 is ideal as a main-use unit for a prosumer level photographer or a back-up for an off-duty pro or stringer.

Review: Nikon has been releasing some truly well-positioned cameras recently, both in the professional space and in the consumer space. While the very neat Coolpix S4 falls squarely into the latter category, this lightweight, yet powerful camera is worth a look for pros as an off-duty or possible backup unit for close-in work.

At its highest resolution, the Coolpix S4 is able to capture images at six megapixels and play them back to you on its large (2.5" - diagonal) LCD monitor. The camera also sports an impressive 10X zoom capability making it ideal for taking long shots of buildings or other scenic pics.

The most interesting aspect of the Coolpix S4, however, is the fact that it is really two separate parts: one containing the lens "barrel" and built-in flash, and the other containing the camera electronics, screen, batteries and other bits. The two parts are held together by a hidden joint that swivels independently in two dimensions.

The upshot of all this magic is that photographers can easily shoot pics from above their head (useful for media scrums or social events where you don't have a clear shot of your objective) and from below (where you want to create a glancing up effect -- for shooting a building foyer, for example). You can also use the swivel 180° for self-portraits, if you are so inclined.

Of course, you can also use the camera in "one" piece, that is without twisting the camera "up" or "down" but we all found it more convenient to swivel the lens than rotate the entire camera for many of our shots. Despite our initial skepticism about the "swiveling camera", we found the feature actually quite useful.

Fixed lens
Of course, we also liked the 10x Zoom-Nikkor lens with which the Coolpix S4 comes equipped. Alas, because it has a fixed (i.e., non-interchangeable) lens and lacks an accessory shoe, many professionals will shy away from the camera. This is understandable, but a bit of a shame as we found for simple outdoor work the Coolpix S4 is quite a handy little camera. With a range of resolutions up to six megapixels, the camera certainly has enough horsepower for certain pro applications.

Two of our reviewers really liked the new grip on the Coolpix S4, saying it gave a good feel to the point-and-shoot. A third reviewer thought the screen was too large (i.e., the frame around the camera was too small) and didn't give anywhere for his fingers to grip the camera without getting fingerprints all over the screen. We thought this was not a huge problem for the intended consumer market. Plus, we could hardly suggest that Nikon make the camera bigger, just because the screen was "too large" for the camera. We know of many pro-level SLRs with smaller LCD screens so we concluded Nikon was on the right track with the S4's screen size.

We also found the controls on the Coolpix S4 well laid-out and logical, although all three reviewers had initial problems with the "twitchiness" of the Multi Selector button (i.e., the control button). We found it initially very difficult to control where we wanted to go in the camera's menus with the Multi Selector. After some time, however, two of the three reviewers figured out how to use the edge of their fingers (or their nails) to move the button, rather than their fingers (which proved too clumsy for the job). The reviewer with the largest fingers (and short nails) never really got used to the camera's controller and sometimes had to resort to using a pencil eraser to manipulate the controller.

Scene modes
There are a total of 16 Scene Modes to make shooting in a wide range of common situations easier. You simply select the Scene Mode that matches your ambient lighting and the Coolpix S4 automatically makes the appropriate adjustments to speed and aperture.

The camera's very useful voice recording mode can record up to five hours of sound on a 256 MB SD card. This is a great advantage for meetings, lectures and other events but since there is no external microphone jack, professionals can't connect a powered microphone to the Coolpix S4. Still, in our tests, the pick-up using the in-body mic was more than enough for its intended market and certainly workable in a pinch when you need a sound bite and you're without your digital recorder.

And for Web photogs and bloggers out there, the Coolpix S4 has four movie modes, three with sound, one for time-lapse (no sound). The highest resolution you can achieve shooting movies with the Coolpix S4 is 640 by 480 pixels, but at that resolution a 256 MB memory card will fill up in just over 7 minutes. Adjusting the resolution down to a tiny 160 by 120 pixels, your 256 MB card can hold just over 47 minutes. The frame rate in all cases is 15 fps. Sure, it won't replace your Betacam, but it does a good job in a pinch, especially if you take pains to shoot close-ups or other low motion video.

For nature photographers, the Coolpix S4 can also take up to 1800 time lapse shots unattended, in intervals of 30 seconds, 1 minute, 5 minutes, 10 minutes and 30 minutes. Because this could represent a significant amount of time, Nikon recommends photographers use the optional EH-62B AC adapter kit so battery life isn't a factor in your photographic success.

Improve images in-camera and then print them
Four of Nikon's key camera features have made it into the Coolpix S4. First, D-Lighting fixes undersaturated or oversaturated pics (caused by insufficient flash or excessive backlight) by adding detail and lighting where necessary. Second, a feature called Face-priority AF automatically detects and focuses on a human face in the frame so photographers get the best results shooting portraits.

Third, a surprisingly useful Blur Warning alerts you when a shot may have been compromised by camera shake. You can choose to shoot again or keep the image. Either way, you can also turn off this feature if blurring is the effect you want for your shot (to impart motion in your shot, for example).

Fourth and final, Nikon's In-Camera Red-Eye Fix quickly corrects red eyes caused by straight-angled flash. Red eye is nothing that Photoshop can't fix but considering the market for the camera, we thought it was great to be able to edit in-camera for this annoying problem.

One reviewer mentioned it would have been a nice touch had Nikon's engineers mounted the built-in flash on the part of the camera that did not contain the lens. This way, using the Coolpix S4's swivel mechanism, you could point the lens directly at the subject and bounce the flash off the ceiling or wall by pointing the "body" at a different angle. Alas, the flash and lens are mounted on the same swivel bit.

Since the Coolpix S4 supports the PictBridge standard, printing images without need of a computer is easy. Attach a USB cable from the S4 to a PictBridge-compatible printer, and the images will transfer and print without a lot of hassle. And this is great for the Coolpix S4's intended market. Of course, professionals will likely want to import their pics into Photoshop and the USB cable will obviously be of help here. That said, we note that some pro photographers are using PictBridge to print quickie contact sheets for parties, weddings and other hired events.

A copy of Nikon's PictureProject software lets you easily edit, organize and share images. Unlike Nikon's higher end cameras, the Coolpix S4 doesn't offer an uncompressed image mode for storing images. Although there are five resolution modes: "High 2816*" (2816 by 2112 pixels); "Normal 2816" (2816 pixels by 2112 pixels); "Normal 2048" (2048 by 1536 pixels); PC Screen (1024 by 768 pixels); and TV Screen (640 by 480 pixels), all but "High 2816*" are compressed on a 1:8 basis. The camera's "High 2816*" mode saves its images in a 1:4 compression ratio. Both "High 2816*" and "Normal 2816" save images with enough resolution to warrant the six megapixel rating.

Compared with the S2…
One of the things that endeared us to the camera was its size and shape; invariably people will compare the Coolpix S4 with its sibling, Nikon's five megapixel Coolpix S2. While the Coolpix S4 is not as small or lightweight as its svelte brother, it is still able to fit in an overcoat or leisure jacket pocket. Weight wise, the Coolpix S4 weighs about 33 percent more than the S4: roughly 5 ounces (140 grams) to the bit beefier S4 at 7.3 ounces (about 205 grams).

Power sources for the cameras are also different. The S2 comes with a lithium battery pack (that is lightweight but requires its own unique charger). The S4 is powered by more ubiquitous AA batteries (which are definitely heavier, but available in almost every corner shop around the world). The S4 ships with two rechargeable Ni-MH AA batteries along with Nikon's MH-71 charger.

Overall:
Nikon's Coolpix S4 comes with lots of accessories including the aforementioned rechargeable AA batteries (and their charger), as well as an AV cable, a USB cable, and, of course, Nikon's PictureProject software. We would have liked to see a case – even an inexpensive one – included in the box. Alas, our usual complaint about manufacturers not including a camera case has been echoed with the otherwise impressive Coolpix S4. A small thing, maybe, but given the consumer targeting of the camera, it would have been a nice gesture.

For professionals, the Coolpix S4 represents a low cost, yet relatively powerful camera. While it certainly won't meet the first-line demands of many pro photographers, it does pack enough power for an off duty unit to carry easily – as well as a concealable 10X zoom camera. The Coolpix S4 is suitable for outdoor work but no interchangeable lens or accessory shoe is available, restricting it for pro use. Recommended.

End of Review
---
Have your say.
You can give us your feedback by visiting our Terms of Service page.
Buy this camera.
If you wish to buy this camera right now, please click here.
Read other reviews.
If you wish to return to the main Reviews page, please click here.
---