---
Reviews:

Reporter World provides a variety of safety equipment, identification products, specialized high-visibility clothing, pertinent news, product reviews, book reviews and useful links specifically for reporters, writers, assignment editors, news correspondents, journalists, ENG crews, photographers, production staff, directors, segment producers, media security personnel, and freelancers: in short, anyone who is part of the news gathering, information reporting, or documentary film industries.
In this section we review various products and services of relevance to reporters, writers, correspondents, ENG teams and production staff. These products include cameras and accessories; computer hardware and software; scanners; printers; books and other products. Smaller, mini-reviews, are also available in other sections of this site including Products, Books and Movies.
We are constantly adding additional reviews to this section. If you have any suggestions for other products you would like us to review, simply e-mail us using the feedback address on our Terms of Service page. Please supply us with as much information as you can about the product (including name, manufacturer, model number) or book (including title, author, ISBN and publisher).
---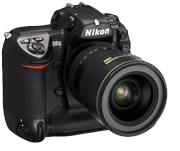 Product:
Nikon D2x digital camera
Manufacturer: Nikon
Relevance: The Nikon D2x dSLR is an excellent choice for the professional photographer who needs a quick capture, high-resolution instrument as a primary camera.
Review: Nikon's D2x digital SLR camera is an impressive blend of high end electronics with traditional style and functionality. The camera's new DX format CMOS sensor is capable of capturing up to 12.4 million pixels per shot, resulting in images of up to 4,288 pixels by 2,848 pixels. Other full image sizes include 3,216 pixels by 2,136 pixels [M] and 2,144 pixels by 1,424-pixels [S]. Smaller image sizes are generated when using the camera's High-Speed Crop mode, discussed later in this review.
We found that all images produced with the D2x were very clean and sharp, suitable for just about the most demanding pro assignments. We were also impressed with the improved speed of the camera with its power-on and shoot-refresh rates almost instantaneous. But as any working professional knows all too well, speed without accuracy is nothing so we were very pleased to see that Nikon's engineers have included lots of new (and useful) features into the D2x.
One of these new features improves the color handling algorithms in the camera's firmware. These routines are responsible for the impressive ability of the D2x to resolve much finer gradations with which many other same-class cameras struggle. Further, the D2x seems to be able to make much smoother transitions between discrete, yet nearby colors when rendering its images. Other new features include excellent white balance, auto tone and on-board noise reduction.
Speaking of white balance
For those pros wishing to set their own white balance, the D2x is more than willing to accommodate. We found we could set Kelvin temperature directly from 31 preset values between 2,500°K and 10,000°K. In addition, the camera's preset scene modes allow photographers to use five standardized white balance settings.
The D2x uses a 1,005 pixel RGB Exposure/Color Matrix Metering Sensor to calculate the most appropriate brightness and focus measurement area. The camera's firmware also evaluates the color, contrast and distance of the target image and compares what it sees to an onboard database of actual photographs before making its final calculations and resultant settings. We found this science actually works surprisingly well and greatly helps reduce the chances of bad exposures.
There are a great many features of the D2x that aren't immediately obvious to the new owner. The camera's center-weighted metering, for example, concentrates 75 percent of the D2x's attention within an 8 mm circle (roughly one-third of an inch) and the remaining 25 percent on the rest of the image. If you want to widen this area, you simply change it in the camera's Custom Settings menu.
The D2x has four modes of operation. These include: Programmed Auto with Flexible Program <P> ; Shutter-Priority Auto <S>; Aperture-Priority Auto <A>; and Full Manual <M>. You can set the camera's sensitivity from ISO-equivalent 100 to ISO-equivalent 800 in increments of 1/3 EV. We were, however, surprised there were no lower or higher settings than these, especially in the omission of a 1600 setting.
Three color gamuts
Color is where it's at with the D2x and the camera lets photographers use one of three Adobe color gamuts to more closely match what they shoot with its expected color and output requirements. Mode I is more useful for shooting human subjects and takes special care to render skin tones with more accuracy. This selection creates images that are saved in Adobe RGB or sRGB formats.
Mode II is designed for shots requiring a wider range of colors and consequently, is able to create images with a wider color gamut. This mode creates images that can be saved in Adobe RGB format. Finally, Mode III is primarily for photographers who shoot landscapes and other natural settings: it more closely matches the greens and browns found in nature. Mode III saves files in Adobe RGB or sRGB.
In addition, the camera's support for the sYCC color profile means photographers can actually shoot JPEG-based images with a wider color gamut than sRGB ones. The benefit of this is that color printers that support this enhanced color model can render output with even more detail than before. Quite impressive.
Three more impressive features of the D2x are its R (red), G (green) and B (blue) channel-specific histogram display, the World Time function and its ability to create multiple exposures composed of 2 to 10 images.
Nicely, the D2x incorporates a very bright 2.5 inch 235,000 pixel LCD display for clearer viewing and quicker access to the camera's color-coded menus. We also liked the Recent Settings feature that let us return to a set of base settings from among the last eight we used from D2x's menu system. This is great for consistency between shots over the long-term and even when the camera is being shared between photographers in a busy newsroom.
Another nice feature for D2x owners is the camera's extended battery life. The manual states that under optimum conditions, the fully charged standard EN-EL4 battery, using an AF-S VR 70-200mm f/2.8G IF ED lens (VR off), lets you shoot approximately 2600 frames before the battery needs recharging. We found no reason to dispute this claim. We shot well over 1500 images over a span of three weeks and recharged our EN-EL4 loaner unit only once.
We also liked the feedback messages telling us about remaining power on both the camera itself, and when it came to charging, the charging unit. We thought the multiple LEDs on the charger alerting us to the battery's charging status was a particularly good thing for field photographers. Active photographers will likely want to purchase another battery (and possibly, another charger) to ensure they always have enough power for field work.
Negligible shutter lag
Another thing we liked about the D2x was its quick shutter speed. We found almost no shutter lag between shots, a crucial consideration for professionals. Nikon says the shutter speed on the D2x is a scant 37 milliseconds. Although we could not measure this directly, we were unable to overload the D2x by shooting quickly, clearly the best measurement of the camera's ability to handle real-life quick shooting situations.
In fact, the D2x's ability to shoot quickly is further illustrated by its fast burst rate. In perfect conditions, the camera is able to capture full-resolution (12.4 megapixel RAW/NEF) shots at five frames per second for 17 consecutive shots. Burst capacity can be increased almost 30 percent by shooting into JPEG format. Here, you can achieve 22 images in continuous shooting.
If fast shooting is a major concern, you can also use an interesting feature of the D2x called High-Speed Crop. This lets photographers achieve eight fps speed for 29 shots in RAW/NEF or a maximum of 35 JPEG formatted images. The catch here, however, is that the camera uses only the central area of the CMOS sensor to capture the shot.
The result is that your pics are rendered with an angle comparable to that of a traditional 35 mm lens with double the focal length. Another trade-off when using this mode is resolution. You achieve smaller image sizes when using the D2x's High-Speed Crop mode, when compared to the camera's normal mode. High-Speed Crop images are limited, for example, to 3,216 by 2,136 pixels [L], 2,400 by 1,600 pixels [M] and 1,600 by 1,064 pixels [S].
Auto focus
Another thing noted by all three of our reviewers was the D2x's versatile auto focus system. Photographers have the choice of using the camera's auto focus system in four modes to suit their subjects and environment.
In Single Area AF, the photographer can lock any one of the D2x's 11 AF spot sensors, keeping the shot statically composed while possibly using an off-center focus point.
Dynamic AF uses Nikon's Focus Tracking and Lock-on tells the camera to automatically track, follow and focus on subjects once you've locked on to them. Using this feature helps keep the camera focused on subjects that are moving, perhaps too quickly for hand-based tracking and focusing. We found that although Dynamic AF won't work miracles, it was very cool and captured moving objects far better than our best manual efforts.
Closest Subject Priority Dynamic AF is what many photographers think of when they think of an auto focus system. The D2x identifies a key object that is closest to the camera and focuses on this.
Group Dynamic AF is rather like a combination of Dynamic AF and Closest Subject Priority Dynamic AF. This option is very useful for shooting complex scenes with multiple subjects that may be quickly moving. This magic is accomplished by isolating groups of AF sensor activity to specific patterns in the shot.
Interestingly, we found that the auto focus unit could sometimes be more observant than the photographer. In complex scenes, the camera often locked onto objects in the viewfinder that we would otherwise ignore. This, of course, could be easily corrected, either by recomposing the shot or by quickly changing the focus point in the camera. New owners, though, might find they need to brush up on their focusing technique to accommodate the D2x's superior technology.
Usable Lenses
The D2x can resolve shots so well that it may actually show flaws or faults in older (but otherwise compatible) lenses, much like an upgraded component such as a new amplifier in a home theater system might expose aging speakers that should be replaced.
It's not surprising then that the D2x works best with Nikkor lenses specifically built for Nikon's own digital cameras. This said, the camera is backward compatible with a variety of current and older lenses. These include the following:
1) AF Nikkor (including AF-S, DX, VR and D-/G-type): All functions possible;
2) D-type Manual-Focus Nikkor: All functions except autofocus and some exposure modes available;
3) AF Nikkor other than D-/G-type: All functions except 3D-Color Matrix Metering II and 3D Multi-Sensor Balanced Fill-Flash possible;
4) AI-P Nikkor: All functions except 3D-Color Matrix Metering II, 3D Multi-Sensor Balanced Fill-Flash and AF possible; and
5) Non-CPU AI Nikkor: Usable in [A] or [M] mode with Matrix-Metering, Center-Weighted and Spot Metering available.
Surprises
Despite the great pictures we were able to coax from the D2x, we thought Nikon could have done a bit better in a few areas.
We were surprised, for example, that given the otherwise high end target market of the D2x, Nikon did not see fit to add FireWire/IEEE1394-800 capabilities. Instead, we had to make do with comparatively slower USB 2.0 transfer technology. We also thought the camera's weight was a bit hefty, weighing in at more than 2.5 pounds. While two reviewers thought this was certainly manageable, one thought the camera might be too heavy for all-day use, especially when a Speedlight or longer lens was added.
On the other hand, we were suitably impressed that the D2x is compatible with the company's new IEEE802.11b/g-based Wireless Transmitter WT-2. This provides faster image transmission with improved security and wireless LAN remote control of the D2x. While you need the optional Nikon Capture 4 version 4.2 software to make this happen, it's certainly very cool.
And speaking of cool, Nikon has also developed a new cable called the MC-35. This optional accessory lets you connect the D2x to a GPS device so you can automatically record latitude, longitude and altitude at the time of capture with other shooting data. This is a boom to nature photographers who might need to return to exactly the same spot every week, month or even year to track environmental changes or other activities. Other uses might include mineral, oil or gas exploration activities or police or security work.
Compatible memory
The D2x can accommodate a wide variety of memory cards and drives. Considering the camera's maximum resolution of 12.4 million pixels, we recommend memory cards with capacities of at least 1 GB. Even pro photographers used to having lots of RAM on their laptops, may want to consider adding more. Without sufficient memory, manipulating and applying effects to images of this size can slow down the fastest computer.
The camera's list of approved storage media includes the following:
SanDisk:
SDCFB: 128 MB, 160 MB, 192 MB, 256 MB, 384 MB, 512 MB and 1 GB
SDCFB (Type II): 300 MB
SDCF2B (Type II): 256 MB
SDCFH (Ultra): 128 MB, 192 MB, 256 MB, 384 MB and 512 MB
SDCFH (Ultra II): 256 MB, 512 MB and 1 GB
SDCFX (Extreme): 1GB and 2 GB
Lexar Media:
4x USB: 128 MB, 256 MB and 512 MB
10x USB: 160 MB
12x USB: 128 MB, 192 MB, 256 MB and 512 MB
16x USB: 256 MB, 320 MB, 512 MB, 640 MB and 1 GB
24x USB: 256 MB
16x WA USB: 128 MB, 256 MB and 512 MB
30x WA USB: 8 GB
40x WA USB: 256 MB, 512 MB, 1 GB, 2 GB and 4 GB
80x WA USB: 512 MB, 1 GB, 2 GB and 4 GB
Microdrive: 340 MB, 512 MB, 1 GB, 2 GB and 4 GB
Overall:
We were very impressed with the Nikon D2x's ability and many pro features. If you're a pro photographer looking for a primary camera, you may not have to look any further than the D2x. The camera's great color handling ability, its backward compatibility with most existing Nikkor lenses and dozens of other pro-demanded features make the D2x a serious contender for just about anyone. Highly recommended.
You can read a separate review of Nikon's AF-S DX Zoom-Nikkor 17-55mm f2.8G IF ED but overall, we found Nikon's lens the best in its class, and would resist using other third-party lenses with this camera.
End of Review
---
Have your say.
You can give us your feedback by visiting our Terms of Service page.
Buy this camera.
If you wish to buy this camera right now, please click here.
Accessories:
SanDisk SDCFH-1024 1 GB Ultra II Compact Flash memory card.
Read other reviews.
If you wish to return to the main Reviews page, please click here.
---