---
Reviews:
Reporter World provides a variety of safety equipment, identification products, specialized high-visibility clothing, pertinent news, product reviews, book reviews and useful links specifically for reporters, writers, assignment editors, news correspondents, journalists, ENG crews, photographers, production staff, directors, segment producers, media security personnel, and freelancers: in short, anyone who is part of the news gathering, information reporting, or documentary film industries.

In this section we review various products and services of relevance to reporters, writers, correspondents, ENG teams and production staff. These products include cameras and accessories; computer hardware and software; scanners; printers; books and other products. Smaller, mini-reviews, are also available in other sections of this site including Products, Books and Movies.

We are constantly adding additional reviews to this section. If you have any suggestions for other products you would like us to review, simply e-mail us using the feedback address on our Terms of Service page. Please supply us with as much information as you can about the product (including name, manufacturer, model number) or book (including title, author, ISBN and publisher).
---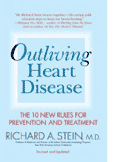 Title: Outliving Heart Disease
Author: Richard A. Stein MD
Copyright: © 2006
Publisher: Newmarket Press
ISBN-13: 978-1-55704594-2

Relevance: Outliving Heart Disease is ideal for reporters covering the health, medical or other related beats as well as many of us who have crazy, hectic lives that would benefit from just slowing down, eating well and taking it easy.

Review: Outliving Heart Disease. Sounds good, doesn't it? Well, Dr. Richard A. Stein, Director of Preventative Cardiology at Beth Israel Medical Center in New York, has the answers. He doesn't outline ten magical steps to preventing his readers from getting heart disease. Instead, he advocates a series of useful, common sense and dare we say it, doable rules to help live longer and happier lives.

We thoroughly enjoyed Outliving Heart Disease because it gives us hope that doctors as well as their patients are finally both "getting it" that science is able to delay or even prevent most heart disease, provided we follow a few simple rules. Well, ten simple rules.

Author Stein, who is a noted cardiologist and spokesman for the American Heart Association, as well as the Founder and Co-Director of the Cardiac Prevention and Rehabilitation program at the 92nd Street Y in New York City, is hard to beat for someone who knows the ins and outs of how to prevent heart disease.

After a fascinating introduction into what doctors used to think about heart disease versus what we know now (or what we think we now know), we launch into Stein's first rule: Be Alert to Symptoms that Signal an Imminent Heart Attack. Did you know, for instance, the symptoms of heart attack often differ in men and women? Given the fact that most TV show writers are men, we can all guess which heart attack symptoms are most often portrayed in TV and movies. This, Stein suggests, may lead women to delaying or possibly even avoiding treatment for their heart attack thinking that it can't be serious because all the "science" they've learned on TV doesn't correspond to their symptoms.

Stein also suggests knowing one's general medical condition as well as understanding how one's own family medical history can put a person at increased risk of heart disease is crucial to understanding what to do to prevent becoming another statistic. Adult-onset diabetes, for example, whether it's treated with pills or insulin, statistically means one may be twice as likely to get coronary artery disease than when compared to others in a similar population.

It follows, therefore, that a family history (especially a close family history) of atherosclerosis, stroke or peripheral vascular disease also greatly increases one's chances of having coronary artery problems. Although these warnings may seem obvious to the medically inclined or even the armchair doctors, we feel including these other conditions along with the well known coronary risk factors serves a very good purpose. It reminds people that a problem in one part of the plumbing often affects another.

Rule 2: Know Your Risk for Having a Heart Attack in the Next Ten Years deals with understanding how the risk factors, especially adult-onset diabetes, obesity, a sedentary lifestyle and, in particular, metabolic syndrome (too much dietary sugar, too little activity and high blood pressure) can accurately predict one's chances of succumbing to heart disease.

We especially liked Stein's concrete and factual information about LDL (low density lipoprotein), total cholesterol, HDL, cholesterol and triglycerides. Important metrics for blood pressure, cigarette smoking, C-Reactive Protein ("CRP"), and Lp(a) are included here as well.

Why do we like this section so much? It's because even when patients regularly see their physician or if they are under the specialist care of a cardiologist, they are often told that they are "fine" or that their tests came back as "normal". In our mind, and more importantly, in Dr. Stein's mind, this removes the patient from any significant knowledge about their own bodies and any incentive to get involved in a quantitative (or qualitative) way in their own health care. After all, if you don't know where you're starting from, how do you know how (or if) you progress?

We recognize that many patients don't want the added information, they may feel that this is "too much information", and blindly trust their health care professional to "fix them up". Rather than scare readers, Stein wisely incorporates informed readers into their own medical care. In other words, readers of this kind of book are likely to want to know some of the more complex measurements involved with their own bodies and in this, Stein satisfies.

Rule 3: Take a Statin! This is a very new concept for many patients and dare we say it, some physicians who believe that statins should only be prescribed after the first heart attack (provided the patient survives, of course). Statins are not miracle drugs but according to Stein, are pretty darn close. Obviously, Stein is not suggesting that powerful drugs such as statins should be prescribed to everyone. This is the sole domain of one's own personal physician, but Stein believes it does help to be an informed consumer. We are often surprised that people (well let's face it: men), often know far more about their cars or light trucks than their own bodies and perform more regular safety checks and routine maintenance on their vehicles than their own bodies. The result is predictable.

Rule 4: Exercise. Stein says regular exercise is essential to one's strategy to outlive heart disease both before one develops symptoms, and after these symptoms reveal themselves. There is nothing new here, of course. Doctors and other health professionals have been nagging us for years to get off the couch and start sweating. Stein, however, helpfully points out how the mechanics of keeping fit can help us outlive heart disease. Important matters such as how to measure target heart rates, choosing the "best" exercise and other factors are dealt with as well.

You knew it was coming, Rule 5: Eat Well deals with heart disease from a diet perspective. While there are no secrets uncovered in this chapter, for instance, Stein is very in favor of the heart-healthy Mediterranean diet and pretty much against the fat-heavy UK and US ones, he does take time to talk about optimum carb, micronutrients, fiber, Omega-3 fats and other levels. BMI, a best-guess estimate of one's fitness, is also discussed, although not at length.

Understanding the Mind-Body Connection is Rule 6. Here, we learn about how depression, anxiety and stress can literally kill people and how getting a handle on these three serious problems can help prolong one's life measurably. Rule 7, on the other hand, encourages readers to explore complimentary medicines and alternative treatments. Perhaps surprising considering the author is an MD and a cardiologist, Stein does discuss the efficacy of various herbal supplements and vitamins. Dietary supplements such as artichokes, Bishop's weed, garlic, ginkgo, guggul, hawthorn, horse chestnut and red yeast rice are all pretty exotic and typically ineffective according to Stein.

Neutrachemicals (defined as supplements that are neither herbs nor vitamins) are also mentioned within the context of heart disease prevention and Carnitine, Coenzyme Q10, Creatine, L-arginine, Selenium, Taurine are discussed. Next up are Vitamin C, Vitamin E, Beta-Carotene, Folic acid, B6, B12, Niacin, as well as meditation, prayer, homeopathy, and even chelation therapy. Stein dismises most of these as unproven quackery.

Rule 8: Keeping Up with the Latest Therapies in Treating Heart Disease is a very important chapter in that it deals with the actual nuts and bolts of treating heart disease both medically and surgically. Here, invasive and non-invasive tests such as angioplasty and bypass surgery ("CABG"), as well as stents are all discussed. Rule 9 admonishes readers to understand the connections between your gender, heritage and possible heart disease. Again, this very important chapter is left to almost the end of this book, and although we can't fault Dr. Stein for its placement, it would be a shame if readers failed to learn and take heed of the information provided in this useful section.

Finally, Rule 10 (which really should be Rule 1 in our mind) is How to Partner with Your Doctor to Reach your Heart-Health Goals. Here, Stein gives concrete suggestions as to how to find and keep a physician who will treat you as a partner in your healthy life. We recognize this is a tall order. A great many patients feel uncomfortable with "knowing too much" about their own health and coming across as a smart aleck or worse, a know-it-all. Equally so, there are many, many doctors who feel threatened by a patient who "knows too much" thinking that this knowledge might possibly be a challenge to their own authority and knowledge. It is, therefore, a difficult but necessary tightrope that Stein suggests readers walk in finding the best physician for themselves and their long-term health.

Overall:
We thoroughly enjoyed Outliving Heart Disease and recommend the book to all readers, especially those covering the health, lifestyle and safety beats for their outlets. Considering that many of us lead heart-unhealthy lives including little or no exercise, lousy diets and a ridiculous schedule, even incorporating two or three of Stein's rules may very well help them outlive any possible heart disease on their health horizon. Highly recommended.

End of Review
---
Have your say.
You can give us your feedback by visiting our Terms of Service page.
Buy this book.
If you wish to buy this book right now, please click here.
The book is also available as a paperback.
Read other reviews.
If you wish to return to the main Reviews page, please click here.
---