---
Reviews:
Reporter World provides a variety of safety equipment, identification products, specialized high-visibility clothing, pertinent news, product reviews, book reviews and useful links specifically for reporters, writers, assignment editors, news correspondents, journalists, ENG crews, photographers, production staff, directors, segment producers, media security personnel, and freelancers: in short, anyone who is part of the news gathering, information reporting, or documentary film industries.

In this section we review various products and services of relevance to reporters, writers, correspondents, ENG teams and production staff. These products include cameras and accessories; computer hardware and software; scanners; printers; books and other products. Smaller, mini-reviews, are also available in other sections of this site including Products, Books and Movies.

We are constantly adding additional reviews to this section. If you have any suggestions for other products you would like us to review, simply e-mail us using the feedback address on our Terms of Service page. Please supply us with as much information as you can about the product (including name, manufacturer, model number) or book (including title, author, ISBN and publisher).
---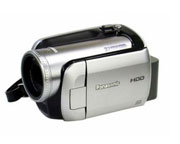 Product: Panasonic SDR-H200 30GB 3CCD Hard Disk Drive/SD Palmcorder

Manufacturer: Panasonic

Relevance: The Panasonic SDR-H200 is a consumer targeted, hard-drive based camcorder. It comes with a series of handy features befitting a solid quality offering including a series of scene modes, the ability to record approximately seven hours of footage at high resolution and a 10X optical zoom. The H200 can also double – in a pinch – as a three megapixel still shot camera.

Review: We enjoyed putting the SDR-H200 through its paces. This full-featured consumer-oriented camera sports a 30 GB hard drive, allowing for about seven hours of footage at high (SD) resolution. Like other consumer videocams from Panasonic, the H200 uses a single standard joystick controller for almost all of its functions and supplements these controls with a Menu button and a few other frills here and there. The plus side of the design is that if you're familiar with one camera in Panasonic's consumer family, you'll take to others quickly and painlessly. This is what our reviewers found and each was up and running within a few minutes of opening the H200's box.

Now, we have absolutely no doubt that hard-drive cameras are here to stay for consumers and for many good reasons. They are convenient and, assuming there are no problems with the hard drive mechanism itself, very hassle free. Considering that hard drives on some home computer systems commonly reach 500 or even 750 GB capacity these days, there is something to be said for the fact that consumers can easily dump all their video footage onto a computer hard drive, erase the camera and then start again. Thus from a consumer point to view, having no tapes to juggle is certainly a plus. In addition, many videocameras – the H200 included – can output their images directly to a recordable DVD, making backups relatively fast and certainly easy and safe.

From the point of view of a reporter or videographer, however, the H200's no-tape design offers convenience but does raise a few problems – although these are not specific to the Panasonic family. We've all been brought up on tape. We like tape. Tape is cheap and reliable, especially if you opt for pro quality and eschew the consumer grade stuff that is much less reliable for essential recordings. The ability to exchange tapes is key when you're shooting for a few hours, and although the H200 does have a sizable capacity at seven hours, one has to off-load content to clear space for more footage. And this takes time. If a computer isn't handy, your H200 is out of action. As we said, this is a problem for all hard drive-based cameras, both consumer and semi-pro models.

Added to the problems involved with import time is that the H200 lacks a FireWire connection. Instead, camera-to-computer connections are performed through a comparatively slower USB 2.0 connection. This likely presents little problem for consumers who might off-load footage once in a while but pros and semi-pros who are constantly off-loading their footage the lack of a FireWire connection will become a sore point. Again, this is not a distinct criticism of the H200; it's just another indication the camera is very much aimed at a consumer audience and not a professional one.

Hand-held and hand-sized
Now all these snags aside, we especially liked the small size of the H200, making it ideal for low profile work. We were impressed the H200 could deliver as high video quality as it did considering its small form factor. The camera also has an impressive anti-jiggle function so one could conceivably shoot clandestinely while walking…with a bit of practice. The small buttons, however, could make it difficult to change modes or zoom with especially large fingers but none of our three reviewers experienced problems. We suppose using the remote control would help in this regard, but we thought it would be a bit much to use both hands (one to point and shoot and the other to use the remote). The purists amongst us found not having a viewfinder in the H200 a bit off-putting. The excellent LCD screen, however, provided ample insight into what was happening.

We thought the H200's color reproduction, as one might expect with a 3CCD camera, was excellent. The camera uses a 1/6" CCD capable of capturing roughly 800,000 pixels for each primary color. Using a camera with a one-CCD works well, but in a side-by-side comparison, color fidelity, gamut and depth of a three-component CCD camera such as the H200 is far superior. Our reviewers found the color fidelity and gamut noticeably better than lower-end one-CCD units we've tested recently. We would have liked a stronger optical zoom on the camera, however, and thought that the H200's maximum optical magnification of 10X a bit meager for most people's current expectations. We do note that the camera's digital zoom extends the magnification from 10X to 700X but anything past 30X, even in good light, was really pushing the matter for consumer video. Using the digital zoom for professional use was, we thought, a bit optimistic.

Battery life
Using the supplied CGA-DU12 1150 mAh battery we found we could shoot with the H200 for just under an hour saving to either the hard drive or the SD card. Panasonic says its optional CGA-DU21 2040 mAh battery roughly doubles this up-time and we would recommend this accessory for pro or semi-pro work. Obviously, reporters who use this camera for serious work will opt for a few spare batteries and keep them charged and handy at all times. And speaking of charging, we found the CGA-DU12 usually took between two and three hours to fully recharge after being exhausted. This is completely acceptable given the market for the camera. As usual, we found we could achieve much longer shooting times the fewer on-off cycles we used.

Like other consumer-oriented cameras, the H200's scene modes are useful to augment low light conditions or overcome with ambient glare. We kept the camera in either Auto or low light, finding little added benefit from the other modes. While Magic Pix does an admirable job capturing video at very low light, it also causes a freeze frame-like effect that transforms any motion into a time-lapsed blur. Consequently, we found the mode useful for videotaping close-up clips that had little or no movement but even then, we found we needed a tripod. If you want to videotape someone snoozing on a couch or stationery cars in a parking lot at night, the camera's night mode will serve you well. Any more action, however, and you'll be unhappy with the motion-induced ghosting.

We also note that certain scene changes (or moving from record to play and then back again) caused other camera settings to be reset. This is standard in many cameras (Panasonic and others) but we found it irritating nonetheless. When we toggled between play and record modes, for example, we found we had to constantly reapply the camera's very useful Backlight setting. Try as we might, we could not figure out a way to maintain certain settings between modes and were forced to reapply them as we toggled back and forth between record and play. Further, the H200 lacked any user definable "one-button" controls that let us assign an aperture, exposure or other settings and apply them when needed. These programmable buttons are typically found on higher end, pro or semi-pro cameras but would be welcome on any camera.

Editing
Due to the fact the H200 uses a hard drive (or SD card) to store its images, we also found we couldn't edit part of a continuous clip. Let's say you've recoded a 20-minute segment, but only want two minutes of it. We were disappointed to learn we couldn't edit the clip within the camera. Instead, one must download the entire clip to a computer – that's about 20 minutes in our example – and then edit it down to the desired size: two minutes. In contrast, tape lets us locate the proper place on the tape and then import the desired footage, regardless of overall clip length. Again, this is not a criticism of the H200 per se, just a comment as to the possible suitability of non-editable, hard drive based cameras for our work. Of course, the workaround for having to import entire clips is to shoot much smaller segments and not keep the tape running during multiple takes. We note this obvious workaround alleviates the problem of having to import large clips just to get a smaller segment although we then had to contend with lots of smaller clips.

We found the included Imagemixer software unable to do much of anything we wanted and quickly removed it from our test computer after the company's own technical support people noted its deficiencies. The software provides only basic editing features and isn't able to save files in any format recognizable by other packages. We found only the most up-to-date version of Apple's iMovie and, of course, FinalCut Pro would recognize files saved to the camera. When we simply copied files from the camera to our computer in an attempt to simulate how one would be forced to dump files in case the camera was full and more footage was needed, we found the H200's operating system would not allow us to transfer the folder containing the images back onto the camera. File transfer, it seems, is a one-way street with the H200 and this we found very irritating indeed. In contrast, almost every digital still camera lets us simply drag images over to a hard drive and open up the standard file formats (usually JPEG) with built-in system software – although some still cameras also have this "one-way" limitation.

Security
For reporters and videographers, there is no way of truly removing footage from the H200's hard drive. As any person who has spent time with a computer should know, there is no real way to remove data from a hard drive. Even commercial "shredding" programs that promise to truly erase space may not be able to deliver on their promises. This could be a problem for reporters and others who are working in countries less than friendly to the press. When reporters are detained or arrested, their footage is routinely confiscated and examined. With a removable media such as tape, sensitive footage can be physically removed from the camera and stored off-premises or sent abroad by post or courier. With a hard drive-based camera, a reporter would have to tape over the entire hard drive a few times to have some assurance of erasure. Even then, it might be possible to recover footage with sophisticated forensic tools used by some governments today.

Overall: We liked the Panasonic SDR-H200's versatile shooting capabilities and very much enjoyed its large capacity, seven-hour footage possibilities. Because of its small size and shape, it is very usable as a backup camera and, in a pinch, for some low profile shooting. Without a cold- or hot-shoe, it is not possible to attach external microphones or headphones to a H200, but for its intended consumer market, this is not a problem. Recommended.

End of Review
---
Have your say.
You can give us your feedback by visiting our Terms of Service page.
Buy this camera.
If you wish to buy this camera right now, please click here.
Read other reviews.
If you wish to return to the main Reviews page, please click here.
---