---
Reviews:
Reporter World provides a variety of safety equipment, identification products, specialized high-visibility clothing, pertinent news, product reviews, book reviews and useful links specifically for reporters, writers, assignment editors, news correspondents, journalists, ENG crews, photographers, production staff, directors, segment producers, media security personnel, and freelancers: in short, anyone who is part of the news gathering, information reporting, or documentary film industries.

In this section we review various products and services of relevance to reporters, writers, correspondents, ENG teams and production staff. These products include cameras and accessories; computer hardware and software; scanners; printers; books and other products. Smaller, mini-reviews, are also available in other sections of this site including Products, Books and Movies.

We are constantly adding additional reviews to this section. If you have any suggestions for other products you would like us to review, simply e-mail us using the feedback address on our Terms of Service page. Please supply us with as much information as you can about the product (including name, manufacturer, model number) or book (including title, author, ISBN and publisher).
---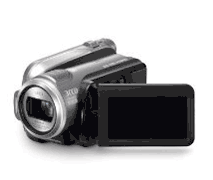 Title: Panasonic HDC-HS9 video camera

Manufacturer: Panasonic


Relevance: The Panasonic HDC-HS9 is a hard drive-based lightweight, consumer grade camera capable of recording both high definition images and (1920 by 1080) or standard definition images (720 by 480). Although not suitable for broadcast work, the HDC-HS9 is portable and easy-to-use, making it an ideal backup or off-duty unit.

Keywords: Panasonic, HDC-HS9, video camera, consumer, hard drive, 10X

Review: The Panasonic HDC-HS9 is one of the higher end Panasonic cameras aimed at consumers who need to take long duration videos and who don't want to be bothered with standard Mini DV tape. Images are stored on the hard drive in a format based around the MPEG-4 AVC/H.264 standard. Audio is recorded with Dolby Digital 5.1 Creator. All this means that clips from the camera must be converted with third party software to make them DVD compatible.

You can, however, use Panasonic's Viera link (HD AVI control) to play back clips in HD through your TV set (provided, of course, your TV set is HDMI compatible). You can also use a Panasonic-branded DVD burner to easily copy and play back clips made with the camera, as well as move images to your PC or Mac with included software.

The HS9 camera is surprisingly lightweight at just about one pound (approximately 452 grams). Anyone used to clunky cameras weighing 5, 7 or even 10 pounds will be amazed at this lightweight yet powerful camera. Full of interesting features expressly aimed at consumer videographers, the Panasonic HDC-HS9 makes short work of close-up images in a wide variety of lighting conditions. The camera's macro close-up mode, for example, lets you maintain a distance of about 18 inches (roughly 50 cm) from your subject while you shoot. This makes it much easier to capture close-ups without casting a shadow on your subject but still keeping the background in good focus.

The camera's design changes the usual placement of what Panasonic calls the cursor button, but which is in effect the camera's control joystick. Up to now, Panasonic has placed the control joystick in the standard rear position suitable for right-handed videographers, in other words right under your thumb when you hold it. This meant an operator could easily run through the camera's menus with only one thumb on the control joystick. This one-handed operation suited us well as most of our shots were either one-handed or from a tripod.

The Panasonic HDC-HS9, however, has its cursor joystick mounted midway on the left side of the camera necessitating right handed contortions or left handed operation. We can't know for sure why this design change was made, but all three of our reviewers found it initially irritating because they were so used to the previous design. We can speculate, however, that the control joystick was moved because real estate on the back of the camera, i.e. the side facing the operator, is comparatively small when the battery pack is installed (more about the battery later).

We found that even if a tripod is fully locked down, it was difficult not to inadvertently pan the camera to the right when manipulating the control joystick because one has to push on the camera's left side. The workaround for this is to steady the camera from panning right with one's right hand while manipulating the controls with the left hand. We thought this was an intrusive complication in the overall design and operation of the camera.

Because of the slightly larger size of the physical battery (Panasonic model number VW-VBG130), we found that we were able to get close to the estimated one hour of real life recording time. Panasonic says the purchase of an optional VW-VBG260 pack lets operators (roughly) double their actual recording time. As well, there is a still larger capacity battery (designated "VW-VBG6") rated at 5800 mAh. This largest battery gives videographers at least four hours in HD recording time.

Panasonic says battery life is slightly different based on whether you're recording in SD mode or in HD mode. Our tests revealed little if any difference in battery life when alternating between the two formats. We did, however, lament that the HS9's design requires either the battery to be plugged into the unit or the power adaptor: videographers cannot have it both ways. Previous versions of Panasonic's consumer cameras have charged their battery pack in a separate unit, in-line with the power adaptor. This meant that you could recharge the battery and shoot on AC/mains power at the same time. This new design means you can do one or the other, but not both.

The camera is also compatible with SD memory cards as well as HDSC memory cards. One obviously cannot use HDSC memory cards on devices that are only compatible with SD memory cards and this may stump a few people when they realize their camera can record on formats that others may not recognize. This said, we applaud Panasonic's engineers in enabling both formats.

The HS9 has an optical zoom of just 10X. This is quite standard in the HD camera range but is comparatively low for an SD camera. Like most consumer-oriented cameras, the HS9's digital zoom is quite optimistic after about 25X (despite the fact it can range up to a completely pixelated 700X).

Sound-wise, the HDC-HS9 features 5.1 Channel Surround Sound, a Zoom Microphone function and something that Panasonic calls a Focus Microphone feature. There are a total of five (count 'em!) built-in small microphones on the HS9's body, each capable of working individually to record sounds from the front, sides, and back of the unit. If your editing software supports it (and your final hardware platform is equipped with Dolby Digital 5.1-channel sound), the HDC-HS9 brings a fuller acoustic feel to shots involving sound such as concerts, disasters or accident scenes.

Using the camera's Zoom Mode, the HDC-HS9's microphones are linked to lens' magnification. In other words, when you zoom in on an object, the on-board microphones automatically focus on the ambient sound in that specific direction, minimizing the capture of sounds in the immediate area. This is useful if you're shooting in crowds and want to pick up relatively far-off audio. By contrast, the HDC-HS9's Focus Mode makes the microphones emphasize sounds directly in front of the camera, minimizing the unit's surround sound pick-up option. We do lament, however, the HDC-HS9's lack of an external microphone jack. Without this semi-pro feature, it's hard to see how the camera can be used for anything relating to serious in-studio interviews or stand-ups in all but perfect conditions.

Another really useful feature of the camera, although not particularly well documented in the manual, is HDC-HS9's ability to split the recorded clips. For example, any clip can be cut down and edited (albeit crudely) in-camera. This reclaims the finite amount of space you have on the camera.

We suggest when the next version of the manual gets written, more attention be paid to this feature. We suspect that many aspiring videographers just don't see it because the manual makes no big deal about it. It is a big deal. Whether you're a vacationer on a two-week trip to a warm climate or a pro on a tight deadline, you'll appreciate the ability to make crude video cuts in-camera (and be able to transfer the remaining footage to your Mac or PC for further editing all the faster.)

Remember, unlike tape-based cameras where one full tape can be exchanged quickly for an empty one, the HDC-HS9 has only a finite amount of space: roughly seven hours. For a pro who happens at an accident scene, for example, this should be no problem. For a location manager, scouting out new venues, seven hours might be cutting it a bit thin.

Overall: We were suitably impressed with Panasonic's HDC-HS9. Its small size belies the powerful graphics engine inside the unit and its lightweight form factor means it's just about pocket-size, meaning it can be carried just about anywhere journalists (or aspiring ones) might find themselves. Recommended

End of Review
---
Have your say.
You can give us your feedback by visiting our Terms of Service page.
Buy this camera.
If you wish to buy this camera right now, please click here.
Read other reviews.
If you wish to return to the main Reviews page, please click here.
---