---
Reviews:
Reporter World provides a variety of safety equipment, identification products, specialized high-visibility clothing, pertinent news, product reviews, book reviews and useful links specifically for reporters, writers, assignment editors, news correspondents, journalists, ENG crews, photographers, production staff, directors, segment producers, media security personnel, and freelancers: in short, anyone who is part of the news gathering, information reporting, or documentary film industries.

In this section we review various products and services of relevance to reporters, writers, correspondents, ENG teams and production staff. These products include cameras and accessories; computer hardware and software; scanners; printers; books and other products. Smaller, mini-reviews, are also available in other sections of this site including Products, Books and Movies.

We are constantly adding additional reviews to this section. If you have any suggestions for other products you would like us to review, simply e-mail us using the feedback address on our Terms of Service page. Please supply us with as much information as you can about the product (including name, manufacturer, model number) or book (including title, author, ISBN and publisher).
---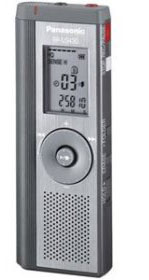 Product: Panasonic RR-US430 IC Recorder.

Manufacturer: Panasonic


Relevance: The Panasonic RR-US430 IC Recorder is a handy handheld flash memory-based audio recorder capable of up to just over 33 hours of playback time. Ideal for reporters and other journos on the go, the Panasonic RR-US430 IC Recorder packs a lot of power in a small package.

Review: We were initially skeptical about the Panasonic RR-US430 IC Recorder having experimented with several of its competitors in the past and finding them heavy, bulky and confusing to operate. We were pleasantly surprised, therefore, to find the recorder to be both lightweight and after a somewhat confusing start-up, easy to use.

Power is supplied by two AA batteries and there is no external power provision. This limits its use to DC use only and we found ourselves wishing there would be either rechargeable batteries included or, more ideally, a built-in lithium power cell. These limitations aside, we heartily recommend the Panasonic RR-US430 IC Recorder for anyone who needs to record audio including reporters doing interviews, J-students attending lectures or for more other clandestine purposes.

We especially liked the external microphone option and we found pick-up from an external mic was considerably better than the built-in mic. We also liked the recorder's Voice Activated System ("VAS") where recording is automatically paused if there is no sound for three seconds. Although not enabled on our particular version, more expensive (and feature-packed) siblings of the RR-US430 IC Recorder allow you to zoom the recorder in the direction you expect your audio source to come from mostly. This effectively means you change the auditory profile of the microphone from omni-directional to uni-directional.

There is a choice of storing your audio in four separate folders and depending on the quality settings you wish to record at, and with a combined total of just over 33 hours of audio. We found that using the SP-standard play setting resulted in passable but not excellent sound pick-up. We also found that using the FQ (fine quality – 19.5 hours) and HQ (high quality – yielding just over 10 hours) resulted in much better sound quality.

Using the dictation recording, you can actually transfer your recordings as sound files to a PC running Windows 98, Service Pack 2 and above. Writers working on Mac OS, of which there are many these days, are out of luck with file transfer as there is no software provided by Panasonic to support this. We note that our version of the device provides a "standard" edition of the software. If one uses the two upgraded siblings (RR-US450 and RR-US470), you get upgraded software in the form of Voice Editing Premium Edition.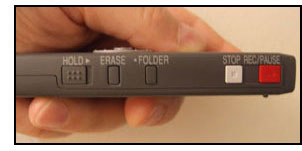 We found after studying the manual for a few minutes, we were amazed at the amount of power and versatility that Panasonic has packed into this device. We do note, however, that journalists who are accustomed to merely opening up the package and expecting results immediately may become frustrated if they don't take the few minutes to actually read the manual. We know we did.
Overall: We found the Panasonic RR-US430 IC Recorder is a very capable voice recorder that is both lightweight and useful for field interviews. Although it records in mono and, therefore, not broadcast capable, it is a useful device nonetheless and recommended for any journalist who needs to record interviews or attend press conferences. Recommended.
End of Review
---
Have your say.
You can give us your feedback by visiting our Terms of Service page.
Buy this recorder.
If you wish to buy this recorder right now, please click here.
Other models of this recorder include:
Panasonic US450E-H Voice Recorder featuring up to 66.7 hours of recording
Panasonic US470 Voice Recorder featuring up to 134 hours of recording
Read other reviews.
If you wish to return to the main Reviews page, please click here.
---