---
Reviews:
Reporter World provides a variety of safety equipment, identification products, specialized high-visibility clothing, pertinent news, product reviews, book reviews and useful links specifically for reporters, writers, assignment editors, news correspondents, journalists, ENG crews, photographers, production staff, directors, segment producers, media security personnel, and freelancers: in short, anyone who is part of the news gathering, information reporting, or documentary film industries.

In this section we review various products and services of relevance to reporters, writers, correspondents, ENG teams and production staff. These products include cameras and accessories; computer hardware and software; scanners; printers; books and other products. Smaller, mini-reviews, are also available in other sections of this site including Products, Books and Movies.

We are constantly adding additional reviews to this section. If you have any suggestions for other products you would like us to review, simply e-mail us using the feedback address on our Terms of Service page. Please supply us with as much information as you can about the product (including name, manufacturer, model number) or book (including title, author, ISBN and publisher).
---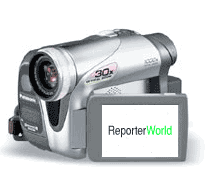 Product: Panasonic PV- GS35 Digital Palmcorder

Manufacturer: Panasonic

Relevance: The Panasonic PV-GS35 camcorder successfully straddles the high end consumer and entry level prosumer market. The camera is able to optically zoom up to 30X and provide a surprisingly useful digital zoom up to about 80X.

Review: Panasonic's PV-GS35 is a surprisingly capable DV based camcorder with a maximum optical zoom of 30X and a maximum (theoretical) digital zoom of 1000X. Although the Panasonic PV-GS35 weighs in at around 0.4 kilos (that's less than a pound if you're on the other system), it packs quite an optical punch.

Perhaps the most interesting element of the camera for professionals is that it is lightweight yet powerful with a focal length of 1.9-57mm. At its maximum zoom, the PV-GS35 is able to optically zoom images 30 times and provide useful digital magnification up to about 80X. The camera, of course, does not produce "broadcast legal" tape, but the camera's CCD does capture some rather impressive detail.

The PV-GS35 presents a nice crossover between the lower res and lower quality consumer grade cameras and the higher end prosumer varieties. Although the camera lacks one or two key features that would put it squarely in the prosumer space, its 30X optical zoom puts it in a very rare class for low cost, consumer grade cameras.

Make no mistake, this is not a front line professional quality videocam. Its CCD is not big enough or powerful enough to capture images at broadcast quality. This said, the PV-GS35 sports many higher end features that puts it apart from its competition. Its swing-out LCD monitor, for example, is nicely appointed at 2.5 inches diagonal, but the camera lacks an external input port.

This omission means you cannot digitize existing analog content as you can with other cameras in this market space. This aside, we were very impressed with the camera's overall operability, hand feel and functionality. Throughout the review period, we were constantly amazed at the results we got from this small videocam.

The Panasonic PV-GS35 is the most equipped model within the PV family and the addition of many features really had our lab rats excited. The PV-GS35 is able to generate both composite and S-Video output, helpful for both consumer and semi-pro applications.

The camera uses the industry standard Firewire (IEEE 1394) interface for DV transfer and a USB 2.0 for still picture transfer. Still image size is limited to VGA quality (640 by 480 pixels) but for its intended market we thought this was satisfactory. We also liked that Panasonic's engineers have thought to add a switching power supply enabling the camera to work both on 110/120 VAC as well as 220/240 VAC. This feature means videographers have their choice of what voltage they can use the PV-GS35 in (and in what country's electrical system they can charge the battery).

It took us a bit of time to get used to the joystick approach to the camera's function, but once we were there, we came to love it. Part of our problem initially was that the joystick is somewhat context sensitive. This meant that its functionality and operation changed depends on what mode the camera is in at the particular time.

We were very impressed with the five scene modes: Sports (for recording scenes involving quick movements); Portrait (when you need your subject to stand out from their background); Low Light (for brightening a dark scene); Spotlight (for photographing your subject nearby a bright source of light); and finally, Surf and Snow (for recording in glaring environments).

Although each scene has its usefulness, we found some significant signal degradation when zooming past the camera's maximum optical zoom limits. Specifically, we found that the pixelation one would expect when using the digital zoom was far more observable when using the digital effects.

Thus, videographers have an important choice to make when using the PV-GS35 in difficult shooting situations. One can either limit the zoom to optical only (and use the digital effects) or be extremely judicious in using scene modes (but continue using the digital zoom).

This is not to cast aspersions on the scene modes – in many cases we found the compensatory effects of the scene mode enabled us to get a shot that we could otherwise never achieve. It's just that it became obvious that the scene mode effects drew heavily on the processing power of the camera and combined with the possibility of digital pixelation, often rendered the resulting video too heavily affected to further digitally enhance.

Easy access and control
One of the things our lab rats really enjoyed was the easy access that the PV-GS35 featured. In some cameras, the DV cassette mechanism opens from the bottom or the side. For most consumers, this creates little or no problem as most shooting is completely handheld. For more serious videography, however, a tripod or monopod is often necessary. By constructing the camera so that DV cassettes can be exchanged while still attached to a tripod means the camera can be used in a far more long-term professional way.

Although this seems like a small point, it is not. We were very impressed that Panasonic's engineers had designed the camera with a top load feature. We also thought the wide angle/telephoto rocker was well placed although like most cameras in this market space we thought that this was somewhat twitchy and difficult to operate precisely. This is not a huge criticism of this particular camera, however, as we find most cameras aimed at the consumer marketplace particularly twitchy when it comes to zooming.

We also liked the camera's S-Video and composite input as well as the external microphone jack, but as we earlier lamented, bemoaned the fact that the camera lacks an AV pick-up line. On the other hand, we were very impressed with the fact that the PV-GS35 lets you shoot motion video and take still pics at the same time. In most cameras, the operator must make the choice of one mode or the other; with the PV-GS35 you get the best of both worlds.

One of the key differences between this model and its lesser siblings is that the PV-GS35 comes with a very well recommended remote control. The RC unit has much of the functionality found on the camera itself. The remote control can operate both the video part of the camera as well as its still shoot – and prevents camera shake and undo movement on zoomed videos.

We note by matter of contrast that the next model down in this camera family, the PV-GS34, accepts the same remote control unit although it is optional. The other two models within this family, namely the PV-GS19 and the PV-GS31, are not remote compatible.

One design flaw that one of our nit-picky reviewers observed was the camera's power input plug prevents the battery from being attached at the same time as the unit is being used off its AC power adapter. In other words, you can either plug the camera into the AC charger or mount the cube-shaped battery onto the camera; you cannot do both. All three reviewers agreed this was an unusual situation.

In the box, the PV-GS35 includes the Panasonic handheld remote control, the AC adapter, AC cable, DC cable, AV cable, USB connection cable, a battery pack, a shoulder strap and a CD-ROM with software.

Overall: We enjoyed the PV-GS35 and would recommend it for stringers for its light weight and impressive optical zoom. Although this will not replace your first line DV camera, Panasonic's engineers are reaching a level with this camera that in a pinch could produce acceptable video for broadcast. For Web-based commercial photography and certainly any consumer oriented videos, the PV-GS35 would be highly recommended.

End of Review
---
Have your say.
You can give us your feedback by visiting our Terms of Service page.
Buy this camcorder.
If you wish to buy this camcorder right now, please click here.
Read other reviews.
If you wish to return to the main Reviews page, please click here.
---