---
Reviews:
Reporter World provides a variety of safety equipment, identification products, specialized high-visibility clothing, pertinent news, product reviews, book reviews and useful links specifically for reporters, writers, assignment editors, news correspondents, journalists, ENG crews, photographers, production staff, directors, segment producers, media security personnel, and freelancers: in short, anyone who is part of the news gathering, information reporting, or documentary film industries.

In this section we review various products and services of relevance to reporters, writers, correspondents, ENG teams and production staff. These products include cameras and accessories; computer hardware and software; scanners; printers; books and other products. Smaller, mini-reviews, are also available in other sections of this site including Products, Books and Movies.

We are constantly adding additional reviews to this section. If you have any suggestions for other products you would like us to review, simply e-mail us using the feedback address on our Terms of Service page. Please supply us with as much information as you can about the product (including name, manufacturer, model number) or book (including title, author, ISBN and publisher).
---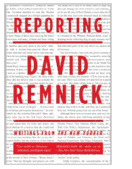 Title: Reporting: Writings from The New Yorker
Author: David Remnick
Copyright: © 2006, this paperback edition published 2007
Publisher: Vintage Books, an imprint of Random House
ISBN-13: 978-0-307-27575-2

Relevance: David Remnick is the editor of The New Yorker magazine and this pithy collection of previously published stories in the magazine presents an insightful and intriguing read.

Review: Remnick begins this collection of previously published, yet unrelated, essays from The New Yorker magazine, and proceeds with a series of two-dozen insightful stories into key figures in the recent past.

With no sense of irony, Remnick begins this book with an insight piece on Al Gore, the man who many believe was cheated from the Presidency of the United States in what might be hailed as one of the worst moments in US history. We next read stories about Katherine Graham (also known as the "General Secretary of the Washington Post" or just plain "Mrs. Graham"), Tony Blair and bizarrely, the disastrous Hurricane Katrina that, as Remnick's piece outlines, should have been fully expected because a smaller version happened during the Johnson Administration in 1965.

Reporting starts out with these although author Remnick never quite satisfies us as to why he chose these four essays to lead off his excellent book. Are they the most relevant? Are they the most recent? We're not quite sure, but readers will certainly be fascinated by Remnick's behind the scenes knowledge, background and research, and yet his personal touches on each story. This said, the author could also do all of his readers a big favor by suggesting what these essays had in common. Sure, they're interesting. Sure, they're good examples of good investigative writing. But what ties these – and others – together?

Next up is another set of interesting characters, yet again ill-defined by a common thread. Perhaps readers are meant to feel that each of the essays solves a bit more of life's unknowable puzzle. Each essay is more of a short story and many of them tremendously interesting short stories. Each one is clearly a stand-alone comment on an American reporter's perspective of world events. Is this the missing thread?

Further essays follow, including some on Solzhenitsyn, Putin, Sharansky, Netanyahu, Nusseibeh, Oz and Arafat. Throughout, readers gain insight into each subject's (semi-) secret world. The many small details that go into making powerful narratives are all there. The fading lights, the telephone calls, the half-drunk glasses of alcohol: the picture is painted. Remnick, however, continues to keep his essay selection process to himself. Perhaps, in fact, there is no secret thread. Perhaps, Remnick's point is many Americans view the world in small stories, rather than a cohesive one. We don't know.

We thoroughly enjoyed each essay but we felt the book as well as its readers could benefit from a one or two page introduction to each essay or perhaps some sort of historical retrospective as to why a particular essay was chosen for publication in reporting.

After the politicians, conscientious objectors and other troublemakers that Remnick profiles in the previous two sections, the book surprisingly wraps up with a series of boxing luminaries including the infamous pugilist (and convicted felon) Mike Tyson, fight cornerman Teddy Atlas, Larry Holmes and Lennox Lewis.

Again the stories are interesting, the profiles intriguing, and Remnick's reportage exquisite, but we thought the book could have benefited from more than the brief explanation provided in the book's preface into why and how each of the stories' individual threads came to be wound together into a cohesive time tapestry.

Overall: Although David Remnick's book Reporting has less to do with the nuts and bolts of gathering information than it has to do with analyzing and putting into perspective the news of the day upon which the readers of The New Yorker often depend, we thoroughly enjoyed the book, its essays and recommend it for any reporter or correspondent who wants to "live through" the people profiled or just plain learn to write cohesive, entertaining and informative prose. Had the book's author thought to sew-up the book's fascinating content into a cohesive recognizable thesis, we would have stood up and applauded. Recommended.

End of Review
---
Have your say.
You can give us your feedback by visiting our Terms of Service page.
Buy this book.
If you wish to buy this book right now, please click here.
This book is also available in hard cover.
Read other reviews.
If you wish to return to the main Reviews page, please click here.
---