---
Reviews:
Reporter World provides a variety of safety equipment, identification products, specialized high-visibility clothing, pertinent news, product reviews, book reviews and useful links specifically for reporters, writers, assignment editors, news correspondents, journalists, ENG crews, photographers, production staff, directors, segment producers, media security personnel, and freelancers: in short, anyone who is part of the news gathering, information reporting, or documentary film industries.

In this section we review various products and services of relevance to reporters, writers, correspondents, ENG teams and production staff. These products include cameras and accessories; computer hardware and software; scanners; printers; books and other products. Smaller, mini-reviews, are also available in other sections of this site including Products, Books and Movies.

We are constantly adding additional reviews to this section. If you have any suggestions for other products you would like us to review, simply e-mail us using the feedback address on our Terms of Service page. Please supply us with as much information as you can about the product (including name, manufacturer, model number) or book (including title, author, ISBN and publisher).
---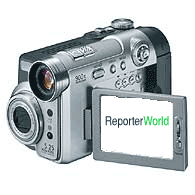 Product: Samsung SC-D6550 DuoCam MiniDV Camcorder

Manufacturer: Samsung

Relevance: Samsung's SC-D6550 is a consumer level digital video camcorder with still camera functionality. Although its optical zoom tops out at a current industry average of 10X, we found its digital zoom goes up to approximately 50x before the inevitable pixelation takes its toll.

Review: Samsung's SC-D6550 is a mid-range consumer level digital camcorder with 10X optical zoom and 900X digital zoom – as well as some impressive still shot abilities. Although not suitable for professional use, consumer level pictures are certainly well within its ability and the camera features a number of solid advantages for its intended consumer market.

The SC-D6550 is both lightweight and easy to use and sports a number of very impressive features. We were first taken by the SC-D6550's large swing-out LCD screen and very impressed by the interface design of the screen display itself. We find too many cameras try to impress their owners with all sorts of on-screen information not particularly important to the job at hand. Samsung's engineers have obviously worked hard to refine the interface so it gives just enough information for the job – but not too much.

Second, all three reviewers liked the SC-D6550's nifty zoom lever control and thought this was one of the best features of this camera. In many consumer level camcorders we see, the zoom control is far too "twitchy" to be of much use when actually shooting. The result is that all-too-common nauseating zooming in and out effect that plagues many home videos. While the SC-D6550's well designed zoom lever does not totally eliminate this, two of our reviewers thought the zoom lever was superior to a lot of higher end models we've seen recently.

Alas, we lamented that the SC-D6550 does not have the ability to use an external mic (whether it is amped or not). This obviously is a key drawback for any pro or semi-pro application that would benefit from external micing. Interviews in a noisy environment, for example, or any kind of fast breaking news story could well be hampered by not having this external pickup capability. This omission is even more confusing as the camcorder does in fact have an external mic jack, but the ability to use it for recording is apparently not implemented in this camera.

Another notable omission is the fact that the SC-D6550 is not able to transfer VHS tapes to DV format. While we found we could easily move our video from DV to VHS, the reverse is not true. This ability to digitize existing analog content is a true benefit for those wishing to move their movies or other content from the VHS world onto DV for possible further editing on their Macs or PCs.

Unlike many camcorders in its target market, the SC-D6550 comes with a very handy remote control that has most of the important functionality of the on-camera controls. Although we thought remote control well-intentioned, it took a bit of getting used to its non-standard button placement and small "sweet spot" where the remote beam would work with the camera. These small criticisms aside, we thought having a remote control on this level of camera was quite impressive and the unit seemed responsive and accurate to our bidding.

Engineering features
One of the engineering features we did notice and appreciate with the SC-D6550 is that the DV tape can be changed without removing the tripod attachment shoe. Although we would have liked to see a side or top mounting door on the SC-D6550, the bottom door unit is cunningly arranged so the camera can be quickly turned over, the tape changed, the door closed and the camera remounted in the tripod within about 10 seconds. This contrasts significantly to some cameras – higher priced ones we might add – whose engineers have not thought out this basic situation and require their owners to take unnecessary time unscrewing the shoe only to change the tape./p>

Our left-handed reviewer was right at home with the SC-D6550's joystick controller as it is on the left side of the camera. Our right-handed reviewers, however, initially had difficulty with reaching around and orienting their fingers to manipulate the left-placed joystick. Although this was mitigated over time, we thought a better design might be having the camera's joystick controller mounted on the top of the camera where both left and right-handed users would fare equally.

The camera also has a number of advanced recording features including an easy way to switch from auto focus to manual focus, setting the white balance, a feature to cut off wind noise and even the ability to reset the shutter speed and exposure. We found the Color Space and Nite Function particularly interesting as it did a wonderful job of using ambient light in dim environments.

We found, however, that the Color Nite function can only be used under optical zoom conditions. If one tries to use this function during a digital zoom, the camera automatically resets to the (lesser) optical only zoom. This gives owners the agonizing choice of getting impressive resolution but at a distance – or a pixilated shot using digital zoom.

The camera also features a Digital Image Stabilizer (DIS) that compensates for shaking or other movements when using the camera. For its intended consumer market, this is a very useful function. It will certainly prevent many a home movie from having that annoying jittering effect as owners learn the value of using a tripod. Like the Color Nite setting, however, the DIS can only be used under optical zoom conditions: if digital zoom is invoked at the time, the camera will automatically reset to optical zoom only.

We also liked the SC-D6550's digital still camera mode that can create both still shots and MPEGs at either 30 or 15 fps. The digital still camera lens has a separate 3X optical zoom and 12X digital zoom. It is able to capture images at 2592 by 1944, 2272 by 1704, 2048 by 1536, 1600 by 1200, 1024 by 768, and 640 by 480 pixel resolutions.

Although it won't replace a higher end point and shoot, adding the digital still camera mode provides a very useful tool when you've only got the one camera at hand. We suspect the camera will be marketed primarily as a digital camcorder, ignoring its ability to still shot pics. This would be a shame as the still side of camera is certainly just as good as the camcorder.

Overall: We were surprisingly impressed with the functionality of this consumer-level camera. It is both lightweight, functional and forgiving during real-life shooting situations. Although it is not suitable for pro or semi-pro work, the built-in IEEE 1394 (Firewire) interface means that the video you shoot is easily transferred to a Mac or PC. For such a lightweight camera, it's easy to think of this as a takealong in your bulky coat, handbag or purse. It will not replace a professional level camcorder and is certainly not your daily cam, but for many consumers, Samsung's SC-D6550 may be just the thing.

End of Review
---
Have your say.
You can give us your feedback by visiting our Terms of Service page.
Buy this camera.
If you wish to buy this camcorder right now, please click here.
Read other reviews.
If you wish to return to the main Reviews page, please click here.
---