---
Reviews:
Reporter World provides a variety of safety equipment, identification products, specialized high-visibility clothing, pertinent news, product reviews, book reviews and useful links specifically for reporters, writers, assignment editors, news correspondents, journalists, ENG crews, photographers, production staff, directors, segment producers, media security personnel, and freelancers: in short, anyone who is part of the news gathering, information reporting, or documentary film industries.

In this section we review various products and services of relevance to reporters, writers, correspondents, ENG teams and production staff. These products include cameras and accessories; computer hardware and software; scanners; printers; books and other products. Smaller, mini-reviews, are also available in other sections of this site including Products, Books and Movies.

We are constantly adding additional reviews to this section. If you have any suggestions for other products you would like us to review, simply e-mail us using the feedback address on our Terms of Service page. Please supply us with as much information as you can about the product (including name, manufacturer, model number) or book (including title, author, ISBN and publisher).
---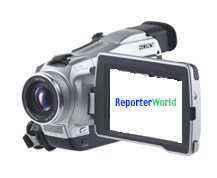 Manufacturer: Sony Corporation

Product: DCR-TRV70

Title: Sony's MiniDV Handycam a Hit

Relevance: Any videographer looking for an easy-to-use, small footprint backup camcorder, capable of great output to DV tape, MemoryStick and other formats.

Review: Sony's new DCR-TRV70 MiniDV Handycam gives videographers a powerful, yet easy-to-use camcorder in an ergonomically friendly package. Weighing in at less than two pounds (including the battery and hand strap), the lightweight and well-balanced DCR-TRV70 features a 2" LCD screen for impressive playback of recorded images, as well as a host of semi-pro features that capture surprisingly good pictures.

Although not suitable for direct broadcast-quality recording, the DCR-TRV70 is a welcome backup camera for a field videographer or reporter -- and certainly capable of producing footage destined solely for the Web. We were very impressed with the camera's Carl Zeiss lens that again proves the old photographers adage that "quality lenses make quality pictures".

The DCR-TRV70's 10X Optical/120X Precision Digital Zoom does a good job at capturing normal-light images as well as at low light (and at near no light within about an eight to ten foot maximum distance). Indeed, Sony's Super NightShot technology provides excellent light pickup at ambient levels that would defeat many other hand-held cameras. We would have liked to see a bit more optical and digital zooming ability in this camera but even the DCR-TRV70's more professional-level cousin -- the DCR-TRV950 MiniDV Handycam -- sports the same 10X optical zoom (although the TRV950's digital zoom is suitably upped to 150X). For technical types: the minimum illumination on the DCR-TRV70 is 7 lx (lux) (F1.8); 0 lx (lux) in NightShot mode.

Controls on the DCR-TRV70 are conveniently located and better positioned than most of the cameras in this class. That said, we were puzzled about the location of the camera's NightShot switch (directly under the lens in the front of the camera) and the somewhat involved method of altering the volume during playback using the screen's very, very impressive touchscreen. We never found out how to disable the chirping sound the camera made when recording started and stopped. We found the DCR-TRV70's zoom control a little twitchy to focus -- especially if big fingers were involved -- but markedly better than most similar class cameras. Clearly an impressive camera.

There are a myriad of features and functions that Sony has packed into the DCR-TRV70. Recording still images on Sony's proprietary Memory Stick; self-timer recording; adjusting white balance; faders; special effects; spot focusing; frame-by-frame recording; and zero set memory. Some of these are likely to be used more than others but it's hard to fault Sony for including them as features.

Super SteadyShot Picture Stabilization System is a technology about which Sony should feel proud. The system seems to borrow a fair amount of technology from more sophisticated Sony cameras and provides a way to use this model in a semi-clandestine manner. Interviews or street stand-ups are easily produced and more professional results are created even when tripods or monopods are not used. That said, we noticed the camera's stabilization system less effective as zooming increased. This is not surprising considering the tradeoffs between zooming and stabilization inherent with today's technology.

We found the DCR-TRV70's standard InfoLithium battery provided adequate power though various recording and playback situations. We were able to shoot an entire hour of DV tape with some (but not huge amounts of) battery life to spare. That said, professional videographers will probably ante up and purchase an additional Sony NP-FM50 battery pack. At 2.7 oz (about 76g), additional battery packs are both lightweight and certainly compact, but we were unable to find an extended life battery for the DCR-TRV70 -- something that other camera manufacturers provide as options.

The audio recording system is unmistakably better than many hand-held cameras we've tested in this class. If you're technically inclined, you'll want to know that the recording system is based around a rotary head design with quantization rated at 12 bits (Fs 32 kHz, stereo 1, stereo 2), and 16 bits (Fs 48 kHz, stereo).

Like many cameras in this class, the DCR-TRV70 comes equipped with two ways to transfer images: USB and FireWire/IEEE 1394. USB technology is used to transfer still or moving images you captured to Sony's Memory Stick or Memory Stick PRO cards. The FireWire/IEEE 1394 connection is used for transferring moving images stored in DV format. While taking digital snapshots is a nice feature for a camcorder, professional photographers will likely wonder if the 1.92 megapixels that the camera provides would be enough for anything more than storyboarding.

Overall:
We were very impressed with Sony's DCR-TRV70. The camera feels good in the hand, and it creates fabulous high-end consumer grade video. It probably won't replace your first-string videocam, but it's a worthy backup -- especially considering the low price point and the surprisingly high quality. And, if your content is destined for the Web, Sony's DCR-TRV70 is certainly worth a good, long look. Recommended.

End of Review
---
Have your say.
You can give us your feedback by visiting our Terms of Service page.
Buy this product.
If you wish to buy this camera right now, please click here.
Read other reviews.
If you wish to return to the main Reviews page, please click here.
---