---
Reviews:

Reporter World provides a variety of safety equipment, identification products, specialized high-visibility clothing, pertinent news, product reviews, book reviews and useful links specifically for reporters, writers, assignment editors, news correspondents, journalists, ENG crews, photographers, production staff, directors, segment producers, media security personnel, and freelancers: in short, anyone who is part of the news gathering, information reporting, or documentary film industries.
In this section we review various products and services of relevance to reporters, writers, correspondents, ENG teams and production staff. These products include cameras and accessories; computer hardware and software; scanners; printers; books and other products. Smaller, mini-reviews, are also available in other sections of this site including Products, Books and Movies.
We are constantly adding additional reviews to this section. If you have any suggestions for other products you would like us to review, simply e-mail us using the feedback address on our Terms of Service page. Please supply us with as much information as you can about the product (including name, manufacturer, model number) or book (including title, author, ISBN and publisher).
---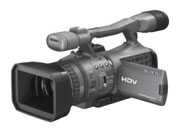 Product:
Sony HDR-FX7 HDV Handycam video camera
Manufacturer: Sony Corporation
Relevance: Sony's HDR-FX7 HDV Handycam is an excellent quality prosumer-targeted camcorder capable of 1080i HD and 480 SD capture with plenty of high end features that will keep many videographers happy.
Review: The HDR-FX7 HDV Handycam is aimed squarely at the high end of Sony's consumer customer base. The lightweight and easy-to-handle video camera features some impressive technology including a high quality 20X optical lens, a three-element CMOS sensor and the ability to shoot onto standard DV or HD tape.
To the delight of our reviewers, the FX7 also features many elements of a professional video camera including a heavy-duty rocker zoom, well-positioned handle-mounted controls and an anti-reflective, high-performance Carl Zeiss Vario-Sonnar T lens. With all of this impressive technology, the HDR-FX7 is able to record great quality images in both SD and HD formats with exceptional accuracy. The camera also sports manual zoom and focus rings to override and fine-tune the capable auto focus.
At the heart of the FX7 is the camera's three 0.25" ClearVid CMOS Sensors. Like most higher end cameras, the FX7 sports three separate sensors to capture each of the primary colors that comprise commercial TV signals. In our testing we found the FX7's technology provides impressive color reproduction and good visual depth because it independently handles each color on its own. We found that the FX7's comparatively large sensors produce far greater sensitivity in both video and still-shot modes than many more expensive cameras on the market.
One of the special things about the FX7 is Sony's Real Time HD Codec Engine, a built-in MPEG2 hardware/software combination that records and plays back both HD and SD DV formats. Our reviewers liked that they could switch from HD 1080i to SD on the same tape (although our software needed to keep separate the resulting files on our computers).
We also enjoyed the camera's Super SteadyShot Optical Stabilization and Smooth Slow recording, two more Sony features that distinguish the FX7 from its lower-end brethren. We found that the SteadyShot Optical Stabilization worked very well at 0X but as we zoomed to larger magnifications, it produced less-steady captures. At full zoom, we found we simply reverted to a tripod. The camera's impressive Smooth Slow Recording feature records at 240fps (fields per second) and then lets you play back in surprisingly smooth slow motion. And this we liked.
The camera's 3.5 inch wide LCD screen was quite exceptional in reproducing images from both lens and tape. We recorded stock nature images, for example, that we thought rivaled pro-quality demo material. The screen's multi-layered coating reduces reflection and increases contrast, making it easier to watch records and playbacks even in bright sunlight. The camera's firmware provides additional visual cues to manually reduce light when in very bright daylight environments. The large LCD also provides far greater resolution than more consumer-oriented cameras and in particular, enabled us to shoot in HD more readily.
Top-notch lens
Of course, at the heart of every camera is its lens and we found the one in the FX7 to be really top-notch for its intended prosumer market. The lens' manual 20X zoom and manual focus ring produced smooth focus-up and focus-down reactions and the zoom ring let us gradually control the camera's focus point. We found with a bit of practice, we could walk and zoom smoothly at the same time and this we attributed to the FX7's well-balanced handle and responsive controls.
While our reviewers loved the smooth optical zoom of the FX7, we lamented the camera lacked any form of digital zoom. While not common on professional-class cameras, the FX7 is aimed at the prosumer/consumer market where digital zoom is quite universal. While there is a "Digital Extender" feature that provides what we calculated to be about 1.5X of the base optical zoom, it certainly does not replace a fully selectable firmware-based digital solution for those emergency times you really need to stretch your camera.
The FX7 does have an "Expanded Focus" mode that doubles the effective magnification of the camera, stretching the run-of-the-mill zoom from 20X optical to a much more impressive 40X. Unfortunately, this Expanded Focus mode can only be used for spotting your shot. When you start recording, the FX7 inexplicably reverts back to "normal" mode and you lose the additional zoom capabilities.
With the exception of an optional 1.5X wide-angle extender, there are no extra lenses available for the FX7. If you want to zoom past what Sony's engineers have designed for the unit, you're out of luck. The 20X optical zoom, plus the ~1.5X Digital Extender mode, certainly does an impressive job for close in work but for longer shots such as down a street, across a bridge or shooting from above, you'll have to physically get closer to do the job. And that may put video journalists in more danger.
Assignable buttons
With a tip of the hat to its professional cameras, Sony's engineers have placed six user-assignable buttons on the exterior of the HDR-FX7. You can assign three of them to just about any function you can think of while the remaining three have fewer options for customization.
Settings for focus, zoom, iris, gain, shutter and white balance, for example, can be set to Assignable Buttons 1, 2 and 3. One of our reviewers found she could quickly compensate for the camera's propensity to reset some of its functions when switching from playback to record (or vice-versa). And this we liked.
The Assignable Buttons feature is very useful for controlled repeat shooting under the same conditions. This may not be the most useful feature for outdoor news photography where shooting conditions can be somewhat variable. On the other hand, it is extremely useful for indoor photography or nature footage where similar base conditions are present.
We also really enjoyed the FX7's HD mode and found results – when shooting under optimum conditions – to be broadcast quality or pretty near broadcast quality. The FX7 is able to produce full 1080i video, even on consumer grade tape. Using pro tape, however, we were able to prod the FX7 to produce what we thought was visibly identical footage to pro cameras.
Now, in the previous paragraph, we did say we were shooting under optimum conditions. The FX7 is not especially great at night shooting because it seems to need a comparative large amount of light to keep it happy. According to Sony, the camera needs a minimum illumination of 4 lux to produce a viable shot. In practice, however, we found this to be a bit optimistic.
Night shooting is possible but you need to have a reliable source of light on your own, preferably from a nearby street lamp or from your own floods. The FX7 does not have any kind of "night" settings that magnify the ambient in low-light situations. This makes the camera less than idea for journalists shooting footage at night including traffic collisions or crime scenes, especially without the benefit of external lighting.
On the plus side, however, the FX7 does have a standard accessory shoe built into its carry handle so you can easily purchase an optional HVL-20DW2 Video Light. As well, we liked the fact that the camera comes equipped with an external microphone jack, allowing real stand-ups to be conducted in the field. Clearly, the FX7 can double as a pro camera for broadcast. It's certainly not your main unit, unless you're on a budget, but it has enough features to be in serious contention for a backup or supplementary field camera.
Many hidden features
As befits Sony quality, there are lots of other features crammed into the FX7 that aren't immediately apparent.
The camera's ability to create standard color bars, for example, was a welcome surprise. With the FX7, you can select three different standard types of Color Bar, and we found recording the Color Bar, rather than just striping a new tape, provided an additional safeguard against future playback and record problems.
Another interesting feature of the FX7 is the camera's Shot Transition options. Using these options, you can add automatic scene transition with little fuss or muss – all using onboard software. Exposure/Iris Control lets you directly adjust the exposure brightness and control the amount of light entering the lens. Shutter speed and gain are also adjustable.
For still shots, the camera uses Sony's Memory Stick Duo media (or compatible products) and is able to transfer video with Sony's i.LINK Interface. Computer users know the i.LINK interface by its more familiar names of FireWire or IEEE1394. Whatever the name, we found transfers to be quick and reliable.
Battery life is robust but not as spectacular as the claimed 155 to 160 minutes of recording life (depending on recording mode) and 245 minutes of playback time. In field tests, we found we could easily record one 60-minute tape shooting continuously and still have lots of power to spare. We note, however, we were able to get noticeably less power when shooting in stop-start mode, typical of actual real-life shooting conditions. If you want additional power, we suggest Sony's optional Stamina Battery pack (Sony part number NP-F970), a choice that Sony says more than triples your power availability.
We were surprised to find the camera needs to be turned off to recharge the supplied battery. When the FX7 is plugged into the AC adapter, yet left in playback or record standby, we found the battery actually discharged over time. That is, there was no trickle charge effect even when the camera is plugged into the AC adapter.
The FX7 comes with a variety of accessories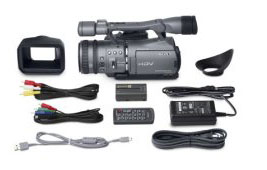 including an A/V connection cable, a Component video and a USB cable for still-shot transfer. As well, the camera sports a Wireless Remote Commander, a large eyecup, the standard NP-F570 battery pack and a well-designed lens hood.
We also liked that the camera is fully international, meaning you can use the supplied AC power adapter with currents that range from 100 VAC all the way to 240 VAC and from 50 Hz to 60 Hz. This means that traveling videographers don't have to worry about power incompatibilities (although they must still remember to bring the necessary plug adapters).
Overall: We were suitably impressed with the FX7. Although lacking in a few key features that would move the camera more clearly into the professional space (such as interchangeable lenses), it supplies a surprisingly large subset of high end features that make it a real contender for budget HD productions headed for broadcast. Recommended.
End of Review
---
Have your say.
You can give us your feedback by visiting our Terms of Service page.
Buy this camera.
If you wish to buy this camera right now, please click here.
Read other reviews.
If you wish to return to the main Reviews page, please click here.
---