---
Reviews:

Reporter World provides a variety of safety equipment, identification products, specialized high-visibility clothing, pertinent news, product reviews, book reviews and useful links specifically for reporters, writers, assignment editors, news correspondents, journalists, ENG crews, photographers, production staff, directors, segment producers, media security personnel, and freelancers: in short, anyone who is part of the news gathering, information reporting, or documentary film industries.
In this section we review various products and services of relevance to reporters, writers, correspondents, ENG teams and production staff. These products include cameras and accessories; computer hardware and software; scanners; printers; books and other products. Smaller, mini-reviews, are also available in other sections of this site including Products, Books and Movies.
We are constantly adding additional reviews to this section. If you have any suggestions for other products you would like us to review, simply e-mail us using the feedback address on our Terms of Service page. Please supply us with as much information as you can about the product (including name, manufacturer, model number) or book (including title, author, ISBN and publisher).
---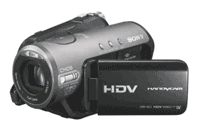 Product:
Sony HDV-HC3 camcorder
Manufacturer: Sony Corporation
Relevance: The Sony HDR-HC3 is a high end consumer video camera capable of shooting in traditional DV mode at 480 lines and in high definition (HDV), rendering 1080 lines. You can also capture still images onto Sony's Memory Stick cards at a maximum resolution of 4 megapixels.
Review: The HC3 is a good quality dual-mode camcorder with still-shot functionality built in. It is a good choice for pro videographers who need a low cost, yet high quality prosumer unit for off-duty use or consumers who want to start experimenting with HDTV-headed video.
In traditional DV mode, the HC3 captures video at 480 lines in aspect ratios of 4:3 or 16:9. In HDV mode, the HC3 is able to capture video at 1080 lines in a 16:9 aspect ratio. Although the manual does not expressly require this, all three reviewers noted they received higher quality results when shooting onto purpose-made HDV tapes when recording at the higher resolution, rather than the traditional run-of-the-mill DV quality. Even if you're new to photography, we'll bet you'll notice the difference between standard DV tape capture and high performance HDV tape.
Getting started with the HC3 is a simple matter and we were up and running with the camera within a few minutes from opening the box. Controls are where they should be on the camera given Sony's standard "carousel" interface. Although Sony's interface can take some getting used to, our reviewers were already familiar with the controls and thus were able to hunker down to work almost immediately. We might venture that those used to other interfaces might have a few moments of confusion with Sony's carousel but after a little persistence, all of the camera's functionality becomes obvious.
We were happy to see the HC3's power adapter is dual voltage (100 to 240 VAC and 50/60 Hz). Having the ability to charge the camera anywhere in the world is obviously important to those photojournalists on assignment outside their home country where electricity systems can be different. Of course, consumers on vacation may not realize how useful dual voltage cameras can be until they're on holidays with a dead battery. This won't happen with the HC3.
Good digital zoom
We were initially disappointed that the HC3 is equipped with only a 10X optical lens, which we thought was rather low for a camera of this class. With the use of the HC3's very usable digital zoom, however, we were able to boost magnification to 20X (or 80X), depending on the setting used.
Of course, at the high end of the 80X range, pictures become visibly pixelated but the camera's Carl Zeiss Vario-Sonnar T lens and accompanying firmware consistently made good guesses on the interpolation side and produced some surprisingly passable videos, even at moderately high digital zoom settings. We found we could zoom up to about 50X on a tripod and achieve recognizable results. Of course, you have to have some environmental cooperation to achieve these results (such as no sun glare and low wind speed) but we found that the HC3's digital zoom was above average.
We also liked how portable the HC3 was, an important consideration for all videographers be they pros or consumers. Without batteries, the entire unit weighs in at about 500 grams (about 17 ounces). Fully loaded, the HC3 weighs 600 grams (about 21 ounces) including the supplied NP-FP60 rechargeable battery pack and one DVM60 tape. Pros who want to add a higher capacity battery will obviously deal with a bit more weight.
For those on the go, the HC3's AC adapter weighs in at a relatively lightweight 170 grams (about 6 ounces) although an external power cable adds a bit more to the package. With everything considered, this means a fully loaded HC3 will weigh about 30 ounces. Certainly more than a pocketful, but certainly light enough to travel with on an assignment.
The supplied NP-FP60 power adapter/charger takes slightly more than two hours to charge the standard NP-FP60 battery set supplied by Sony. We concluded that battery life when recording in HDV and DV format is about the same. We also found we could continuously tape for almost 90 minutes on a fully charged NP-FP60 but only 50 minutes using the camera in a more realistic stop/start mode.
We note that videographers will probably opt for a second NP-FP60 battery pack or use a higher end pack (such as the NP-FP70, NP-FP71 or the mega NP-FP90) to tape a full 60-minute tape. We also found significant decreases in battery life when using the LCD screen, meaning we spent even more battery life when the LCD screen was folded out and used to control the camera with the onscreen softkeys. This is to be expected with all camcorders, but Sony cameras do tend to take a fair amount of power to work all their magic. Of course, the ability of the HC3 to be charged while in a tripod is a great feature, surprisingly missing in some lesser models.
Not surprisingly, though, playing time was significantly better than record time with noticeable differences between HDV and traditional DV mode. With a fully charged NP-FP60 battery, we found we were able to get well over two hours of playback (140 minutes) on HDV movies and roughly 155 minutes when playing back DV-based movies.
Naturally, at the heart of every digital camera is its optics and on-board processing speed. We found the HC3's ClearVid CMOS Sensor produces good quality images with wide color gamut. We didn't find any problems with saturation or hue, even when shooting in less-than-favorable conditions. Sony's ClearVid seems to have a very favorable signal to noise ratio, even when shooting onto traditional HD tape.
Pros who know their optics know Carl Zeiss and the HC3's multi-layer optical coating system of the Vario-Sonnar T Lens is a strong reason to consider this camera. The lens improves contrast while enhancing color depth. It also sports a handy anti-reflective coating that allows more light to pass through, but also reduces ghosting and flare.
PictBridge compatible
For those who don't need to edit still shots any further, the HC3 lets you print directly to any compatible PictBridge printer. Although not particularly useful for professional applications (where further editing is obviously standard), PictBridge connectivity could be useful for storyboarding or older editing suites.
Speaking about editing, videographers not familiar with high definition will lament that many low end software packages do not support the camera's higher 1080i resolution. If you want to transfer your HDV videos onto your computer for further editing, understand that you might have to upgrade your editing software to support the newer format. Apple's free iMovie software will not support HDV, for example, but the company's pricey Final Cut Pro will. Go figure.
This will come as no surprise to professionals who use products such as Final Cut Pro already but those wishing to move from standard DV videos into HDV ones (clearly a big market of the HC3) will surely be tripped up by this requirement. This, of course, is not a fault with the camera but rather with our expectations. While pros will likely already have software packages such as Final Cut Pro, many consumers will not.
Despite its many wins, we would have preferred the HC3 work better in low-light or no-light conditions. Although the NightShot mode and Super NightShot Plus worked wonders over short distances – say a few meters or across a small room, perhaps – we found both technologies to be overwhelmed over longer distances. This means the camera is not suitable for long distance surveillance or UC work but can certainly produce good results close up. We found that under some low-light conditions, the HC3 had difficulties with auto-focus but manual focus worked well.
One thing we did like was the fact that we could add an external microphone to the HC3, a feature that more and more camera manufacturers seem to leave out. Although we would have liked to see a standard miniature stereo plug set-up, even using Sony's accessory shoe to connect an external mic kept us in the game for interviews and providing on-video commentary. We found the HC3's built-in stereo electric condenser microphone with auto wind position very good for what it does but in our mind, nothing beats an external hand-held microphone for stand-ups.
The HC3 comes with several accessories out of the box: an AC-L200 AC Adapter (for North American models), Sony's NP-FP60 rechargeable battery pack, a worthy remote control device in the likes of the RMT-831 Remote Commander, a component video cable, an AV cable, a ML621 "button" lithium battery pre-installed, a CR2025 "button" lithium battery for the remote and a USB Cable for transferring still pics. No FireWire (IEEE-1394) cable is included with the camera's standard accessories.
Overall: We enjoyed Sony's dual mode (DV and HDV) camcorder. While it lacks many features that would put it clearly in the professional camp (and its comparative low price reflects this), it does sport much functionality to interest high end "prosumers" or, perhaps as a backup unit for off duty pro use. Recommended.
End of Review
---
Have your say.
You can give us your feedback by visiting our Terms of Service page.
Buy this camera.
If you wish to buy this camera right now, please click here.
Read other reviews.
If you wish to return to the main Reviews page, please click here.
---