---
Reviews:
Reporter World provides a variety of safety equipment, identification products, specialized high-visibility clothing, pertinent news, product reviews, book reviews and useful links specifically for reporters, writers, assignment editors, news correspondents, journalists, ENG crews, photographers, production staff, directors, segment producers, media security personnel, and freelancers: in short, anyone who is part of the news gathering, information reporting, or documentary film industries.

In this section we review various products and services of relevance to reporters, writers, correspondents, ENG teams and production staff. These products include cameras and accessories; computer hardware and software; scanners; printers; books and other products. Smaller, mini-reviews, are also available in other sections of this site including Products, Books and Movies.

We are constantly adding additional reviews to this section. If you have any suggestions for other products you would like us to review, simply e-mail us using the feedback address on our Terms of Service page. Please supply us with as much information as you can about the product (including name, manufacturer, model number) or book (including title, author, ISBN and publisher).
---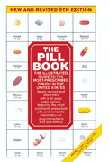 Title: The Pill Book, 13th edition
Editor: Harold M. Silverman, Pharm.D. (Editor-in-chief)
Copyright: © 2008
Publisher: Bantam Dell, a division of Random House
ISBN-13: 978-0-553-38392-8

Relevance: The Pill Book is ideal for any reporter or journalist covering the crime or health beats, as well as fiction and non-fiction writers researching possible side effects of various drugs.

Review: While The Pill Book does not cover every single drug available within the United States, it does profile over 1800 of the most commonly prescribed medications. These profiles, updated as new information becomes available, provide the generic and brand names of each medication, what each drug is used for and a basic description of how it works, the usual dosages and often, what to do if a dose is a missed, side effects and possible adverse reactions, and contraindications and other interactions with other drugs or foods.

In many cases, the book also indicates alcohol-free or sugar-free medications, as well as many of the more popular self-injected meds and their safe handling. We particularly liked the information for seniors, pregnant and breastfeeding women, as well as others with special needs such as alcoholism and drug addiction.

This particular edition features dozens of brand new medications and more than 20 new drugs that have been recently approved by the US FDA. With many of us taking more and more medications for longer, if not indefinite periods of time, we think The Pill Book or some of its competitors is extremely valuable for all reporters covering health, safety and travel issues, as well as those researching some crime stories involving accidental (or intentional) drug overdoses.

Each medication or drug listed is provided with both its generic and brand name, as well as various dosage variations. Also described is the type of drug (whether it be an anti-depressant, sedative, decongestant, expectorate or other) and most importantly, what each drug is prescribed for. Interestingly, The Pill Book also specifies in many cases both the official approved condition or symptom for which the drug has been approved, as well as commonly unapproved reasons for doctors to prescribe the medication. These uses are typically referred to as "off-label" treatments.

It may surprise some that the US Food and Drug Administration or the US FDA approves drugs for certain conditions and yet these drugs are not only marketed by their respective manufacturers, they are also prescribed by GPs and specialists for other conditions. We were nicely surprised that both official and unofficial indications are listed. Possible side effects of each drug are also listed (although not particularly extensively) and we found that the most horrific side effects are often not mentioned or toned down. This, we thought, was in keeping with the consumer focus of the book and was probably a good thing considering its primary target market.

Interactions:
Another section entitled Drug Interactions, as well as its counterpart, Food Interactions, are also very important and we were happy to see that all drugs listed have information on potential problems caused by the combination of certain medications with other drugs or foods. These interactions are not to be thought of lightly. Hundreds of thousands of dangerous and potentially deadly interactions are reported every year to the FDA through hospitals and physicians' offices. In many cases, this is caused by patients not telling their GPs they are taking other meds, herbal supplements and other substances. In other cases, it is caused when one patient goes to multiple physicians for different conditions with each doctor possibly prescribing medications that conflict with each other.

These days quite a few drug stores have computer software programs that automatically flag possibly dangerous drug and food interactions. This, however, assumes that all prescriptions are filled at either one store or chain of stores. By having drug and food interactions listed in The Pill Book, we think that conscientious patients can gain valuable insight and take responsibility for their own treatment and drug therapy. In short, anything that will help prevent dangerous or deadly situations from occurring is obviously a beneficial feature of any book of this type.

We also enjoyed the Special Information section listing for each drug. Points in this section often include dangerous symptoms to be on the lookout for, when to call your doctor, and what to do if you forget a dose of your medication.

The book also features 32 pages of color pictures of selected drugs of potential help to (we guess) poison control centers or hospital emergency clinics. Although very pretty, we were unsure as to why these were included considering the fact that very few of the 1800 drugs listed in The Pill Book could possibly be represented in this special color section. On the other hand, we do note that for many people who are on multiple meds, this section may prove extremely useful in preventing possibly mistaking one medication for another especially in those households where patients take multiple drugs at different times of the day.

In a perfect world, we would like to see more of the drugs outlined in the text part of the book illustrated in the color plates. As well, we would put a ruler along the edges of the pages to illustrate the respective sizes of each pill to further differentiate one medication from the next. Considering that one pill or capsule can look very similar to another pill or capsule (especially to seniors), we think anything that will help in the identification and proper administration of each medication would be of great benefit.

Although the vast majority of Canadian, British and Australian prescription medications are identical to those mentioned in The Pill Book, we felt it might improve the book's potential to help readers by also mentioning the Canadian, British or Australian brand names if different for each medication. We are not naive to the fact that a US-based drug book is primarily to be used by Americans purchasing and using drugs within their own country, however, Americans do buy Canadian-produced drugs and Americans do travel outside their own country. Having this additional information handy might be quite useful to its readers.

Overall:
We thought The Pill Book extremely useful and recommend it for anybody who has or will have prescription drugs in the house. The obvious benefit for reporters, correspondents, investigative journalists and even fiction writers is that The Pill Book provides a very useful handheld directory of more than 1800 of the most commonly prescribed drugs in the United States. This makes the book an ideal desk reference for just about anyone in our profession. Recommended.

End of Review
---
Have your say.
You can give us your feedback by visiting our Terms of Service page.
Buy this book.
If you wish to buy this book right now, please click here.
Read other reviews.
If you wish to return to the main Reviews page, please click here.
---